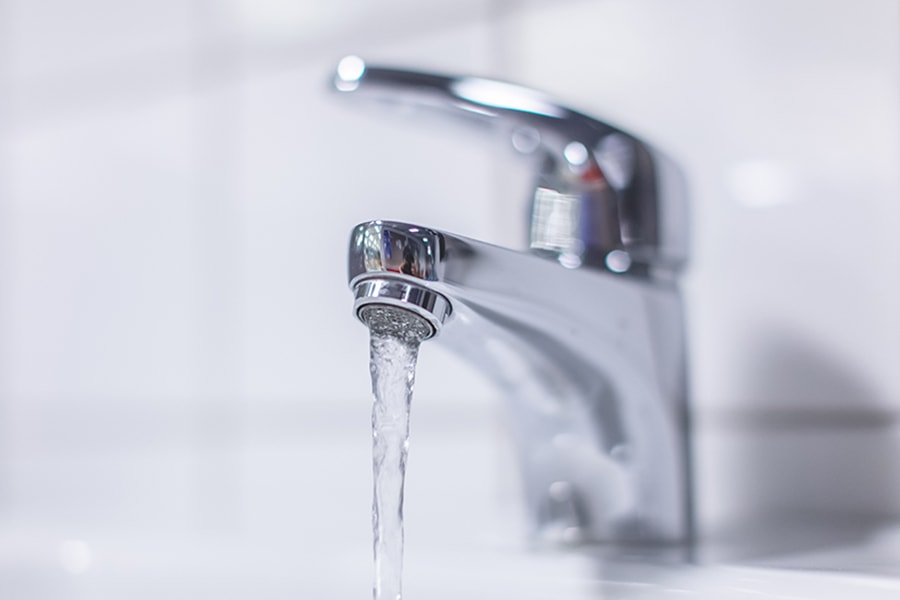 November 06, 2019
News Briefs
Drinking Water Quality Program Extends Across Campus
Carnegie Mellon is taking a proactive approach to ensure the quality of drinking water on campus by instituting a campus-wide testing program.
Led by Rebecca Cicco and Christina Goyda in CMU's Environmental Health and Safety Department (EHS), the university began testing drinking water in Housing first, looking to the Environmental Protection Agency (EPA) guidelines that identify testing protocols as well as the recommended action level with regard to test results for lead.
"Treated drinking water does not contain lead, but as it enters building plumbing, lead can leach from the fixtures into the water," said Jeanne VanBriesen, the Duquesne Light Company Professor of Civil and Environmental Engineering at CMU. "Drinking water utilities apply chemicals to control this corrosion reaction and reduce the potential for customers' water to contain lead. PWSA applies corrosion control chemicals continuously; however, the utility has reported elevated lead concentrations in some of their routine sampling since 2016."
Under the drinking water quality program, there will be initial baseline testing of water from all fixtures that supply drinking water in all buildings. Fixtures where the water exceeds the action level will be removed from service. Drinking water fixtures that will be tested within academic and administrative buildings include water fountains, kitchen sinks and bottle fillers. In addition to these fixtures, bathroom sinks will also be sampled in Housing.
Support CMU's 26th Annual Food Drive Through Nov. 18
Carnegie Mellon's 26th Annual Food Drive, sponsored by Staff Council, is underway through Monday, Nov. 18.  Look for the food donation barrels located around campus to make your non-perishable food donations. Cash donations can be made online.
Last year, the CMU community came together to help the Greater Pittsburgh Community Food Bank with $28,160 in monetary donations and 7,298 pounds of food, including 445 pounds of peanut butter and 1,156 snack bags for kids. This year, the goals are $30,000 in monetary donations and 8,000 pounds of non-perishable food. If these goals are reached, the CMU community will provide over 150,000 meals for the Greater Pittsburgh Community Food Bank!
Since the beginning of CMU's Food Drive in 1994, the monetary and non-perishable donations made by the campus community have helped to provide over half a million meals to local communities.
This year's Snack Bags for Kids Packing Party is 11:30 a.m. – 1:30 p.m., Thursday, Nov. 14 in the Athletics Conference Room 151 in the Cohon University Center.
The annual Cans Across the Cut event is 9 a.m. – 4 p.m., Monday, Nov. 18. Sign up your team to compete to see which group can gather the most canned goods and/or cash. The goal is to create a line of canned goods that stretches across the Cut.
Apple Faculty and Staff Appreciation Sale
Carnegie Mellon faculty and staff are invited to take advantage of the lowest prices of the season on Apple iPad Pros, MacBook Airs and Pros, and iMacs during the Apple Faculty and Staff Appreciation Sale. Items can be pre-ordered now and picked up at the University Store on the sale date, Dec. 5. If you would like to order a custom configured item, please place your order before Nov. 19.
The sale price is an additional $25 off iPad Pros and an additional $75 off MacBook Airs, Pros, and iMacs on top of the daily educational discounts offered by the University Store. Learn more.
MSIT Hosts Information Session for CMU Employees
Heinz College's Master of Science in Information Technology (MSIT) program will host an information session for CMU employees from noon to 1 p.m., Tuesday, Nov. 19 in Hamburg Hall 1214. Learn more about the program, admissions process and chat with other CMU employees from the MSIT program during this lunchtime session.  
The MSIT part-time program offers graduate study in IT Management, Information Security & Assurance, Business Intelligence & Data Analytics, and Software Design & Management. The curricula is practical, flexible and accessible to busy professionals. With its online and evening class options, CMU employees can complete their MSIT degree from any university location.
MSIT is ideal for experienced, tech-savvy professionals who want to deepen their technical expertise and gain key analytical and management skills to become leaders in their field. Applicants must have at least three years of relevant professional experience and a bachelor's degree. Learn more about the program.  RSVP for the session.
Global Entrepreneurship Week is Nov. 15-22
Celebrate the entrepreneurial and innovative culture at Carnegie Mellon during Global Entrepreneurship Week, Nov. 15-22, and be a part of the world's largest celebration of innovators and job creators.
Events include a showcase of student startups, a networking reception, TED-X style presentations from innovators, a pitch competition, a startups for good fireside chat and a job fair for students and alumni.
Learn more about this year's partnering organizations and see the full schedule.
Provost Sets Office Hours for Students, Faculty, Staff
Provost Jim Garrett has two remaining dates this fall to meet with students, faculty and staff on a first-come, first-served basis. No appointment is necessary.

Garrett encourages members of the university community to use the time to discuss what's on your mind, and to share your experiences, ideas and aspirations for Carnegie Mellon. 

Office hours, below, will be held in the CCR East on the first floor of Warner Hall.

Friday, Nov. 15, 9:30 – 11 a.m.
Thursday, Dec. 12, 3 – 4:30 p.m.
Seeking Nominations for Engineering Staff Awards
The College of Engineering Staff Recognition Awards Committee is seeking nominations for the college's annual Staff Recognition Awards program, which honors staff for their outstanding leadership, innovation, continued excellence and spirit.  For more details on the process, including nomination criteria and a list of eligible staff members, visit the awards website.  The online nomination deadline is 5 p.m., Wednesday, Nov. 13.