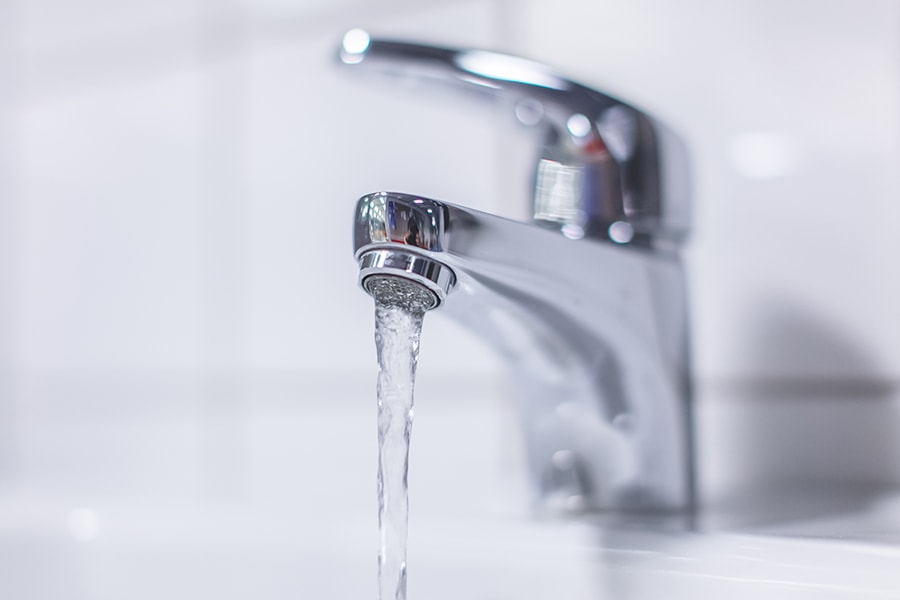 November 05, 2019
Drinking Water Quality Program Extends Across Campus
By Kelly Saavedra ksaavedra(through)cmu.edu
Many people take the quality of our water for granted — drinking it, cooking with it, and showering in it without giving it much thought.

But after a water crisis in Flint, Michigan, made headlines, Carnegie Mellon University decided to take a proactive approach to ensure the quality of drinking water on campus.

Carnegie Mellon's water is provided by the Pittsburgh Water and Sewer Authority (PWSA). PWSA treats Allegheny River water and distributes it through pipes to customers, including Carnegie Mellon.

"Treated drinking water does not contain lead, but as it enters building plumbing, lead can leach from the fixtures into the water," said Jeanne VanBriesen, the Duquesne Light Company Professor of Civil and Environmental Engineering at CMU. "Drinking water utilities apply chemicals to control this corrosion reaction and reduce the potential for customers' water to contain lead. PWSA applies corrosion control chemicals continuously; however, the utility has reported elevated lead concentrations in some of their routine sampling since 2016."

Led by Rebecca Cicco and Christina Goyda in CMU's Environmental Health and Safety Department (EHS), the university began testing drinking water in Housing first, looking to the Environmental Protection Agency (EPA) guidelines that identify testing protocols as well as the recommended action level with regard to test results for lead.

"Lead enters drinking water by being leached out of piping or other plumbing components and into the water. Given the age of some of our buildings on campus, their internal plumbing and fixtures could contain lead, so it is also possible we could have lead levels in the drinking water above the EPA action level," Cicco said. "We wanted to get a sense of: do we need to be concerned? And if we do, what do we need to do with this information? How do we make sure our community is getting the best quality water?"

Earlier this year, EHS presented the water quality program to university leadership and proposed a voluntary program for all academic, administrative and housing facilities on campus to be tested regularly. Under the program, there will be initial baseline testing of water from all fixtures that supply drinking water in all buildings. Fixtures where the water exceeds the action level will be removed from service.
After the baseline testing is completed, the results will be maintained for recordkeeping purposes. Then, the water from every drinking water fixture located in buildings on campus built before 1986, when a ban on plumbing materials containing lead was imposed, will be tested at least every two years. Drinking water fixtures that will be tested within academic and administrative buildings include water fountains, kitchen sinks, and bottle fillers. In addition to these fixtures, bathroom sinks will also be sampled in Housing.

Over the summer, EHS conducted drinking water sampling in all CMU residence halls and apartments, as well as Mellon Institute. The testing locations were removed from service for 8 to 18 hours prior to sampling to allow the water to stagnate. Stagnation allows extended contact with potential lead-containing fixtures, such as might happen when water is not used overnight.

Mellon Institute was the first academic building tested in the program. More than 100 drinking water fixtures were tested, and nine were found to have lead concentrations in the water above the U.S. Environmental Protection Agency's recommended action level for schools and child care facilities of 15 parts per billion (ppb). Remedial actions have been taken, and before any of these fixtures are put back in service, the water at these fixtures will be retested to assure that remedial efforts were effective.

Testing of the drinking water in the following academic and administrative buildings has been underway since September and will continue through the end of December: Porter/Baker Hall, Margaret Morrison Carnegie Hall, Doherty Hall, College of Fine Arts, Hamerschlag Hall, Hamburg Hall, Skibo Gymnasium, Smith Hall, Hall of Arts (formerly GSIA), Hunt Library, Warner Hall, GATF Building, Cyert Children's Center, 6555 Penn Avenue Children's Center, and the Margaret Morrison Children's School.

All potential drinking water outlets, including water fountains, bottle fillers and kitchen sinks, will be sampled in accordance with the following schedule:
EHS will remove the outlet from service in the afternoon around 2-4 p.m., and post signage indicating that the outlet is not to be used.
The following day, between 7 and 9 a.m., EHS will collect a sample of the water.
The signage will be removed immediately after sampling, and the outlet will be available for use.
Samples will be collected on a rotating basis so that not all water sources are unavailable for use at the same time.
If a sample result exceeds the EPA recommended action level of 15 ppb, the fixture will be removed from service and occupants of the building will be notified of both the reason for removal as well as what corrective action is being taken.
"We are one of only a few campuses that have this program. It's a vital safety program. We want to cover the entire campus," said Shailendra Singh, director of EHS. "We want to make sure that we are doing whatever we can to protect our community, as the safety and well-being of our community is our top priority."
For more information, see the
Drinking Water Quality Program
on the
EHS website
. If you have questions, please reach out to
safety@andrew.cmu.edu
.