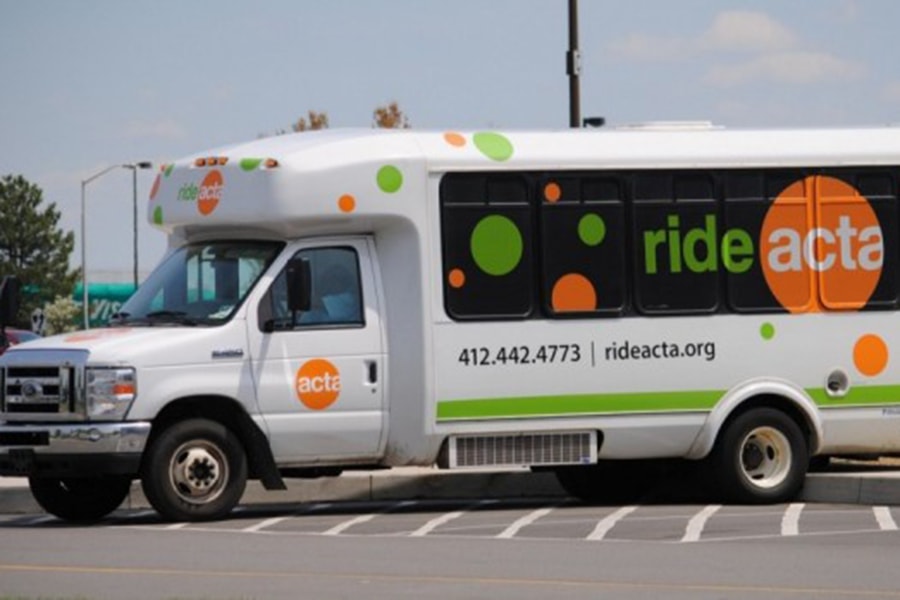 May 22, 2019
News Briefs
M&C Wins Silver Telly Award
Carnegie Mellon's Marketing & Communications Division has won a Silver Telly Award for filming and producing this year's Auld Lang Syne video, featuring faculty and students in Exploded Ensembe and Activated Anamorphs. The arrangement by School of Music faculty member Jesse Stiles and graduate student Jacob Randall Holmes, was filmed during the "SubSurface: Site-Specific Sight & Sound" festival, hundreds of feet below the surface in a limestone mine in Brady's Bend, Armstrong County.
The Telly Awards, in its 40th year, honor excellence in video and television across all screens.
Traffic21 Names Winners of Second Smart Mobility Challenge
Transportation difficulties faced by North Huntingdon Township and the Airport Corridor Transportation Association (ACTA) have been selected as winners of the Second Mobility Challenge, sponsored by Carnegie Mellon University's Traffic21.
Traffic21 is a research institute operated out of CMU's Heinz College and Mobility21. It is affiliated with the United States Department of Transportation's National University Transportation Center in the College of Engineering.
The ACTA's mobility challenge involves designing a public transportation service that features flexible routes and connections to maximize mobility and operating efficiency, as well as ridership comfort. North Huntingdon seeks a solution to alleviate congestion, ensure safety and anticipate travel demand on a heavily trafficked roadway.
With generous funding from the Hillman Foundation, the Smart Mobility Challenge aims to transform southwestern Pennsylvania into a testbed for mobility innovation. The challenge invites representatives of municipalities and public transit operators to identify real-world mobility challenges affecting their communities and to apply to receive support from CMU faculty and students.
"Only at Carnegie Mellon do we have this unique opportunity to collaborate with partners in our region to solve real-world problems faced by their communities," said Heinz College Dean Ramayya Kirshnan.
CMU To March in People's Pride Festival, June 9
CMQ+, Carnegie Mellon's LGBTQIA+ graduate student organization, invites the CMU community and friends to march in People's Pride 2k19, Sunday, June 9. People's Pride is a two-day, multi-venue festival celebrating the multifaceted power and strength of Pittsburgh's local LGBTQIA+ communities of color.
All relevant details are in the RSVP form, and once you RSVP, you'll receive updates on the event as they evolve.
CMU To Launch Executive Program in Behavioral Economics
Carnegie Mellon will launch a new opportunity to help senior executives leverage insights from the field of behavioral economics.

The inaugural Executive Program in Behavioral Economics, will be offered July 29-Aug. 2 on CMU's campus by the Department of Social and Decision Sciences. It is designed to help executives strengthen their brand, engage consumers, improve employee well-being and institutionalize an evidence-based approach to organizational decision-making and change management.
CMU researchers are at the forefront of behavioral economics. They use a distinct fusion of psychology and economics to tackle some of the world's most complicated and costly problems, and they design and test multifaceted interventions to change the way we make decisions, alter the way organizations operate and influence how policies are implemented.
Register Your Child for Gelfand Summer Outreach Classes
The Gelfand Center still has openings for its summer outreach classes. Spots are available for the Science and Engineering Sampler, Engineer Your World, and Air and Climate classes. There also are openings in the After Care program that takes place from noon to 4 p.m., Monday through Thursday. After Care is available with the morning class or just as an afternoon activity time on campus. A variety of physical and recreational activities are planned. The programs are for K-9 students. Classes are conducted June and July. Registration is first-come, first-served. To apply, register online.
Cigarette Disposal Urns To Be Installed
In support of the university's Smoke Less Policy, the Environmental Health and Safety Department has obtained new cigarette disposal urns, which are actively being installed in coordination with Facilities Management and Campus Services. The new urns will replace the existing canisters and will be located in the updated and reduced designated smoking locations that went into effect last summer. Signage will be installed on the new urns designating the area as an approved smoking location.
Please direct questions regarding the Smoke Less Policy or the new urns to safety@andrew.cmu.edu
Applications for ULS Co-Sponsorship Events Due June 14
The University Lecture Series (ULS) is inviting applications for fall 2019 co-sponsorship events that complement and enhance the vibrancy of campus conversations on salient issues crossing disciplinary boundaries. ULS co-sponsorship aims to amplify important conversations occurring in departments, centers and student groups at Carnegie Mellon.
Due to high demand and limited funding, ULS co-sponsorship is shifting from a rolling application process. The deadline for the first round of fall reviews is Friday, June 14. The ULS Committee will review and notify applicants of their co-sponsorship status after July 1. Though priority will be given to first-round applications, late-round applications will be accepted up until Friday, Aug. 9, with a status notification sent before Aug. 26. Fall co-sponsored lectures will be announced in a campus-wide e-mail at the start of the semester with additional communication support of lectures provided by ULS.
Find out more information and apply for co-sponsorship on the ULS website.
CMU Community Day at Kennywood Park is June 8
Tickets for this year's CMU Community Day at Kennywood Park on Saturday, June 8, are now on sale. New this year, employees may purchase up to four CMU FunDay tickets for $15 each (valid only on June 8), rather than only two tickets as in previous years.
Also new this year is the ability to purchase $10 food/vendor vouchers for only $5. You may purchase one food/vendor voucher for every $15 FunDay ticket purchased.  
You must present your own CMU ID to purchase tickets, and tickets must be purchased with cash only. There are no refunds.
Ice cream treats for everyone and prizes for children 10 and under will be given out from 1 – 2 p.m. in Pavilion #12. Airbrush tattoos will be available for children 10 and under from 12 – 2 p.m. in Pavilion #12.
Ticket Sale Dates:
May 28, Cohon University Center, 11:30 a.m. – 1 p.m.
May 29, Mellon Institute, 11:30 a.m. – 1 p.m.
May 30, Cohon University Center, 11:30 a.m. – 1 p.m.
June 4, Cohon University Center, 11:30 a.m. – 1 p.m.
June 5, Cohon University Center, 11:30 a.m. – 1 p.m.
June 6, Cohon University Center, 11:30 a.m. – 1 p.m.
June 7, Cohon University Center, 11:30 a.m. – 1 p.m.
CMU Community Day at Kennywood Park is presented by Staff Council. Find out more.