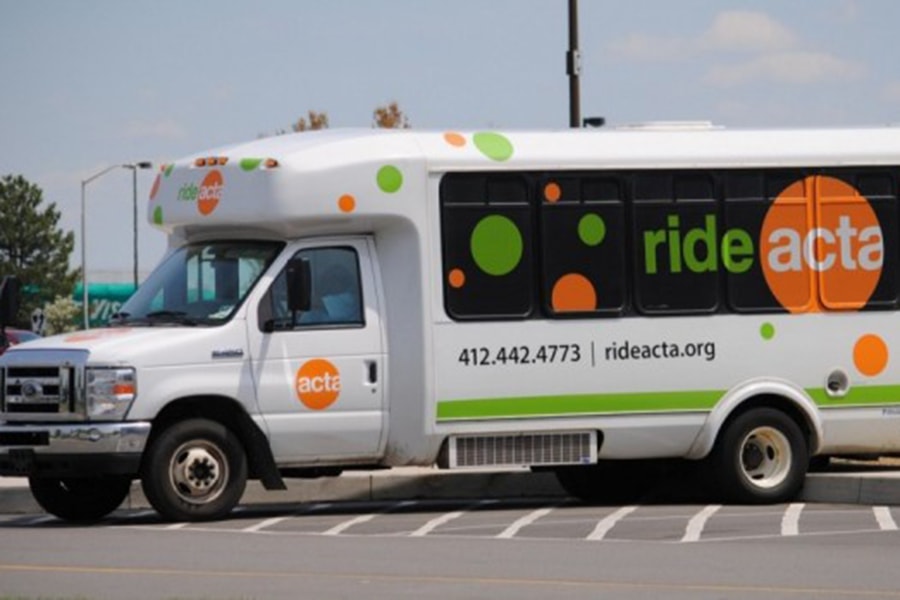 May 13, 2019
CMU's Traffic21 Names Winners of Second Smart Mobility Challenge
Media Inquiries
Julie Mattera
Marketing & Communications
Transportation difficulties faced by North Huntingdon Township and the Airport Corridor Transportation Association (ACTA) have been selected as winners of the Second Mobility Challenge, sponsored by Carnegie Mellon University's Traffic21.
Traffic21 is a research institute operated out of CMU's Heinz College of Information Systems and Public Policy and Mobility21. It is affiliated with the United States Department of Transportation's National University Transportation Center in the College of Engineering.
With generous funding from the Hillman Foundation, the Smart Mobility Challenge aims to transform southwestern Pennsylvania into a testbed for mobility innovation. The challenge invites representatives of municipalities and public transit operators in Allegheny, Armstrong, Beaver, Butler, Fayette, Greene, Indiana, Lawrence, Washington and Westmoreland counties to identify real-world mobility challenges affecting their communities and to apply to receive support from CMU faculty and students.
"The problems submitted for consideration illustrate the mobility challenges we face in southwestern Pennsylvania and the awareness and dedication of our local leaders and transit operators to find solutions" said Lisa Kay Schweyer, program manager of Traffic21.
Lynn Manion, executive director of the ACTA, and Michael Turley, assistant manager of North Huntingdon Township, represented this year's award recipients. Their challenges were selected based on the availability of data to answer the stated problem and alignment with the academic strengths of the Carnegie Mellon Mobility Analytics Center (MAC) team. 
"Only at Carnegie Mellon do we have this unique opportunity to collaborate with partners in our region to solve real-world problems faced by their communities." — Heinz College Dean Ramayya Krishnan
Manion's mobility challenge involves designing a a public transportation service that features flexible routes and connections to maximize mobility and operating efficiency as well as ridership comfort. Turley seeks a solution to alleviate congestion, ensure safety and anticipate travel demand on a heavily trafficked roadway.
As recipients of this year's Smart Mobility Challenge, Manion and Turley will receive support from MAC, which collects, integrates and learns from massive amounts of mobility data and contributes to the development of smarter transportation systems. MAC will use the mobility problems identified by Manion and Turley to provide data, analytics and recommended solutions for each mobility problem.
"We look forward to solving the challenges presented by the ACTA and North Huntingdon," said Heinz College Dean Ramayya Krishnan. "Only at Carnegie Mellon do we have this unique opportunity to collaborate with partners in our region to solve real-world problems faced by their communities." 
"The solutions that result from these projects can provide other cities with ideas on how to apply big data to address their own transportation problems," said Jonathan Cagan, interim dean of CMU's College of Engineering.
For the submissions not selected, CMU offered to connect representatives from municipalities and public transit operators with faculty from across campus to explore additional solutions through class projects. Manion and Turley will begin working with CMU July 1, with the projects to be completed by June 30, 2020.
Carnegie Mellon University is committed to educating, empowering and aligning its community around the world to address the Sustainable Development Goals, also known as the Global Goals, which aim to create a more peaceful, prosperous planet with just and inclusive societies. Recognizing the critical contributions that universities are making through education, research and practice, CMU publicly committed to undertaking a Voluntary University Review of the Global Goals. The 17 Global Goals cover wide-ranging issues, including reducing violence, ending extreme poverty, promoting equitable education, fighting inequality and injustice, advancing economic growth and decent work, and preventing the harmful effects of climate change by 2030.

The preceding story demonstrates CMU's work toward attaining Global Goals 9 and 11.