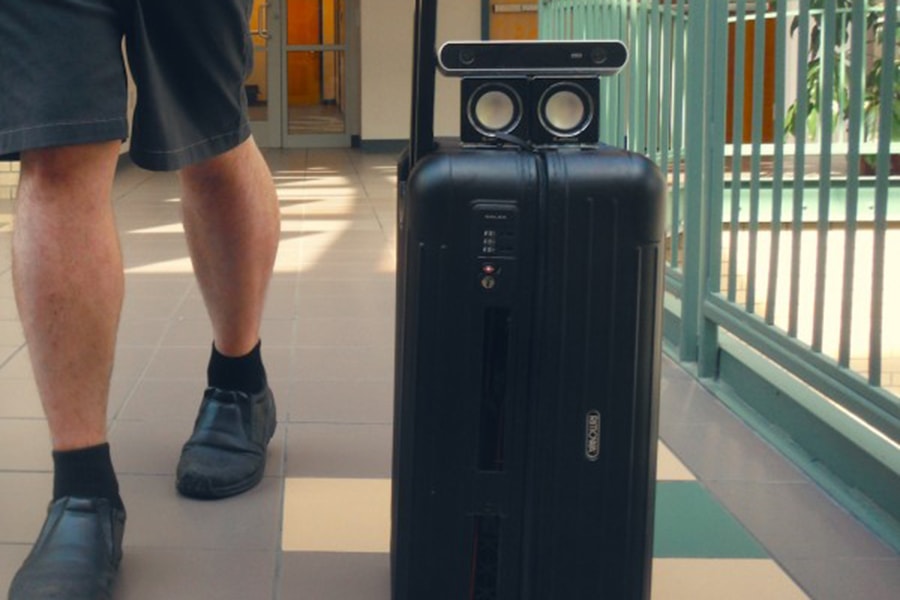 May 15, 2019
News Briefs
Smart Suitcase Helps the Visually Impaired
Carnegie Mellon researchers say a smart suitcase that warns blind users of impending collisions and a wayfinding smartphone app can help people with visual disabilities navigate airport terminals safely and independently.
The rolling suitcase sounds alarms when users are headed for a collision with a pedestrian, and the navigation app provides turn-by-turn audio instructions to users on how to reach a departure gate — or a restroom or a restaurant. Both proved effective in a pair of user studies conducted at Pittsburgh International Airport.
"Despite recent efforts to improve accessibility, airport terminals remain challenging for people with visual impairments to navigate independently," said Chieko Asakawa, the IBM Distinguished Service Professor in CMU's Robotics Institute and an IBM Fellow at IBM Research. "Airport and airline personnel are available to help them get to departure gates, but they usually can't explore and use the terminal amenities as sighted people can."
Students Bring Eye-Opening Change to Medical Clinic in Panama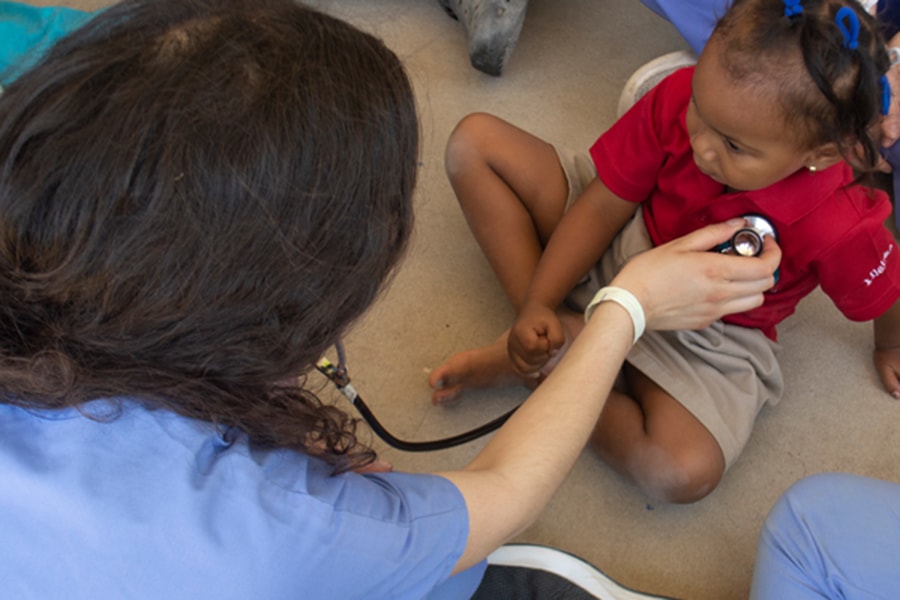 Every March, two dozen students pack their bags, don scrubs and head out for a service trip as part of Carnegie Mellon's chapter of Global Medical Brigades (GMB). Over spring break this year, the group traveled to Pueblo Nuevo, Panama, to set up a medical clinic and work with Panamanian doctors to bring medical, dental and optical care to hundreds of underserved community members.
The journey was junior chemistry major Nelly Kowalewski's third trip with the team and her first trip as the education and co-vision chair for the group.
"The reason I keep coming back to Global Medical Brigades every year is because of the interactions I have with the community there. Language and cultural barriers, governments and borders, it melts away when you're there," she said.
Show of Hands: Smartwatches Sense Hand Activity
We've become accustomed to our smartwatches and smartphones sensing what our bodies are doing, be it walking, driving or sleeping. But what about our hands? It turns out that smartwatches, with a few tweaks, can detect a surprising number of things your hands are doing.
Researchers in the Human-Computer Interaction Institute (HCII) have used a standard smartwatch to figure out when a wearer was typing on a keyboard, washing dishes, petting a dog, pouring from a pitcher or cutting with scissors.
By making a few changes to the watch's operating system, they were able to use its accelerometer to recognize hand motions and, in some cases, bio-acoustic sounds associated with 25 different hand activities at around 95 percent accuracy. And those 25 activities are just the beginning of what might be possible to detect.
Dining Opens New Location To Fill Void During Schatz Renovation
With Schatz Dining Room closed for renovations this summer, Chartwells will be opening Virginia's in the Cohon Center Marketplace, serving a rotating menu of upscale lunch entrées, made-to-order and composed salads, soups, assorted desserts and smoothies.
Operating out of Rooted's semester location, Virginia's will be open from 11 a.m. - 2 p.m., Monday – Friday, beginning Monday, May 20.
Learn more about the Schatz Dining Room renovation and summer dining options.
Applications for ULS Co-Sponsorship Events Due June 14
The University Lecture Series (ULS) is inviting applications for fall 2019 co-sponsorship events that complement and enhance the vibrancy of campus conversations on salient issues crossing disciplinary boundaries. ULS co-sponsorship aims to amplify important conversations occurring in departments, centers and student groups at Carnegie Mellon.
Due to high demand and limited funding, ULS co-sponsorship is shifting from a rolling application process. The deadline for the first round of fall reviews is Friday, June 14. The ULS Committee will review and notify applicants of their co-sponsorship status after July 1. Though priority will be given to first-round applications, late-round applications will be accepted up until Friday, Aug. 9, with a status notification sent before Aug. 26. Fall co-sponsored lectures will be announced in a campus-wide e-mail at the start of the semester with additional communication support of lectures provided by ULS.
Find out more information and apply for co-sponsorship on the ULS website.
Six Students, Alumni Named Fulbright Award Winners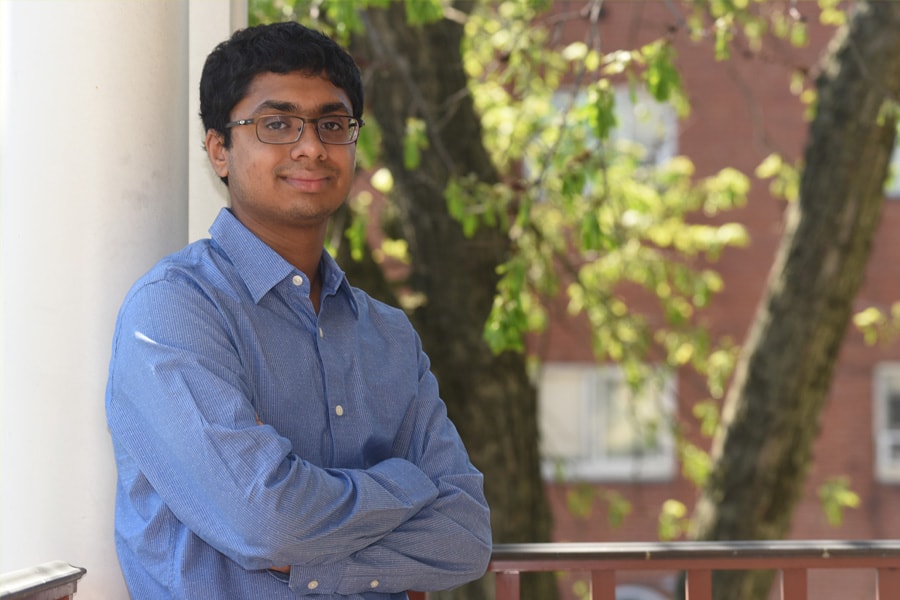 Siddharth Annaldasula will be studying transcriptional regulation in cell differentiation models using computational methods with Dr. Andreas Mayer at the Max Planck Institute of Molecular Genetics in Berlin.
Six Carnegie Mellon University seniors and alumni will be heading east and west later this year to conduct research and teach as 2019 Fulbright Award winners.
The U.S. Department of State's Bureau of Educational and Cultural Affairs sponsors the Fulbright U.S. Student Program to "increase mutual understanding between the people of the United States and the people of other countries." Winners are selected based on a number of factors, including their proposal, called a "Statement of Grant Purpose," academic record and personal qualifications.
This year's winners are Siddharth Annaldasula, Yoobin Chee, Bronwyn Donohue, Jessica Jue, Erin Kavanagh and Travis Stahl. 
CMU Climbing Team Ascends to New Heights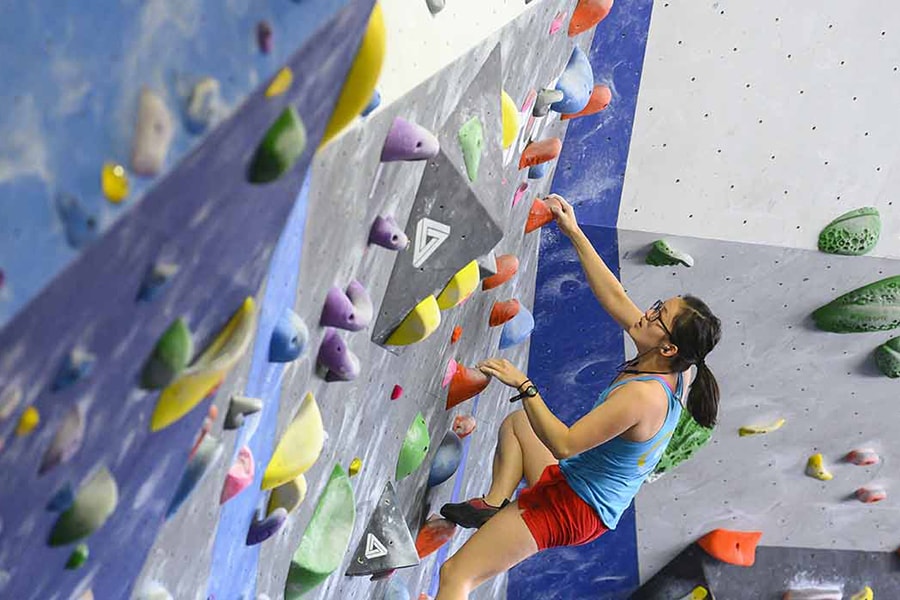 Months after tearing a tendon in her ankle at a National Cup Series bouldering competition, Carnegie Mellon junior Erika Giuse pulls on her climbing shoes. She's healed, and back in the swing of things coaching practices of the CMU Climbing team at Ascend, a climbing gym in Pittsburgh's South Side neighborhood.
Giuse founded the CMU Climbing Team, which is a subset of the CMU Explorers Club, last semester to share her experience with her fellow students. Around 70 students have signed up, with about 30 regularly attending practices.
Find out more and watch the video. 
CMU Community Day at Kennywood Park is June 8
Tickets for this year's CMU Community Day at Kennywood Park on Saturday, June 8, will go on sale beginning Wednesday, May 22 at the Community Picnic on campus. New this year, employees may purchase up to four CMU FunDay tickets for $15 each (valid only on June 8), rather than only two tickets as in previous years.
Also new this year is the ability to purchase $10 food/vendor vouchers for only $5. You may purchase one food/vendor voucher for every $15 FunDay ticket purchased.  
You must present your own CMU ID to purchase tickets, and tickets must be purchased with cash only. There are no refunds.
Ice cream treats for everyone and prizes for children 10 and under will be given out from 1 – 2 p.m. in Pavilion #12. Airbrush tattoos will be available for children 10 and under from 12 – 2 p.m. in Pavilion #12.
Ticket Sale Dates:
Community Picnic, May 22, 11:30 a.m. – 1:30 p.m.
May 28, Cohon University Center, 11:30 a.m. – 1 p.m.
May 29, Mellon Institute, 11:30 a.m. – 1 p.m.
May 30, Cohon University Center, 11:30 a.m. – 1 p.m.
June 4, Cohon University Center, 11:30 a.m. – 1 p.m.
June 5, Cohon University Center, 11:30 a.m. – 1 p.m.
June 6, Cohon University Center, 11:30 a.m. – 1 p.m.
June 7, Cohon University Center, 11:30 a.m. – 1 p.m.
CMU Community Day at Kennywood Park is presented by Staff Council. Find out more.