June 17, 2019
Williams' Residency Aims To Help Strengthen Campus Culture
By Bruce Gerson bgerson(through)cmu.edu
Achieving a diverse, equitable and inclusive environment takes courage, collaboration, commitment and a willingness to make meaningful connections.
That's the message the dynamic Damon Williams delivered in an engaging and provocative lecture to kick off a two-day residency at Carnegie Mellon University, where he met with several groups of university leaders, faculty and staff to discuss and strengthen the ongoing efforts to enhance campus culture.
An award-winning scholar, leader and educator — he's one of the foremost authorities on building diversity and inclusion in higher education, business and government — Williams said building relationships and breaking unconscious biases are vital to making progress.
"In the workplace, even though we're constantly connecting and tweeting and sharing, do we really know how to have meaningful conversations with one another with empathy? Do we really know how to look at the world through others' perspectives? To connect?" he asked.
"To break the habit of bias and prejudice we have to have connections and relationships, and understand others and who they are, what motivates them, where they come from. It's the connectivity that allows us to break through," he said.
Williams is a founding architect of the "Inclusive Excellence Model," founder of the Center for Strategic Diversity Leadership & Social Innovation and a senior scholar and innovation fellow for Wisconsin's Equity and Inclusion Laboratory at the University of Wisconsin-Madison. 
"To break the habit of bias and prejudice we have to ... understand others and who they are, what motivates them, where they come from." — Damon Williams
He said it is in search committees and performance review discussions where unconscious bias is most likely to occur.
"It is in those moments when we have to be the most mindful," he said.
Also crucial to the diversity mission is collaboration and commitment in many forms — cognitively, behaviorally, strategically, operationally and financially.
"Each one of us has to be committed to move forward — to mentor differently, teach in a way that's more inclusive, to update our approach to advising, to engage in self-directed learning  — that's when we'll start to see change we want to see. It's not just the plan, it's the people that make change really happen," Williams said.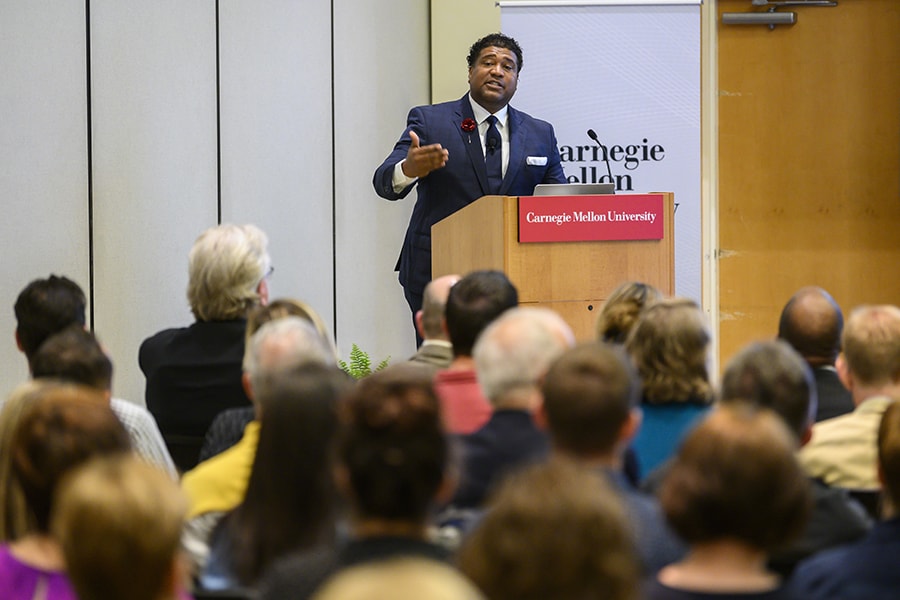 It also takes a financial investment.
"Commitment without currency is counterfeit," he said, quoting a former colleague.
Innovation and courage also are key ingredients to moving the needle forward. Williams noted it takes courage to be humble; to build relationships; to coach, mentor and sponsor differences; to challenge privileges and biases; to serve students and colleagues; and to go in new directions.
"At the end of the day, it's the ability to create connectivity, which becomes so important to allow us to have the courage to move in the directions we want to go," he said.
Williams' visit received rave reviews from many faculty and staff who participated in the group sessions.
Colleen McMullen, executive director of Community and Inclusion at the Tepper School of Business, said what resonated most with her was his discussion on how to move from awareness to action to innovation.  
"Dr. Williams' visit provided an opportunity for leaders within the campus community to better understand the strategic framework in which to create and operationalize our DEI (diversity, equity and inclusion) strategic plans, with emphasis on committee resources, accountability and campus-wide engagement that ultimately leads to actual change," she said.
Shawn Blanton, professor of electrical and computer engineering, said Williams' experience and expertise in the diversity and inclusion realm is unsurpassed.
"The impact of his visit and engagement will resonate on this campus for a long time to come, since I equate it to giving direction, perspective and pathways to groups of faculty and staff that are willing to make change, but simply don't know how to do so," Blanton said.
"The impact of his visit and engagement will resonate on this campus for a long time to come. ..." — Shawn Blanton
Linda Babcock, the James M. Walton Professor of Economics and head of the Social and Decision Sciences Department, said Williams provided inspiration, knowledge, evidence-based solutions and a multitude of actionable ideas.
"What resonated with me most," she said, "was his willingness to say the difficult things we need to hear while at the same time galvanizing our community to make the changes we must," Babcock said.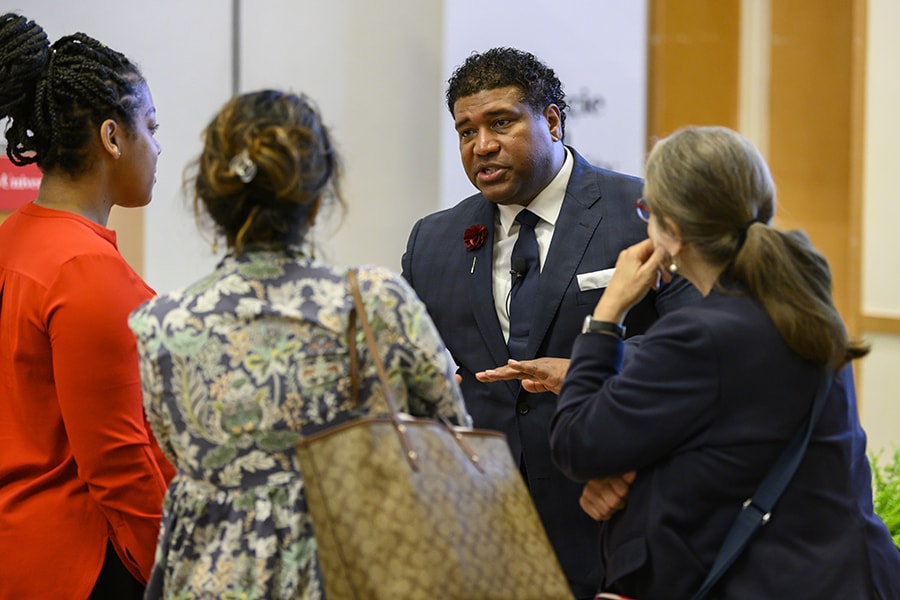 Mark Delos Reyes Davis, a member of the Campus Climate Task Force, agreed.
"He provided some pretty specific recommendations on how to generate additional insight from the community as well as ways to help ensure the task force's work is embraced and wherever possible implemented," Davis said.
Eric Anderson, senior associate dean in the College of Fine Arts, said Williams was inspiring in discussing the need to discover valuable alignments with diverse people that are only found when you go much deeper than surface level. 
"What resonated with me most was his willingness to say the difficult things we need to hear ...  to make the changes we must." — Linda Babcock
"He is making connections that provide new ways of thinking about these challenges and opportunities, which will be unique to each working environment and culture," Anderson said.
Professor Andrea Ritivoi, head of the English Department, also found the conversation with Williams inspiring.
"I appreciated his awareness of, and focus on, intellectual diversity," she said. "We had a productive conversation about how the humanities at CMU can strengthen intellectual diversity on our campus."
Williams' residency was his second visit to CMU. As dean of the College of Engineering, Provost Jim Garrett invited him to help the college devise a strategic plan on diversity and inclusion. Williiams met with the college's leadership team and department heads to offer his perspectives.
"He addressed the immediate need for us to build an earnest capability surrounding diversity, inclusion and equity. We were able to recognize how adapting our culture in a better, more inclusive way plays a major part in what we have to accomplish," Garrett said.