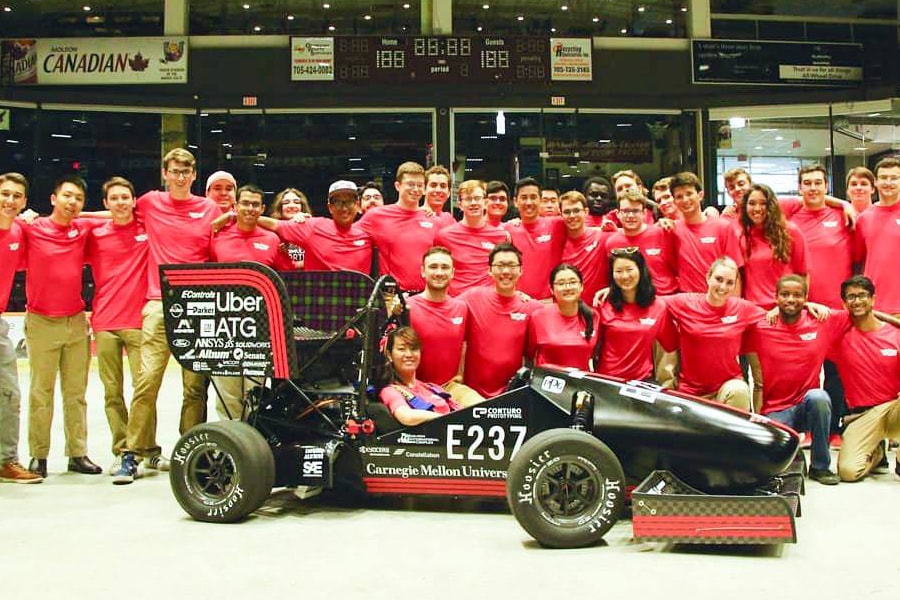 June 19, 2019
News Briefs
Carnegie Mellon Racing Wins Formula SAE Championship
Carnegie Mellon's Racing team recently won the 2019 Formula SAE North Championship in Ontario, Canada.
The team's vehicle, named 19E, is a fully electric Formula 1 style race car designed and manufactured by team members. Carnegie Mellon placed first in the overall, design, cost, acceleration, skidpad, autocross and endurance categories. The team placed second in presentation and third in efficiency. 
Led by mechanical engineering senior and team president Katie Lam, Carnegie Mellon is in Nebraska this week competing in the Formula SAE Lincoln, June 19-22. 
This year's championship comes on the heels of the team's Formula SAE Electric title last year. Find out more.
Faculty Discuss Ethical Use of Technology in Society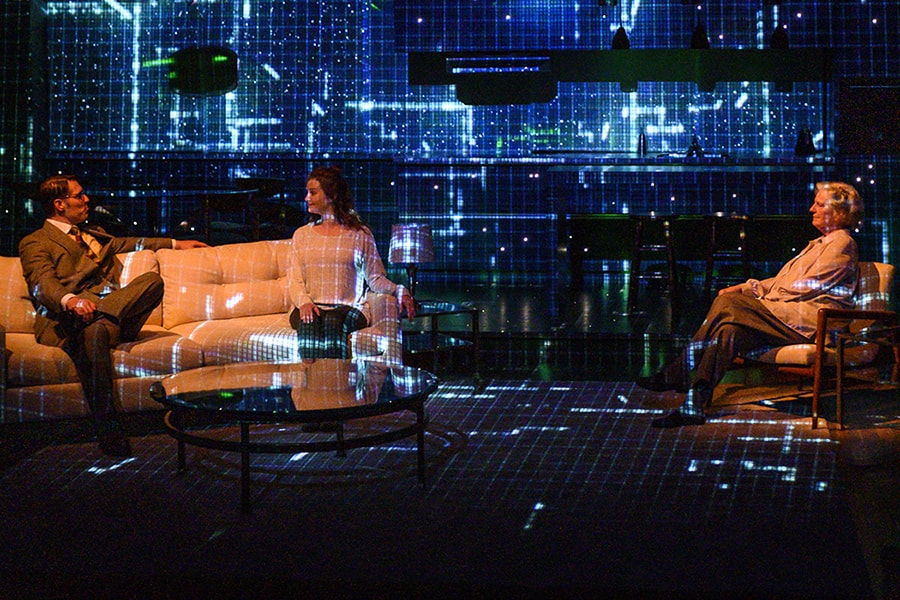 As the house lights rise in the O'Reilly Theater, actress Jill Tanner begins her performance as the titular character in the show "Marjorie Prime." She's dressed casually, and speaking to a much younger man in a full suit — a holographic representation of her late husband. He's a youthful, AI version of the man she fell in love with, designed to help her with the frustration of her decaying mind.

Between two performances of the play earlier this month, Carnegie Mellon faculty members Illah Nourbakhsh and Henny Admoni joined Director Marya Sea Kaminski at the Pittsburgh Public Theater for a panel discussion, titled "When Robots Become Our Companions: Facts, Fictions, and Uncomfortable Truths." The panel was part of a series of outreach programming made possible by the 2016 K&L Gates Endowment for Ethics and Computational Technologies.
"I think 'Marjorie Prime' is an interesting play on this whole issue of authenticity, the human, non-human and identity," Nourbakhsh said. "This is relevant to society because of diseases like Alzheimer's and dementia. But then you add to the mix robotics, and it's really fascinating. When and how is it okay for a system to act like a human, or to use human social cues? And is that manipulation, or care? I think the play does a good job opening up those issues."
Marjorie Prime is at the O'Relilly Theater through June 30. Find out more.
Microscopy, VR Illuminate New Ways To Prevent, Treat Disease
A research team from Carnegie Mellon and Benaroya Research Institute at Virginia Mason is pairing a nanoscale imaging technique with virtual reality technology to create a method that allows researchers to "step inside" their biological data. By combining the technique, called expansion microscopy, with virtual reality (VR), scientists will be able to enlarge, explore and analyze cell structures far beyond the capabilities of traditional light microscopy.
The development of these technologies, a two-step process funded at $200,000 through Grand Challenges, an initiative of the Bill & Melinda Gates Foundation, will accelerate researchers' understanding of infectious and autoimmune diseases and enhance their ability to develop disease diagnostics, and prevention and treatment methods.
Yongxin (Leon) Zhao, an assistant professor of biological sciences at Carnegie Mellon's Mellon College of Science, has been developing the expansion microscopy technique to physically magnify a biopsy, allowing researchers to see fine details in biological samples using standard microscopes. Learn more.
Heinz College Launches Redesigned CIO Certificate Program
The Heinz College has announced the launch of its newly redesigned Chief Information Officer (CIO) Certificate Program, the centerpiece of its executive education offerings. The CIO program provides experienced managers with the industry-leading tools and insights they need to become effective leaders in information and technology management at the highest levels. Courses will be taught by Heinz College's world-renowned faculty as well as industry experts.
The CIO Certificate Program features a hybrid delivery model that blends in-person courses and collaborative work sessions with synchronous distance learning. The first cohort of the new program will begin in December.
Major topics covered in the program are IT strategy and management, the role of the CIO, enterprise architecture, digital transformation, cybersecurity, data management and risk management. As part of this certificate program, students work with a team of their peers to develop a new information technology strategic plan for an organization and give a practicum presentation of that plan to an executive board. This enhanced experiential component challenges CIO students to apply the methods and techniques learned in the program in a practical way. Find out more.
Nominate Your Deserving Colleagues for the Andy Awards
Nominations for the Andy Awards, the university's staff recognition program, are now being accepted. Take the time to nominate your colleagues whose outstanding work is deserving of this special recognition. All nomination materials must be submitted by July 8.
For more information on the awards program, including category descriptions and criteria, and how to nominate, visit the Andy Awards website at https://www.cmu.edu/andyawards/.
Questions? Send email to AndyAwards@andrew.cmu.edu. 
EH&S To Conduct Building Evacuation Drills
To practice fire safety awareness and preparedness, the Environmental Health & Safety Department will conduct evacuation drills in more than 35 academic and administrative buildings this summer.
During the 15-20 minute drills, which begin Tuesday, June 25, please follow these directions when the alarm sounds:
Follow the directions of your floor marshal and proceed to the nearest exit.
Floor marshals should notify the nearest emergency official when everyone is accounted for, or if anyone is missing.
Remain with your group until the all-clear is given to return to the building.
Do not leave campus until the exercise has been completed.
Evacuation drills will be conducted between 9 a.m. and 12 p.m. and will follow the schedule below.
Tuesday, June 25
Hamburg Hall and Smith Hall
Collaborative Innovation Center
Wean Hall
Doherty Hall
Hamerschlag Hall
Scott Hall
FMCS-Physical Plant Building
Thursday, June 27
Porter/Baker Halls
Scaife Hall
Roberts Hall
College of Fine Arts
Margaret Morrison Carnegie Hall
Skibo Gym
Hunt Library
Monday, July 1
Gates/Hillman Center
Newell-Simon Hall
Purnell Center for the Artrs/Miller Gallery
Cyert Hall
Cohon University Center
Bramer House
Alumni House
Wednesday, July 10
Information Networking Institute
Software Engineering Institute
UTDC Building
Whitfield Hall
4721 Fifth Ave.
GATF Building
Friday, July 12
Integrated Innovation Institute
205 S. Craig St.
300 S. Craig St.
311 S. Craig St.
407 S. Craig St.
417 S. Craig St.
Tuesday, July 16 (* please note new date)
6555 Penn Ave.
National Robotics Engineering Center
Pittsburgh Technology Center
Questions? Contact Thomas Plietz, fire safety manager, at tplietz@andrew.cmu.edu.