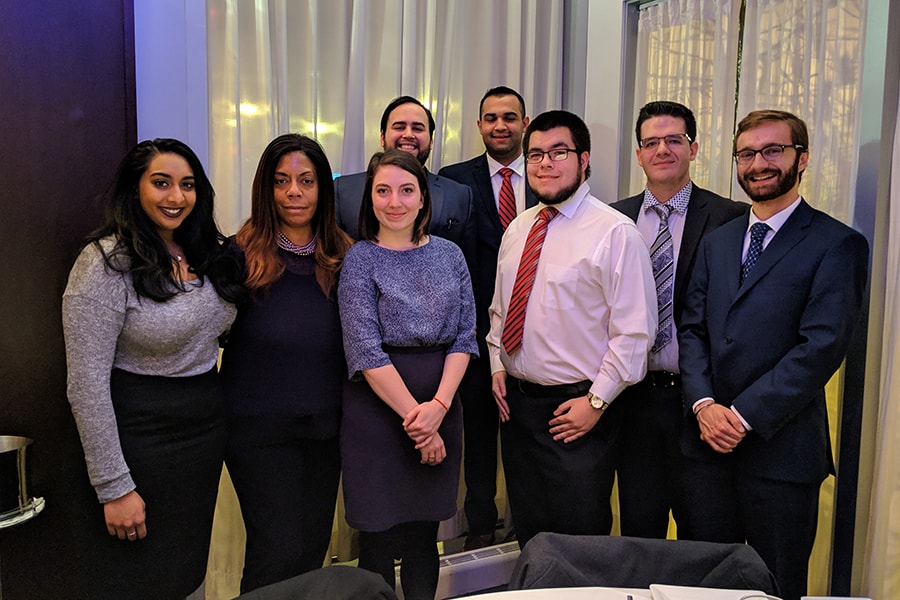 February 13, 2019
News Briefs
Graduate Students Explore Career Opportunities in Nation's Capital
Following last year's trip to Silicon Valley, this year's cohort of students in the International Relations and Politics Accelerated Master's Program (IRP/AMP) traveled to Washington, D.C., in December to receive a first-hand glimpse in international relations career pathways.
Carnegie Mellon University's IRP/AMP program allows students to receive both a bachelor of science and master of science degree in International Relations and Politics in just five years. In addition to coursework and a required graduate thesis, IRP/AMP students complete a summer internship and take part in a cohort trip designed for networking and practical application of the curriculum.
"The IRP/AMP trip to Washington, D.C., is a phenomenal opportunity for our master's students to identify ways in which their work in international relations, political science and international and national security can be applied to solve many U.S. and global issues," said Emily Half, Institute for Politics and Strategy (IPS) deputy director. "At Carnegie Mellon, we are training the next generation of leaders, and I am excited to see what they can accomplish after graduation."
Traveling from CMU's Pittsburgh campus to Washington, students spent three days visiting government sites and think tanks, engaging with D.C.-based CMU alumni, and exploring international relations and security-adjacent opportunities. Read more.
Tepper Building Earns LEED Gold Certification
Carnegie Mellon University's first building on the David A. Tepper Quadrangle that houses the university's Coulter Welcome Center and the new home for the Tepper School of Business has been awarded Gold certification from Leadership in Energy and Environmental Design, established by the U.S. Green Building Council. LEED is the most widely used rating system for environmentally responsible construction.
LEED Gold requires a score between 60 and 79 points, awarded for efforts to limit the environmental impact in the construction and operations of new buildings. The Tepper Quad construction aligns with 73 points on the LEED scale.
"From the start, the Tepper Quad was planned as a green building," said Tepper School Dean Robert Dammon. "It is gratifying that LEED has recognized the significant efforts of our planning committee with a Gold certification. We maintain our commitment to sustainable operations in our occupation of the Tepper Quad." Read more.
Register for CPR/AED Training
CMU's Department of Environmental Health and Safety is offering a CPR/AED class at 10 a.m. on March 5, 2019 in Rangos 2, Cohon University Center.
Attendees will learn how to recognize the signs of a sudden cardiac arrest, when to activate the EMS system, and how to do CPR. Hands-on training will enable those who attend this class to become familiar with an AED and to successfully operate it in an emergency. Training also teaches the operator how to avoid potentially hazardous situations. 
If you would like to attend the class, please register through BioRaft.
Last Call To Submit Nominations for Student Employee of the Year Award
The deadline to submit nominations for the Student Employee of the Year award is February 17, 2019. This award recognizes the outstanding contributions of students who work on-campus while attending college.
All nominated student employees will be recognized and honored at the Student Employee Appreciation Lunch on April 2, 2019.  The student selected as the Carnegie Mellon Student Employee of the Year will be announced at the lunch and will receive a monetary award of $200. This student will have the opportunity to move on to district, regional and national consideration.
Contact Pati Kravetz at 412-268-7052 or pk13@andrew.cmu.edu for questions about the nomination process.
Volunteers Needed for Take Our Daughters & Sons to Work Day
CMU Staff Council is looking for staff, faculty, students and groups to present a session on what they do at CMU, a hobby or a topic of interest for Take Our Daughters and Sons to Work Day on April 25. Sessions are held from 1:15 - 2 p.m. and from 2:15 - 3 p.m. with groups of 10 to 20 children. More than 350 children participate, and these sessions provide them with an opportunity to explore, imagine, innovate and see the amazing CMU community and what it has to offer. If you are interested in presenting, please complete the online form. Volunteers are also needed to help the kids navigate around campus, as well as support event logistics.