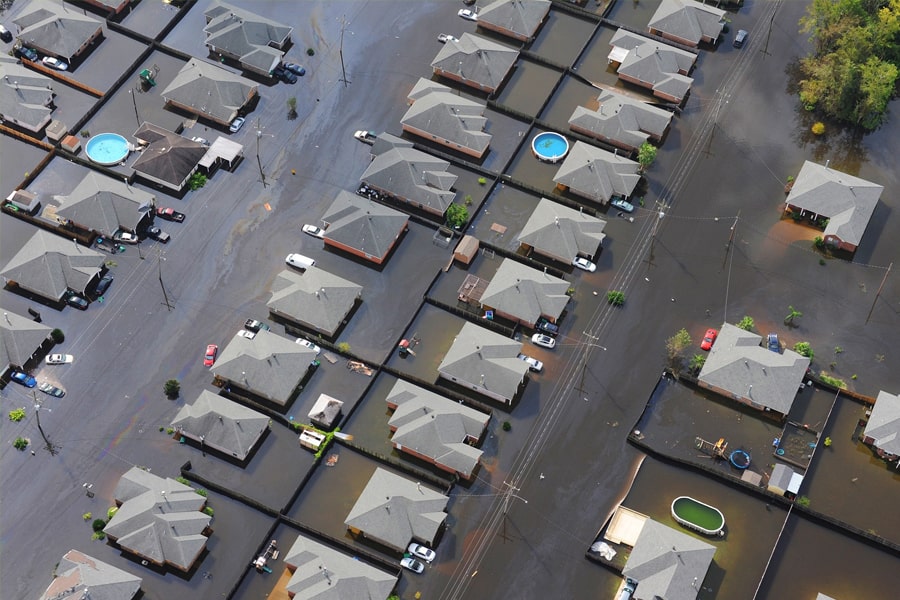 October 17, 2018
News Briefs
Out-of-date Data May Contribute to Future Flooding in the U.S.
A recent study by Carnegie Mellon researchers indicates that out-of-date precipitation data used by state department of transportation offices may be increasing the risk of flooding by not providing sufficient information to design and build adequate stormwater infrastructure.
Published in Environmental Research Letters, work by Civil and Environmental Engineering Ph.D. student Tania Lopez-Cantu and Associate Professor Costa Samaras reviewed the state DOT design manuals of the 48 contiguous states and the District of Columbia. DOTs use these manuals to guide infrastructure planning and construction including sewer lines and curbside grates. But according to this research, some of these manuals are based on out-of-date precipitation data, and none directly account for future climate change, which could spell trouble for many state residents.
"As greenhouse gases from human activities have increased in the last few decades," Samaras said "our air has gotten warmer, and warmer air can hold more water. Many cities and communities are experiencing heavier rainfall, and stormwater infrastructure can't seem to keep up — which can lead to dangerous flash flooding and infrastructure failure."
HR To Host Benefits Information Sessions
The Office of Human Resources will conduct benefits information sessions on the second and fourth Tuesday of each month beginning on Oct. 23. These sessions, geared toward new — and newly benefits eligible — employees, will take place from 11 a.m. to noon in Cyert Hall, Room 100D. The sessions are an opportunity to learn about the various benefits available to the Carnegie Mellon campus community.
Members from the Human Resources Benefits and CMUWorks Service Center teams will be present to answer questions and provide assistance. Computers will be available to access your benefit elections through Workday at the end of the session — please come prepared with your Andrew ID login credentials and DUO Two Factor Authentication device (mobile phone or key fob).
Visit the Human Resources website for the session schedule. For questions, please contact Brad Truxell, benefits administrator, at btruxell@andrew.cmu.edu or 412-268-8197.
Reducing CO2 Emissions Could Help Power Plants Use Less Water
The U.S. electrical power industry uses nearly half of all water in the country. Power plants use water for cooling and creating steam to turn turbines, which then generate electricity. But during droughts and water shortages, these plants can put a strain on the entire water system.
In a recent paper published in Energy Policy, Carnegie Mellon Engineering and Public Policy (EPP) professors Haibo Zhai and Ed Rubin with colleagues from Singapore Management University, have researched this conflict and come away with an insight: governmental mandates to decrease CO2 emissions could reduce water use in the power industry.
"These governmental policies incentivize low-carbon electricity generation through multiple paths, such as renewables and natural gas," Zhai said. "This could reduce adverse impacts on aquatic ecosystems, enhance water availability for multiple sectors and promote sustainable development."
CMU, Eli Lilly Collaborate to Advance Pharmaceutical Research
A partnership between Carnegie Mellon's Center for Advanced Process Decision-making and global pharmaceutical company Eli Lilly and Company is working to accelerate product development in the evolving pharmaceutical industry.
Lilly will sponsor 10 graduate students and postdoctoral researchers to work with CAPD faculty by July 2019. Over the seven-year partnership, which began in 2017, Lilly's investment will provide nearly $8 million in funding to the CAPD.
"About two or three years ago we realized that something was changing in the pharmaceutical industry," said Nick Sahinidis, professor of chemical engineering and director of the CAPD. "Pharmaceuticals are now producing chemicals on a very large scale. They want to optimize their production processes, and what we do in the CAPD is exactly that — we optimize the design and operation of processes, and we guarantee that the products will satisfy all kinds of production requirements and customer needs."
CMU To Host Sports Analytics Conference, Oct. 20
Sherri Nichols will give the keynote address at Carnegie Mellon's Sports Analytics Conference, Oct. 20, a gathering among sports analysts from around the world hosted by CMU's Statistics and Data Science Department. Nichols, a software developer, early sabermetrics expert and competitive powerlifter, attended graduate school at CMU's School of Computer Science. In her talk, titled "You Don't Throw Like a Girl: Disrupting Expectations," Nichols will focus on her experiences in the tech and sabermetrics communities, and how it relates to the world of analytics.
The conference will include sessions with analysts from the MLB, NFL, NHL, NBA and the horse racing industry. Several CMU Ph.D. students will present their work on "Augmenting Adjusted Plus-Minus in Soccer with FIFA Ratings."
"We are very excited for this year's Carnegie Mellon Sports Analytics Conference," said Rebecca Nugent, associate head of the Department of Statistics and Data Science. "Last year's meeting really showed the energy, creativity and intellectual rigor in today's sports analytics community as well as the strong Carnegie Mellon ties to the field. This year we are proud to welcome CMU alumna Sherri Nichols as our keynote speaker, who, like many in our CMU family, saw possibility for change, persisted with data analytics on her side and 'changed the game.'"
Fine Forgiveness Week at University Libraries
University Libraries is accepting food for fines during the week of Oct. 21-27. Donate three or more canned goods or non-perishable food items and have up to $40 in current Carnegie Mellon University Libraries fines cleared from your account. Food contributions will be donated to the CMU Community Food Drive. Donations will be accepted at the Hunt Library Circulation Desk at any time during this period. Does not include multi-media fines.
TEDxCMU Seeks Speakers
TEDxCMU is looking for student and external speakers for its 2019 spring event. This immersive, day long conference, shares the talents of Carnegie Mellon speakers and performers with the Pittsburgh community. The deadline for students to apply is Oct. 14, and the deadline for external speakers is Dec. 18. Apply online.