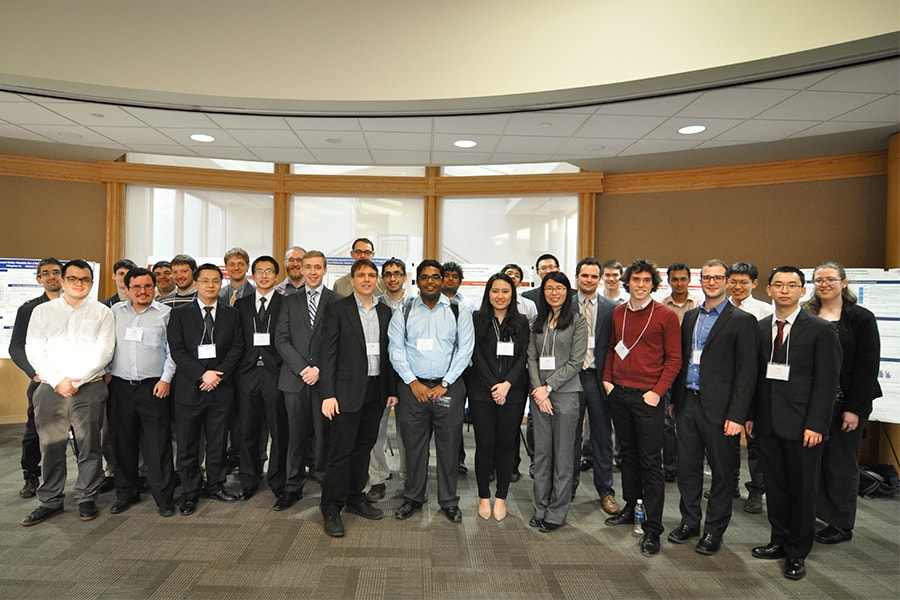 October 12, 2018
CMU, Eli Lilly Collaborate to Advance Pharmaceutical Research
By Marika Yang
Media Inquiries
A partnership between Carnegie Mellon University's Center for Advanced Process Decision-making and global pharmaceutical company Eli Lilly and Company is working to accelerate product development in the evolving pharmaceutical industry.
Lilly will sponsor 10 graduate students and postdoctoral researchers to work with CAPD faculty by July 2019. Over the seven-year partnership, which began in 2017, Lilly's investment will provide nearly $8 million in funding to the CAPD.
"Lilly is pleased to be a part of this partnership with CAPD," said Salvador Garcia-Munoz, digital design team lead, small molecule design and development at Lilly. "Our goal at Lilly is to find ways to improve, with speed and efficiency, the ways in which we deliver medicines to patients. This partnership will work to help us reach this important goal."
The Center for Advanced Process Decision-making was founded in 1985 to work with companies on a wide range of research projects with the aim of solving industrial problems. In its history, the CAPD has developed important systems technologies, including optimization algorithms and models, operations research methods, and process systems engineering methodologies. The CAPD has worked with a number of sponsors including the Department of Energy, the National Science Foundation Exxon Mobile and Dow Chemical. Through this partnership with Lilly, the CAPD has expanded its research activities into the pharmaceutical sector.
"About two or three years ago we realized that something was changing in the pharmaceutical industry," said Nick Sahinidis, professor of chemical engineering and director of the CAPD. "Pharmaceuticals are now producing chemicals on a very large scale. They want to optimize their production processes, and what we do in the CAPD is exactly that — we optimize the design and operation of processes, and we guarantee that the products will satisfy all kinds of production requirements and customer needs."
One of the biggest recent changes in the pharmaceutical industry is in the manufacturing process itself. Previously, products were made predominantly through batch production, which creates products through a series of steps and stops, like making one cake at a time, step-by-step. Today, the manufacturing process is shifting to continuous production, an uninterrupted flow process that is not only as reliable but also cost effective. A more efficient process allows pharmaceutical companies to lower manufacturing costs and increase product quality.
However, moving to continuous production after decades under batch production means that companies are now facing new problems. This is where the CAPD comes in: by working with Lilly, the CAPD is researching solutions to these problems, as well as methods to optimize production, efficiency and quality.
"Being able to scale things up from the laboratory to the plant for high-volume production, and being able to guarantee quality at that level of scale, is something that's really important for manufacturing," said Larry Biegler, professor, head of the Chemical Engineering Department and co-founder of the center. "This is where pharma is basically having a renaissance, looking at manufacturing. There is a movement called Quality by Design. QBD is basically how to build models, how to design mathematical models that will allow you to scale up, and how to retain quality at a high volume. This project is essentially built on that platform and that concept."
Faculty members at the center — Sahinidis, Biegler, Chrysanthos Gounaris and Ignacio Grossmann, are working on projects with students and researchers that cover many research topics. Postdoctoral researcher Michael Short is working with Biegler on optimization algorithms and models, developing an open source software called Kinetic Parameter Estimation Toolkit, or KIPET.
"The main idea is to take these theoretical works that they've been doing in the past and to put it into a broad framework that the average company chemist can actually pick up," Short said. "We're using open source tools and putting together user manuals so that chemists can access the work that we're doing — making it accessible and bridging the gap between the theoretical knowledge and the average chemist inside of Lilly."
Research projects span every level of pharmaceutical manufacturing, from experimental design in the lab, to working with scale and scope in the plant, to the logistics of planning and scheduling resources at the industry level. For each project, CMU researchers have been teamed up with at least one researcher at Lilly. The Lilly team, led by Garcia-Munoz, is interdisciplinary, bringing an industrial perspective to the research and facilitating immediate technology transfer.
"My hope is that this project is just the beginning of what we do — not just with Lilly but also the entire pharmaceutical sector," Sahinidis said. "I think these are very exciting times for the industry, as well as for the CAPD."