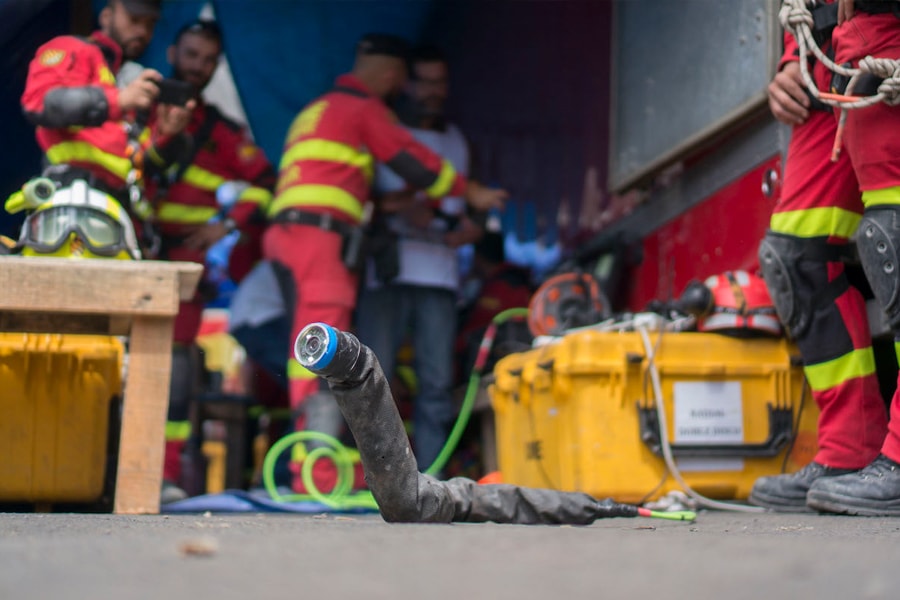 May 02, 2018
News Briefs
Snakebot Named Ground Rescue Robot of the Year
The Robotics Institute's multi-jointed Snakebot robot, which was deployed to search for survivors following the Mexico City earthquake last fall, has been named Ground Rescue Robot of the Year by the Center for Robot-Assisted Search and Rescue (CRASAR).

CRASAR, an independent, nonprofit research group, presented its inaugural Disaster Robotics Awards on April 14 as part of National Robotics Week.

Howie Choset, professor of robotics at CMU, and systems scientist Matt Travers have been studying potential use of a snake-like robot for disaster search-and-rescue for years in CMU's Biorobotics Lab. The robot can propel itself into the smallest of spaces, allowing rescuers to search for signs of life where dogs and people cannot reach, CRASAR noted in its award announcement.

Travers led a small team to Mexico City last fall to search for survivors with Snakebot — it's first use during the response phase of an actual disaster. The robot discovered no survivors in the collapsed apartment building where it was deployed.
School of Art's Senior Exhibition "DOT GOV" Opens May 4
Carnegie Mellon's School of Art will feature the work of 36 graduating seniors in art and the BXA Intercollege Degree programs in "DOT GOV." The exhibition opens with a reception 6-8 p.m. on Friday, May 4, in CMU's Miller Gallery and will run from Saturday, May 5, through Saturday, May 19.
"DOT GOV" invites viewers to reflect on creating art and the role of artists in an era dominated by a warp-speed news cycle and the concept of "fake news." How do artist voices break through the noise and hold power of their own?
For more information about the exhibition, visit the Miller Gallery website. For additional details on the May 4 reception and to RSVP, visit the event Facebook page.
You're Invited: Provost Search Town Hall Meeting, May 9
As mentioned in the recent campus email announcing the launch of the provost search, the search committee is soliciting input from the university community.
If you are in the Pittsburgh area, join Richard Scheines, chair of the Provost Search Committee and dean of the Dietrich College of Humanities & Social Sciences, and Mary Jo Dively, co-chair of the Provost Search Committee and vice president and general counsel, at this town hall in Posner Center. If you cannot attend in person, you can view the live webcast by using your Andrew ID to log into the password protected URL at: https://www.cmu.edu/provost-search/webcast/index.html.

You may also submit comments or learn more about the search at https://www.cmu.edu/provost-search/. Nominations from the community are encouraged and may be submitted by May 20 to search firm Isaacson, Miller at: https://www.imsearch.com/search-detail/S6-607.
Meet Your New Staff Council Divisional Representatives
Congratulations to the 2018-2020 newly elected Divisional Representatives! To learn more about who was elected from your division, visit the Staff Council website.
University Libraries Excellence Awards Now Accepting Nominations
The University Libraries Excellence Awards Committee is accepting nominations from the CMU community through May 25. The annual Excellence Awards recognize library employees for exceptional performance in any of five categories: citizenship, customer satisfaction, innovation, outreach and productivity.
Taking the time to nominate a person or team is one of the best ways to recognize superior performance and to thank the individuals or teams whose work you value most. Nominations for Excellence Awards may be submitted by any member of the Carnegie Mellon community, helping to ensure that those who most deserve special recognition are publicly acknowledged.
Nominate a University Libraries employee or team.
Women's Golf Earns First-Ever Trip to NCAA Championship
In its fourth year of intercollegiate competition, the women's golf team at Carnegie Mellon has been selected to compete in the 2018 NCAA Division III Women's Golf Championships.
The women are currently ranked 10th in the nation and have won three of their final four tournaments including placing second at the Williams College Invitational to close the regular season.
The championships will be held May 8-11, at the Mission Inn Resort & Club in Howey-in-the-Hills, Florida, on the El Campeón Course. Oglethorpe University and Central Florida Sports Commission will be hosting the four-day event.
Research Into Printing Ceramics Could Break Industry Mold
B. Reeja Jayan, an assistant professor in Carnegie Mellon's Department of Mechanical Engineering, has been awarded a 2018 National Science Foundation (NSF) Faculty Early Career Development Program (CAREER) Award to study the potential of 3D printed ceramics.

The award, including $500,000 in research funding, is given to a faculty member in the early stages of their career with a proven potential to be a leader in their field and to integrate their research into novel educational opportunities. The focus of Jayan's most recent work is researching how electromagnetic waves may be used to alter the structure within ceramic materials, potentially enabling the 3D printing of ceramics.

The development of ceramic 3D printing has lagged behind that of other materials, such as polymers or metals. Traditional ceramic manufacturing uses large amounts of energy, often requiring materials to be heated at extremely high temperatures. Jayan said she hopes to instead use electromagnetic waves, such as those microwaves use to heat food, to induce changes within ceramics at the structural level. If successful, she could potentially be able to achieve the same quality of results as current manufacturing methods — at a fraction of the energy cost.
Scott Institute Seed Grants Help To Fuel Energy Research
Funding from Carnegie Mellon's Wilton E. Scott Institute for Energy Innovation will stimulate new research initiatives ranging from helping people assess the climate risks of hydroelectric projects to finding a way to produce semiconductors for electronic devices, including electric cars.
The Scott Institute's Seed Grants for Energy Research Program supports faculty research in areas such as energy sources, production, policy and more. Professors can receive up to $75,000. Since 2013, the program has funded six annual rounds of applications and 48 research teams. This year, the Scott Institute and the EQT Foundation provided nearly $284,000 in funding. The EQT Foundation contributed $50,000 to the 2018 program to seed new research into natural gas-related issues.
As part of its mission, the Scott Institute funds strategic energy research across Carnegie Mellon to accelerate new initiatives and connections. Over 145 faculty members are affiliated with the institute and lead research programs spanning energy technology, policy and economics.