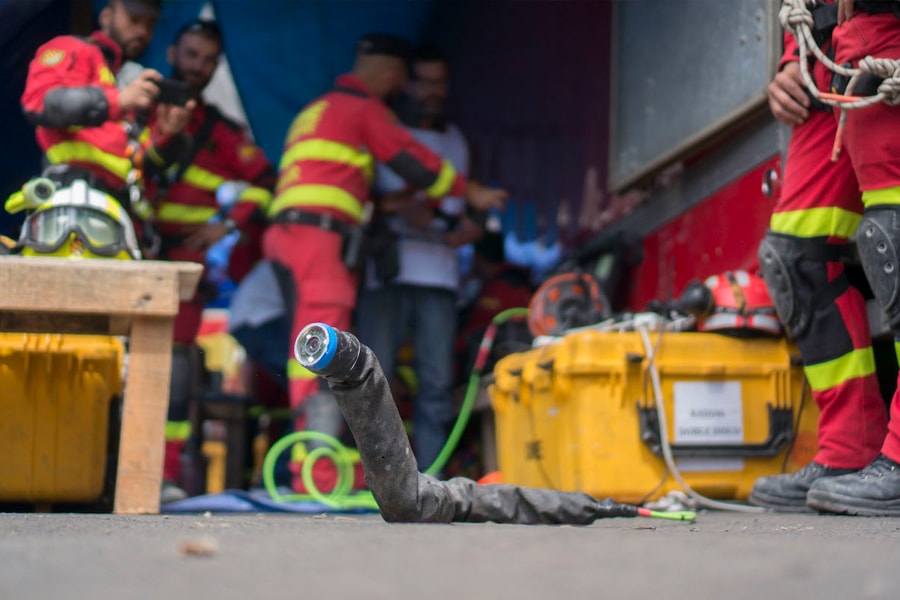 April 26, 2018
Snakebot Named Ground Rescue Robot Of The Year
By Byron Spice bspice(through)cs.cmu.edu
Media Inquiries
Byron Spice
School of Computer Science
The Robotics Institute's multi-jointed Snakebot robot, which was deployed to search for survivors following the Mexico City earthquake last fall, has been named Ground Rescue Robot of the Year by the Center for Robot-Assisted Search and Rescue (CRASAR).
CRASAR, an independent, nonprofit research group, presented its inaugural Disaster Robotics Awards on April 14 as part of National Robotics Week.
Howie Choset, professor of robotics at Carnegie Mellon University, and systems scientist Matt Travers have been studying potential use of a snake-like robot for disaster search-and-rescue for years in CMU's Biorobotics Lab. The robot can propel itself into the smallest of spaces, allowing rescuers to search for signs of life where dogs and people cannot reach, CRASAR noted in its award announcement.
Travers led a small team to Mexico City last fall to search for survivors with Snakebot — it's first use during the response phase of an actual disaster. The robot discovered no survivors in the collapsed apartment building where it was deployed.
"Being asked to go down to Mexico City to help in the response was a really amazing experience, albeit under less than ideal circumstances," Travers said. "Putting boots on the ground, even if only for a few days, showed us not only what our robot could and could not do, but allowed us to interact with first responders and to experience their world. The insight these interactions afforded us will drive how we use technology, including those under development, to better help people in need."
In addition to Snakebot, CRASAR recognized DJI Mavic Pro, a drone that flew 78 flights in response to Hurricane Harvey in Houston, Texas, and 247 flights following Hurricane Irma in Florida, as its Aerial Rescue Robot of the Year and Hydronalix EMILY, a surfboard-size robot used by lifeguards, as its Marine Rescue Robot of the Year.
"These robots enable life-saving decision making for responders and emergency managers," said Robin Murphy, director of CRASAR and a professor of computer science and engineering at Texas A&M University. "Rescue decisions and critical infrastructure decisions during that response phase are made very rapidly based on the best available information at the time and these robots, well-deployed with the right teams of operators and experts, are getting key information to decision makers so they can save lives and efficiently manage risk."
"Making robots work is hard," Choset said. "Making them relevant to rescue workers may be harder."