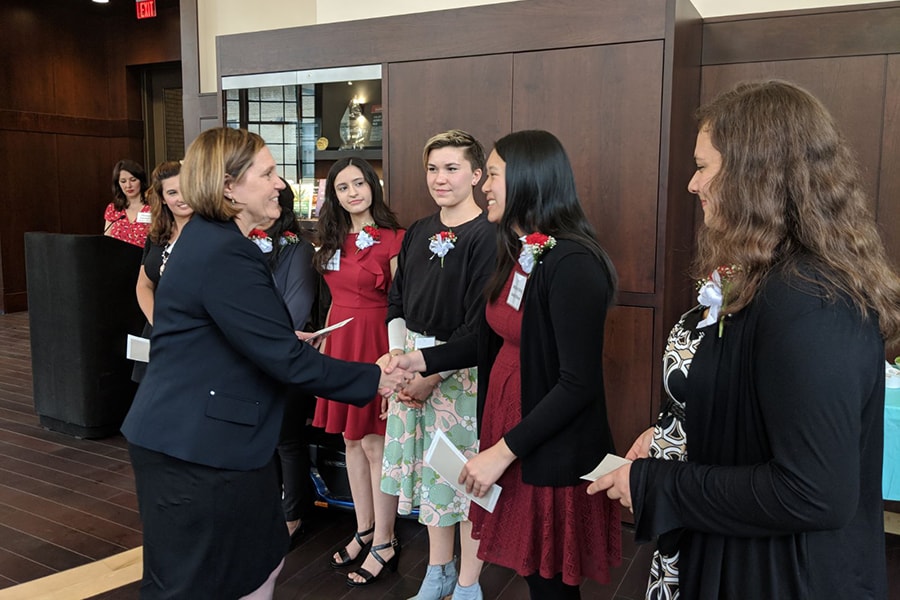 May 09, 2018
News Briefs
Seven High-Achieving Students Receive CMWA Scholarships
A swimming champion, actor and three founders and leaders of student organizations, are among this year's Carnegie Mellon Women's Association (CMWA) scholarship winners.
The CMWA annually presents seven outstanding graduating women from each of the university's seven schools and colleges with a $1,000 scholarship. CMWA Honorary President Tris Jahanian presented the awards at the April 25 reception.
The CMWA consults with deans and department heads to select extraordinary students who have had many academic and extracurricular achievements during their four years at CMU. Each recipient is committed to helping women and making the world a better place.
"The Women's Association scholarships are unique in that they are given to graduating students coming to the end of their Carnegie Mellon experiences, recognizing their unique accomplishments and seeking to support them in their next phases of life after graduation," said Christa Cardone, CMWA president. "Every year, I am awed by the accomplishments of these extraordinary women and am delighted that our membership has supported us in continuing to offer seven scholarships, one for each of the seven schools."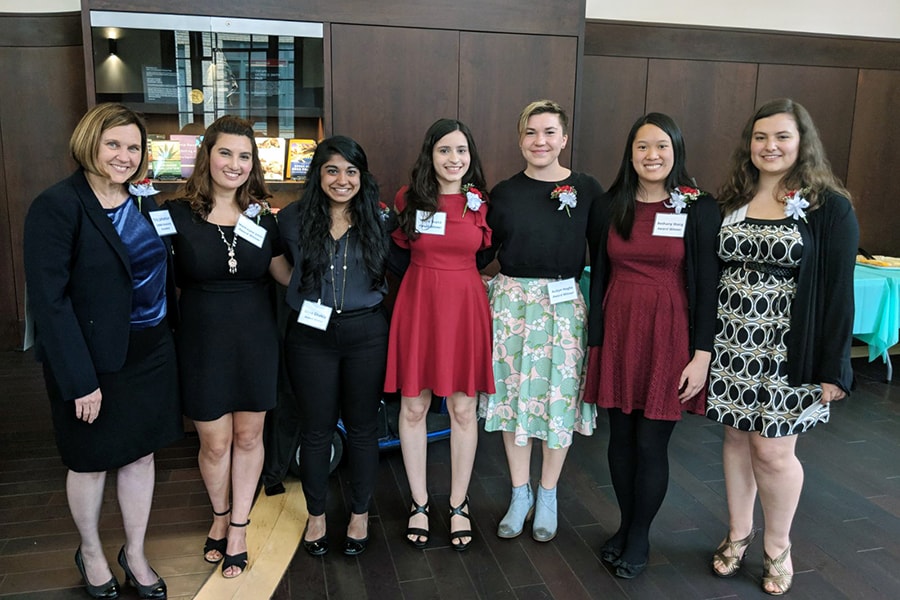 Pictured with Tris Jahanian (far left) are this year's CMWA scholarship recipients (l-r): Maitreyee Joshi, School of Computer Science; Mira Shukla, Heinz College; Nikita Gupta, Tepper School of Business; Aubyn Heglie, College of Fine Arts; Bethany Wang, College of Engineering; and Yasmene Elhady, Mellon College of Science. Not pictured is Kimberly Hochstedler, Dietrich College of Humanities & Social Sciences.
Learn more about the recipients.
Commencement Parking Restrictions and Stadium Closure
Parking will be restricted on Margaret Morrison Street starting Wednesday, May 9 through Friday, May 25 due to commencement preparation and post-ceremony activities. Barricades and signage will be placed on Margaret Morrison to indicate restricted areas. On Sunday, May 20, Margaret Morrison will be closed to all vehicular traffic from 6 a.m. to 2 p.m. to accommodate commencement shuttles.
Also note, Gesling Stadium (including the track) will be closed starting Thursday, May 10 through Friday, May 25 for commencement activities. For more information on commencement, visit www.cmu.edu/commencement.
Questions? Contact University Events at 412-268-5052 or commencement@andrew.cmu.edu.
Framework Assesses, Optimizes Economic Value of Lithium-ion Batteries
Renewable-based power systems that have zero or low carbon emissions require on-demand energy storage like lithium-ion batteries. But, the degradation of these batteries is a major concern operationally and economically.
In a new paper, "An intertemporal decision framework for electrochemical energy storage management," published in Nature Energy, Carnegie Mellon University and Tsinghua University researchers propose a new framework that addresses the degradation of lithium-ion batteries — also known as electrochemical energy storage (EES). They do this by deriving, implementing and optimizing new metrics.
Carnegie Mellon researchers Guannan He, Panayiotis Moutis, Soummya Kar and Jay Whitacre, collaborated with Qixin Chen from Tsinghua University. The work was conducted, in part, at CMU's Wilton E. Scott Institute for Energy Innovation.
Updates to University Policies Seek Your Feedback
Two University Policies have been updated and will be open for comment from the university community for the next 30 days. The policies are:
Business Travel and Expense Policy
The current Business & Travel Expense (BTE) Policy went into effect on March 14, 2011. The 2018 Policy refresh reflects changes to the travel industry landscape, updates to university procurement policies and requirements, and feedback from campus stakeholders regarding opportunities to enhance Policy understanding and compliance. The revised Policy is now an abbreviated version that has removed redundancies and procedures to be more concise as recommended by university leadership. However, the core content and allowable/unallowable expenses in the current version of the Policy has not significantly changed.
Financial Records Retention Policy
The current Financial Records Retention Policy went into effect on Jan. 14, 1997. The proposed Policy update reflects expansion to the categories and descriptions of Financial Records, updates to retention time period requirements, updates to the administration of the Policy to support university compliance with legal and other regulatory retention requirements, and feedback from stakeholders regarding opportunities to enhance the understanding of and compliance to the Policy.
To provide comments, please go to the Policies website.
Last Call To Register for Alumni Awards Ceremony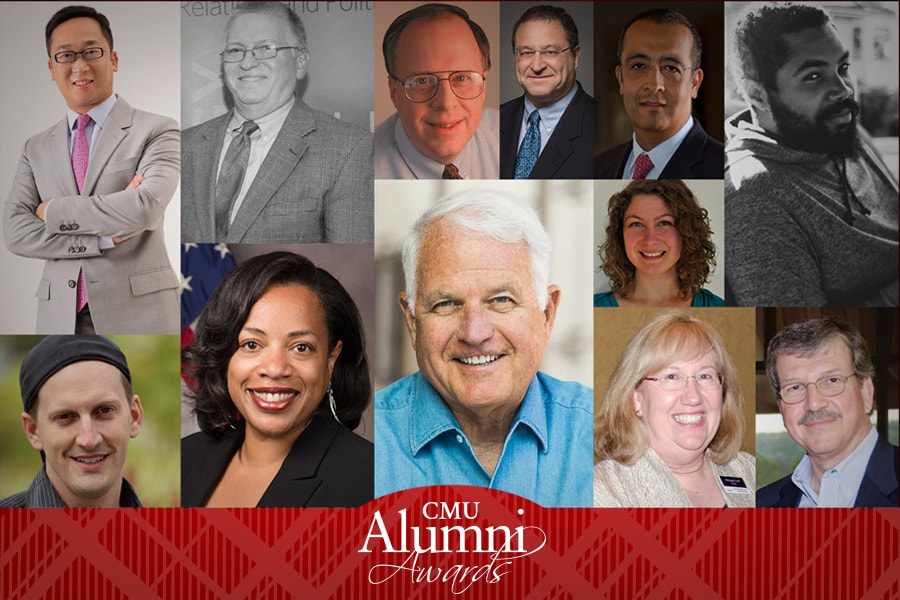 Join a dozen of CMU's brightest stars as their professional achievements and selfless service to Carnegie Mellon are celebrated at the 2018 Alumni Awards at 6 p.m., Friday, May 18 in CMU's Purnell Center for the Arts. Alumni and faculty are being honored in several award categories. The recipients are:
Founders Medal: Jim Swartz
Alumni Achievement Awards: Njema Frazier, Mark Gelfand, Tommy Oliver, William Strecker
Outstanding Recent Alumni Award: Ashley Kilp Godisart
Alumni Service Awards: Antoinette Sapet Ungaretti, Robert Ungaretti,  Andres Webster Henestrosa,  Andrew Widdowson, Thomas Yeung
Faculty and Staff Impact Award: Jay Devine
First presented in 1950, the Alumni Awards pay tribute to individuals distinguished by their service to the university and outstanding accomplishments in the arts, humanities, sciences, technology and business. To date, nearly 900 alumni, faculty and students have been honored with these awards.
The evening will include an inspirational ceremony, student performances, tapas-style dinner and drinks, and a chance to engage with alumni, faculty and staff, guests and university leaders.
Learn more about the award winners. Registration for the event closes on Friday, May 11.
University Libraries Excellence Awards Now Accepting Nominations
The University Libraries Excellence Awards Committee is accepting nominations from the CMU community through May 25. The annual Excellence Awards recognize library employees for exceptional performance in any of five categories: citizenship, customer satisfaction, innovation, outreach and productivity.
Taking the time to nominate a person or team is one of the best ways to recognize superior performance and to thank the individuals or teams whose work you value most. Nominations for Excellence Awards may be submitted by any member of the Carnegie Mellon community, helping to ensure that those who most deserve special recognition are publicly acknowledged.
Nominate a University Libraries employee or team.