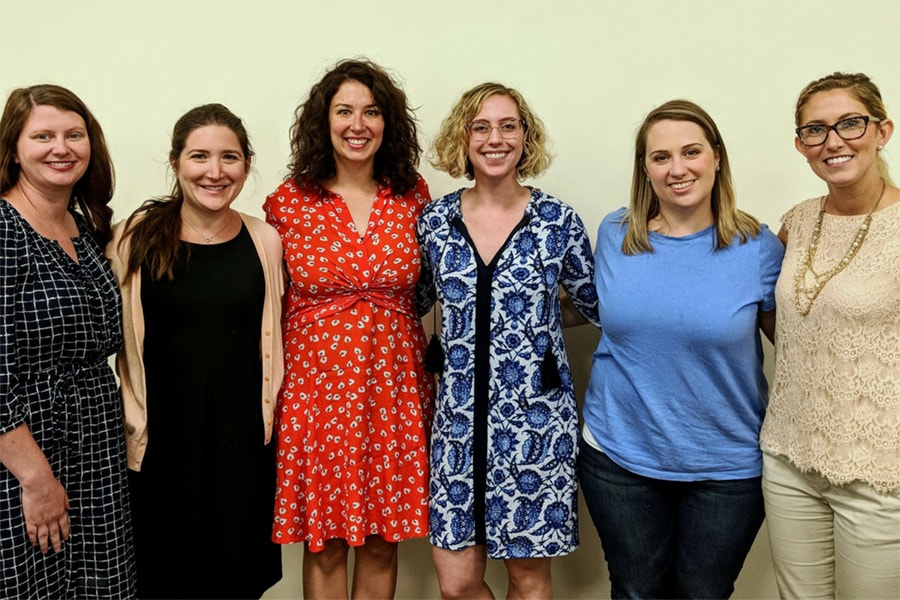 July 10, 2018
News Briefs
CMWA Names New Officers
The Carnegie Mellon Women's Association (CMWA) has announced its 2018 – 2019 leadership team. They are:
Tris Jahanian, Honorary President;
Jessica Corry, President;
Jessica Zlotcavitch, Co-Vice President of Programs;
Brianna Brewer, Co-Vice President of Programs and Marketing;
Sarah Collins, Vice President of Membership;
Katie Taylor, Treasurer; and
Christa Cardone, Past President.
The CMWA was formed by a group of visionary women in 1916 and seeks to give women of the Carnegie Mellon community the opportunity to meet and interact with other women across the campus. In addition, the CMWA offers annual awards to graduating CMU senior students, which is supported through membership contributions.
Membership is open to all women associated with the university including faculty, administrators, trustees, staff or wives/partners and friends of faculty, administrators, trustees and staff. Contributions support annual scholarships for graduating senior students at Carnegie Mellon.
Contributions for membership this year are accepted from July 1, 2018, through June 30, 2019. Visit www.cmu.edu/cmwa/membership/index.html to join or renew your membership today!
Last Call: Andy Award Nominations Due July 13
Nominations for the 2018 Andy Awards are due Friday, July 13. The university-wide staff recognition program honors individuals and teams for outstanding performance in five categories — Commitment to Excellence; Commitment to Students; Innovative and Creative Contributions; Spirit; and Teamwork and Collaboration.

For more information, including how to submit a nomination, go to the Andy Awards website.
Staff Council Passes Resolution Supporting Parental Leave Proposal
Staff Council has passed a resolution in support of a paid parental leave policy for staff. The policy proposal, drafted by the Parental Leave Focus Group, would afford any eligible staff member who becomes a parent of a pre-school age child, through childbirth or adoption, up to 12 weeks of fully paid leave during the first 12 months following birth or adoption. Currently, only the staff birth mother is eligible for 5-7 weeks of short-term disability (60 percent salary) concurrent with the standard unpaid time off covered under the Family Medical Leave Act. CMU faculty members who are primary caregivers are eligible for one semester of full paid leave after the birth or adoption of a pre-school age child.
The Parental Leave Focus Group is continuing to work with Human Resources and other campus partners toward creating a paid parental leave policy for staff.
Rohr Commons Opens in the New Tepper School Building
Rohr Commons, featuring AVI Pure and Tazza D'Oro, opened on Monday, July 2, in the new Tepper School building. Rohr Commons is the first location of AVI's 80 university dining programs in the country to feature "Pure," a new standard of cuisine focused on a modern and holistic approach to food.
"This is a tremendous opportunity for us to showcase our truly innovative culinary program — one that focuses on food in its purest form," said Chris Nelson, AVI's executive vice president. "It's all about natural and wholesome ingredients. Our skillfully prepared selections will be free of artificial colors, artificial flavors, artificial sweeteners, and the use of antibiotics and growth hormones."
A homegrown Pittsburgh institution and distinctive espresso bar and café, Tazza D'Oro has a unique partnership with Counter Culture, a coffee roaster with relationships with small farmers who are producing the finest beans in the world. Locally sourced ingredients are used to create freshly pressed paninis, salads, sides and pastries.
"Dining Services is excited to be a part of this transformative stage in Carnegie Mellon University's history, opening a first-of-its-kind dining location in this new hub for cross-campus collaboration," said CMU Director of Dining Services Pascal Petter. "With an open kitchen environment and a menu prepared with the highest quality ingredients, Rohr Commons, featuring Pure and Tazza D'Oro, offers an interactive and customized culinary experience, while promoting a healthy approach to food, the community and the environment."
CMU Partners with Bosch Center for AI; Kolter Joins as Chief Scientist
Bosch in North America has announced the launch of the Bosch Center for Artificial Intelligence Research Lab in Pittsburgh, which will be the BCAI's fourth location. In addition, Bosch will provide more than $8 million to sponsor research at Carnegie Mellon through 2023, and Zico Kolter will join Bosch as chief scientist in AI.
Kolter, an assistant professor at CMU's School of Computer Science, will direct the multimillion dollar research projects at CMU, in addition to contributing to Bosch's global R&D efforts as a principal member of the BCAI.
Fireworks Postponed to July 21
Carnegie Mellon's July 4th fireworks show has been rescheduled for Saturday, July 21. The show was postponed on July 4th due to the weather. The show will begin at 9:35 p.m. and can be viewed from the College of Fine Arts lawn, weather permitting.
EH&S To Continue Building Evacuation Drills
The Environmental Health and Safety Department is continuing its building evacuation drills this summer. The remaining schedule follows.
July 19: 8 a.m. - Noon, Pittsburgh Technology Center, Information Networking Institute, Software Engineering Institute, UTDC, Whitfield Hall and 4721 Fifth Ave.
July 27: 8 a.m. - Noon, Integrated Innovation Institute, 205 S. Craig, 300 S. Craig, 311 S. Craig, 407 S. Craig, 417 S. Craig, 6555 Penn Ave., National Robotics Engineering Center and GATF
Dates are subject to change due to weather conditions.