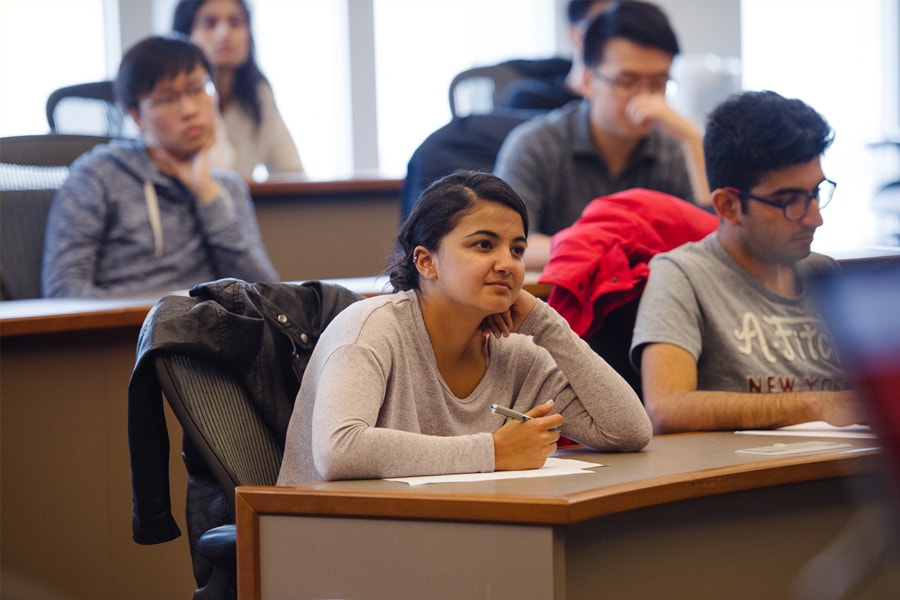 January 31, 2018
News Briefs
Tepper Launches Course Sequence To Advance Leadership, Citizenship
The Tepper School of Business has launched Business Leadership Endeavor, a new three-year course sequence for the Class of 2021. Designed to equip undergraduate business administration students with core leadership competencies encompassing professional development and social responsibility skills, Business Leadership Endeavor is unlike other leadership development offerings as students engage in organizational development and enterprise building as they progress through the Tepper School undergraduate business program.
While the Tepper School is renowned for its analytical reputation, Business Leadership Endeavor students will complement this coursework while developing key leadership capabilities in six areas — self-reliance, critical thinking, network building, collaboration, innovative problem-solving and global citizenship. As much of program is driven by students, it provides ongoing opportunities for assuming ownership of the educational experience and demonstrating management skills in real-time.
Students Propose Using Self-Driving Shuttles To Help Underserved Communities
A group of Dietrich College students have proposed a plan to Pittsburgh City Council to use self-driving shuttles to better the lives of residents, especially those with limited access to public transit.
Last semester, eight seniors — Ian Asenjo, Cameron Dively, Margaret Edwards, Zachary Ettensohn, Jeremy Goldstein, Gaurav Gupte, Alison Hoffman and David Matvey — offered Pittsburgh City Council a report on autonomous vehicle and transportation equity in Pittsburgh. The presentation concluded their capstone project for the Ethics, History and Public Policy major under the supervision of Danielle Wenner, assistant professor of philosophy and associate director of the Center for Ethics and Policy.
The class' proposal examined the current public transportation landscape in Allegheny County and identified underserved communities. The multi-faceted plan to implement fair access to transportation for all includes autonomous shuttles that can carry 15 to 20 passengers. The shuttles would use autonomous technology to drive along predetermined routes without the oversight of a driver.
CMU-Q Student Team Places Third at Arab Innovation Academy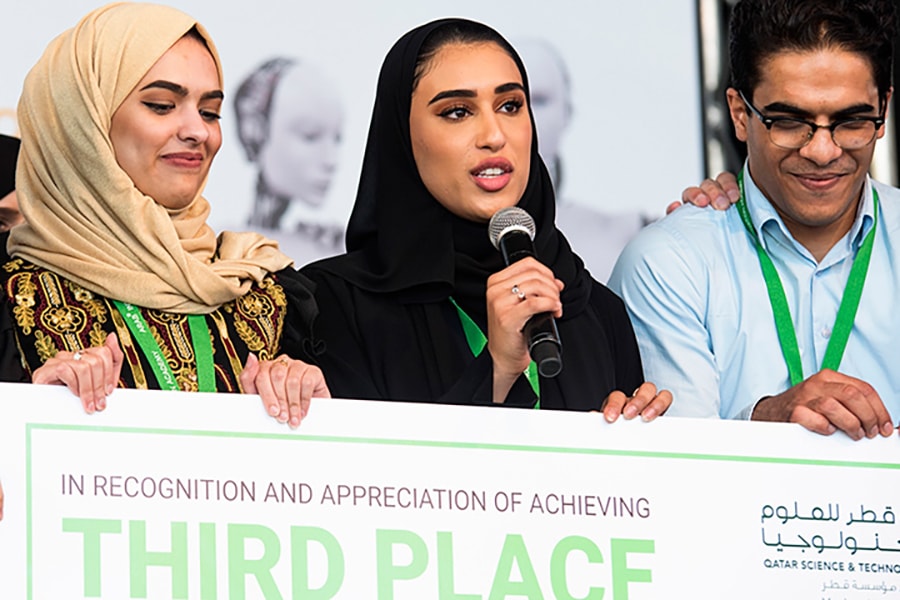 Maryam Al-Naemi, a senior in information systems, led a team from Carnegie Mellon in Qatar to a third-place finish at the first Arab Innovation Academy, a new initiative by the Qatar Science and Technology Park (QSTP) to assist students in developing and launching new tech ventures. One-hundred-fifty participants from across the Arab world came together to partcipate.
At an opening exhibition, participants voted on the most viable ideas. Al Naemi's idea — an online platform to bring together restaurants and food suppliers — was among 25 to move through to the development stage. The team came together to develop areas such as finance, marketing, design and software development.
"People assume you need a business degree to create a startup, but as an information systems major, I feel like I have an advantage. I have taken courses in many different areas, so I could communicate well with my team members who specialize in both the technical and the business side," Al-Naemi said.
After pitching the idea to a panel of judges, Al Naemi's project was awarded third place. The team will receive six months of marketing and design mentoring through QSTP. Along with Al-Naemi, team members included Nour Tabet, the outreach coordinator for computer science at CMU-Q, Haneen Abunada, Ammar AlHasbash and Yassine Tasfouat.
Seeking Student Employee of the Year Award Nominations
Student Employee of the Year Award nominations are due Feb. 17. This award program, sponsored by the National Student Employment Association, recognizes the outstanding contributions of students who work while attending college. All undergraduate student employees are eligible for nomination.
Nominated students will be recognized and honored at the annual Student Employee Appreciation Lunch on April 11 during National Student Employment Week.
Questions? Contact Pati Kravetz at pk13@andrew.cmu.edu.
Psychology Department Seeks Older Adults for Healthy Aging Study
The Healthy Aging Study offers stress reduction classes to older adults between the ages of 65 and 93 in the Pittsburgh area. The study includes an eight-week class as well as one-week and three-month follow-up appointments. This study is a good fit for older adults interested in learning healthy aging skills as well as any older adults looking for more social connection.
The classes offered are a nutrition and exercise class as well as a mindfulness meditation and yoga class. There are eight weekly classes which will be held from 6:30 - 8:30 p.m. Tuesdays in Baker Hall. Participants can earn up to $475 for completing all study activities and most importantly they will have access to a stress reduction class taught by a trained professional.
If you, a family member, or friend are interested in this study opportunity, call 1-866-627-1923 or send email to CMUhealthyaging@gmail.com.
Purchasing Policy Update Seeks Your Comments
The university's current Purchasing Policy, which went into effect on Feb. 15, 2002, is being updated to address changes to the federal "Uniform Guidance Procurement Standards." The university must be fully compliant with these new standards by July 1, 2018.
The updated Purchasing Policy draft is open for community comment on the University Policies site for a 30-day period. The comment period will close on Feb. 22. Upon approval by the president of the university, the updated Purchasing Policy will be implemented.

Additional information about the policy updates is available on Finance Division news website. For questions, contact Procurement Services at procurement-inbox@andrew.cmu.edu.
Get to Know Human Resources
Get to know HR: visit www.cmu.edu/hr to see this week's "Get to Know HR" hint. The hint points to a piece of information located on the newly-redesigned HR website. You will find a Scotty dog hidden on the page where the information is located.
The first person to find Scotty and email hrcommunications@andrew.cmu.edu with the link to the correct page is this week's winner and may select a reward from a list of CMU-themed items or opt for a "Get to Know HR" opportunity.