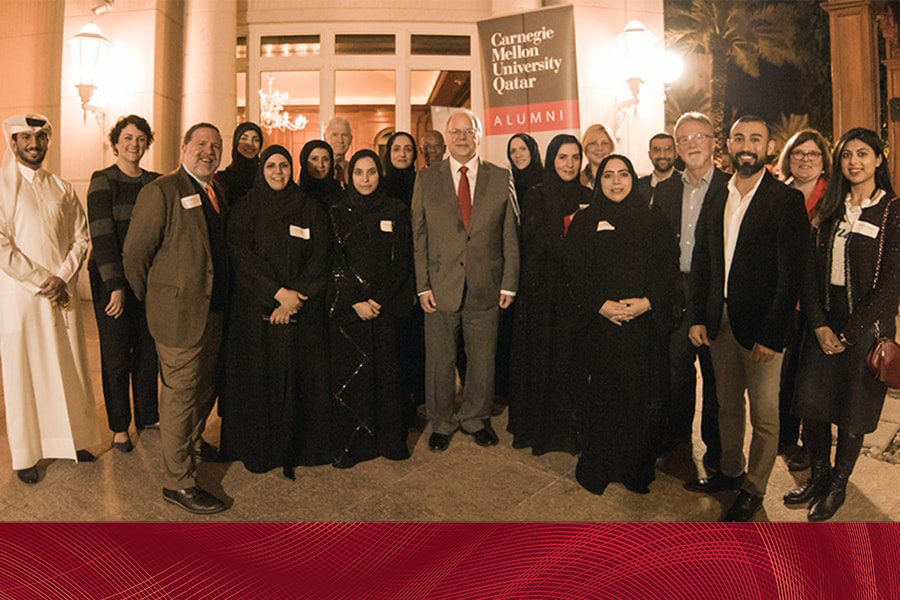 December 12, 2018
News Briefs
CMU-Q Celebrates 10-Year Anniversary of First Graduating Class
Carnegie Mellon University in Qatar (CMU-Q) celebrated the 10-year anniversary of its first graduating class, marking a decade of academic excellence and significant contributions to the development of Qatar.
CMU-Q opened its doors in 2004, with the first class graduating in 2008. The first class was comprised of 35 students, 16 of whom are Qatari. Although today CMU-Q offers five degree programs, in 2004 students pursued degrees in either business administration or computer science.
"This is a class of pioneers," said Michael Trick, dean of CMU-Q. "When they began their classes in August 2004, much of Education City was still in the planning phase. These students saw the vision. They completed their studies and have built successful careers, many in Qatar, paving the way for the thriving campus we have today."
Since 2008, about half of the class has pursued graduate studies, and two-thirds now live and work in Qatar.
Alumna Nora Al-Subai, who now manages the SAP division at Qatar Petroleum, praised CMU-Q for helping her to build the self-confidence that has helped her to a successful career in the oil and gas industry. "CMU-Q taught me to take on whatever challenge that comes my way and make the most of as many opportunities as I can," she said. "It's so interesting to see how my classmates are rising and taking key roles across several industries. I am certain that CMU-Q graduates will only continue the rise to leadership."
With 11 graduating classes, the total number of CMU-Q alumni is now nearly 800.
Tepper School Launches Part-Time Flex MBA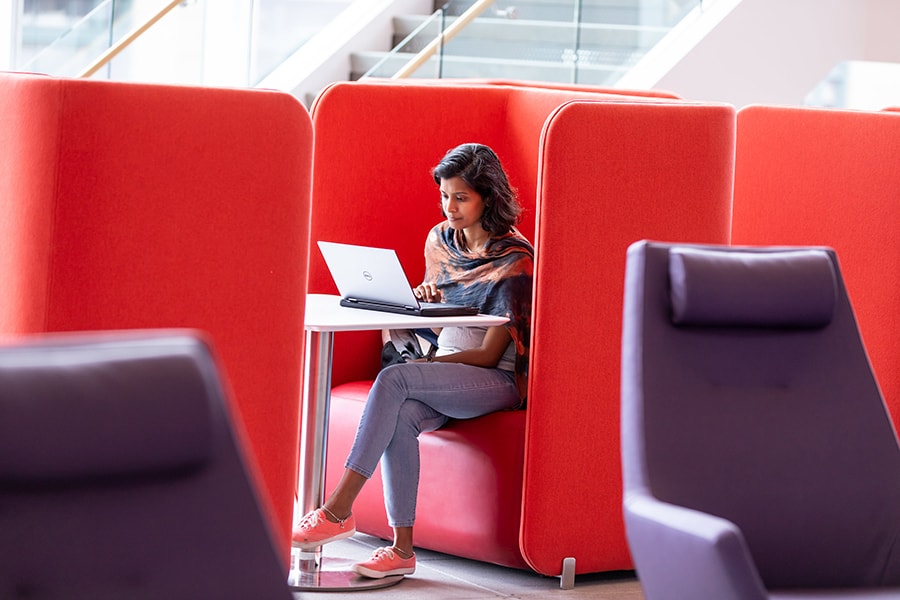 The Tepper School of Business has introduced a new part-time MBA degree for Pittsburgh-area professionals designed to provide more flexibility with a combination of online, evening and weekend study.
The Part-Time Flex MBA takes the place of the Part-Time On-Campus MBA previously offered by the Tepper School. The previous format required part-time students to attend three hours of evening classes at Carnegie Mellon's Pittsburgh campus twice a week. The new flexible format will deliver core courses through a combination of intensive in-person weekend classes six times a year on campus and 75-minute classes twice a week that students can take from wherever they are— at work, at home, on the road—through an innovative online platform. Students will continue to be offered the choice to take electives in evening, daytime or online.
Like its on-campus predecessor, the Part-Time Flex MBA is a three-year program offering the same top-ranked curriculum and faculty as the Full-Time MBA as well as continued access to the same career resources and professional development opportunities.
"This is the MBA program designed for the future of Pittsburgh," said Kathryn Barraclough, head of the MBA program at the Tepper School. "Pittsburgh is rapidly evolving to become a leader in technology, health care and energy, and the Tepper School of Business is committed to help grow the technical and analytical skills of the local workforce to meet the demands necessary for continued growth."
CMU Welcomes New Head of Chemical Engineering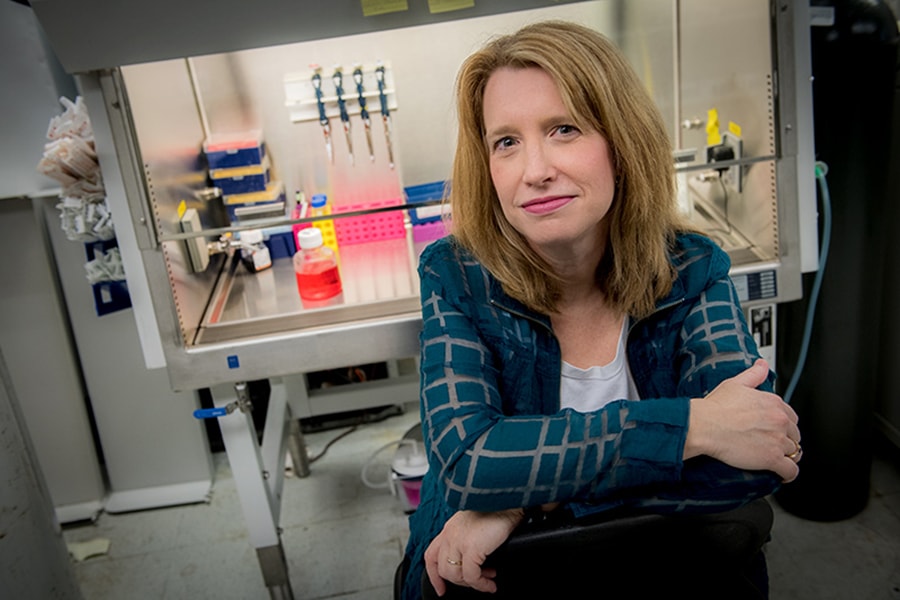 Internationally renowned researcher Anne Skaja Robinson has joined Carnegie Mellon as head of its Department of Chemical Engineering. Robinson was named to the post last July.
 
Robinson comes from Tulane University, where she was chair of the Department of Chemical and Biomolecular Engineering since 2012. She succeeds Lorenz Biegler, who served as the department head for five years.
 
Robinson's lab has two main goals: to understand the disease mechanisms behind neurodegenerative diseases such as Alzheimer's and Parkinson's, and to improve the production of biopharmaceuticals on an industrial scale.
Robinson received her Ph.D. from the University of Illinois at Urbana-Champaign, and received her bachelor's and master's degrees at Johns Hopkins University. She has received national accolades, including the NSF Presidential Early Career Award for Science and Engineering (PECASE) Award, the ACS BIOT Perlman Award and the AIChE SBE Biotechnology Progress Award for Excellence in Biological Engineering Publication. She is an elected fellow of AIChE.
Parrot Genome Analysis Reveals Insights into Longevity, Cognition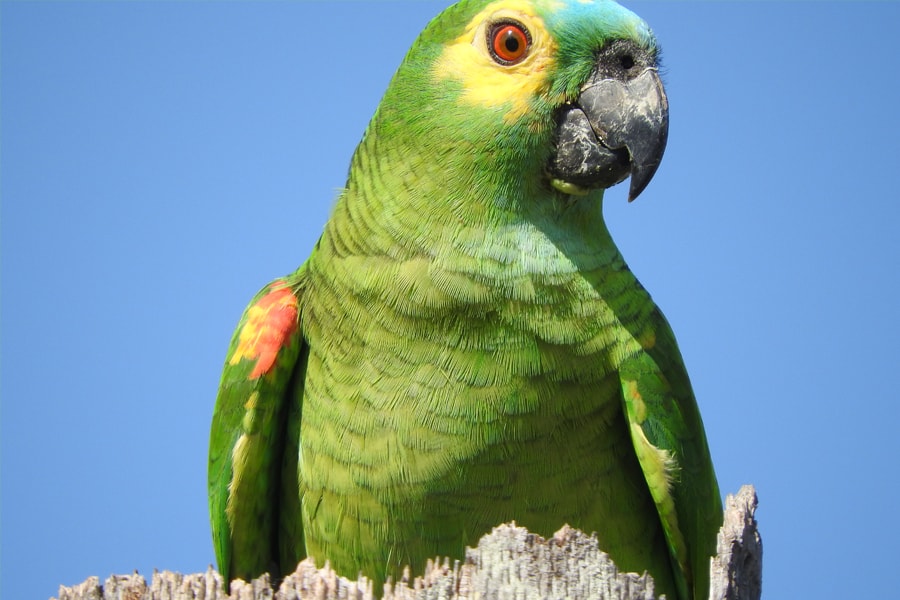 Parrots are famously talkative and a Blue-fronted Amazon parrot named Moises — or at least its genome — is telling scientists volumes about the longevity and highly developed cognitive abilities that give parrots so much in common with humans. And, perhaps someday, it will give up clues about how parrots learn to vocalize so well.
Morgan Wirthlin, a BrainHub postdoctoral fellow in Carnegie Mellon's Computational Biology Department and first author of a report  to appear in the Dec. 17 issue of the journal Current Biology, said she and her colleagues sequenced the genome of the Blue-fronted Amazon and used it to perform the first comparative study of parrot genomes.
By comparing the Blue-fronted Amazon with 30 other long- and short-lived birds, including four additional parrot species, Wirthlin and colleagues at Oregon Health and Science University (OHSU), the Federal University of Rio de Janeiro and other entities were able to identify a suite of genes previously not known to play a role in longevity that deserve further study. Also, they identified genes that have previously been associated with longevity in fruit flies and worms.
Bible Readings Help Create New Multilingual Dataset
It's the Christmas season, which means that beloved Bible verses are being read and recited innumerable times — and in a vast number of languages. The Bible's global reach as evidenced this time of year has enabled a Carnegie Mellon professor to create a language resource that could enhance communication in hundreds of languages.
By tapping online text and audio recordings of the New Testament in more than 700 languages, Alan Black, a professor in CMU's Language Technologies Institute, has created a dataset that can be used to build text-to-speech computer systems and other modern speech technologies for so-called low-resource languages. These languages, such as Kaqchikel in central Guatemala, Lun Bawang of Malaysia and Indonesia, and Mamprusi in northern Ghana, often are spoken by relatively small groups of people and generally lack the kind of technological tools for recognizing or translating language that are routinely available for high-resource languages such as English, Spanish or Mandarin Chinese.
Seeking Ph.D. Participants for Three-Minute Thesis Competition
An 80,000-word thesis would take nine hours to present. Their time limit? Three minutes! Think your Ph.D. students can discuss their thesis in plain language in under three minutes for a chance to win technology or research/travel grants?
The Three Minute Thesis (3MT®) Competition challenges CMU doctoral candidates to present a compelling oration on their thesis and its significance in just three minutes, in language appropriate for a general audience. 3MT is not an exercise in trivializing or "dumbing-down" research, but requires students to consolidate their ideas and crystallize their research discoveries.
Any currently enrolled CMU Ph.D. student may register to compete. The registration deadline is February 8, 2019. Preliminary heats will be held February 18 – March 14 and the championship round will be held on March 26, 2019.
In collaboration with the Global Communication Center (GCC), the University Libraries are offering three workshops geared toward students interested in participating in this year's competition. All workshops will be held from 5 – 6 p.m. in IDeATe Studio B in Hunt Library. The three workshops are:
Wednesday, Jan. 23: Crafting a Compelling 3MT Presentation;
Wednesday, Jan. 30: Refining Your 3MT Presentation and Message; and
Wednesday, Feb. 6: Visualizing for 3MT: Slide Design.
Heat winners will win their choice of either $1,000 toward research/travel needs or $1,000 credit to the University Computer store to be used at their discretion. Championship winners will receive $3,000, $2,000 and $1,000 in research/travel grants and a potential $500 research/travel grant for the "People's Choice" and "Alumni's Choice."
Contact David Scherer, daschere@andrew.cmu.edu, for questions about the 3MT Competition.
Riding the Bus? Make Sure Your ID Is Valid
Effective Jan. 1, 2019, Carnegie Mellon students, faculty and staff using Port Authority Transit (PAT) must make sure their IDs are valid to take advantage of the free PAT transportation benefit offered by the university. Beginning Jan. 1, PAT drivers will no longer manually approve CMU IDs that are registering as invalid. Individuals presenting invalid IDs must pay the full fare or exit the vehicle.
Please check your ID to make sure it has not expired or has been damaged. If it has expired or is damaged, you may renew or replace your ID at the Hub in the Division of Enrollment Services on the lower level of Warner Hall. Please note new ID cards require 24 hours to upload to the PAT system.
For more information on renewing or replacing your card, visit https://www.cmu.edu/idplus/. The HUB is open from 8:30 a.m. to 4:30 p.m., Monday, Wednesday and Friday; and from 10:30 a.m. to 4:30 p.m., Tuesday and Thursday.
For more information, see answers to FAQs on the Parking and Transportation Services website. Questions about ID cards can be sent to idplus@andrew.cmu.edu. Questions about PAT benefits can be sent to parking@andrew.cmu.edu.