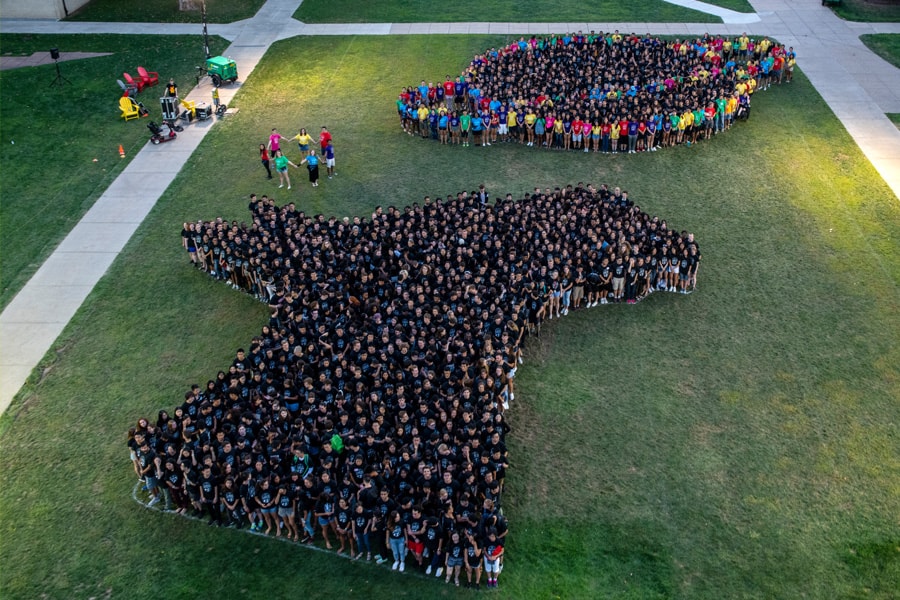 August 29, 2018
News Briefs
Class of 2022 Dares to Discover
First-year students put the finishing touch on orientation by forming the neck and head of a Scotty Dog looking up toward the planet Saturn. The class photo depicted the theme of this year's orientation, "Dare to Discover."
The class photo was taken following Craig Sreet Crawl activities, which were moved to the campus this year. More than 500 students gathered at the Legacy Plaza adjacent to the Cohon University Center to meet on-campus community groups and neighborhood business partners. Many of the freshmen who attended were excited at the opportunity to explore student activities and local businesses.
CMU-Alert Test Scheduled for Friday, Aug. 31
A test of the university's emergency notification service, CMU-Alert, will be conducted at 4:30 p.m. tomorrow, Friday, Aug. 31. In the event of an emergency, CMU-Alert sends voice or text messages to registered phones and emergency alert devices on campus. The messages provide brief details about the nature of the emergency and direct people to www.cmu.edu/alert for more information, instructions and updates.
All students are automatically registered to receive CMU-Alert messages, and faculty and staff are encouraged to sign-up for the same. Faculty and staff can register and update their information online at www.cmu.edu/alert by clicking on the "How can I sign up?" link. Students can update their information on the site. Users need their CMU username and password to log in.
All contact information is treated confidentially. Registered individuals will be contacted by the CMU-Alert system only if there is an incident or event that threatens public safety or during required periodical tests during the year. The tests are conducted to demonstrate and validate the functionality and reliability of this critical communications service.
Please note: Friday's test will be sent only to those who are registered no later than 5 p.m. today, Thursday, Aug. 30.
Tepper School Hosts ProductCamp "Unconference" Sept. 22
The Tepper School of Business, under the leadership of Greg Coticchia, director of academic programs, is hosting Pittsburgh's first ProductCamp on Saturday, Sept. 22 in the Tepper Quad. Organized by a committee of professionals from across Pittsburgh, the event is an annual "unconference" on product management, which is held in cities worldwide.
What is an "unconference?"
Instead of passive listening all attendees and organizers are encouraged to become participants with discussion leaders providing moderation and structure for attendees. At the event topics are not predetermined and panels have not been arranged. Instead, the event lives and dies by the participation of attendees. Whether it's a full workshop or presentation, a Q&A, or an open discussion, all formats are welcome.
The event is free and open to product professionals, innovators, marketers, designers, founders, engineers and students alike.
Flu Vaccine Clinics To Get Underway
Once again, the university will offer flu vaccines at no cost for faculty and staff members. The flu vaccine clinics will be hosted by the Office of Human Resources and administered by Giant Eagle Pharmacy.
Visit the Flu Vaccine Clinic webpage for the clinic schedule, which begins Sept. 5. To obtain your flu vaccine, you will need to present your Carnegie Mellon ID card. While walk-ins are welcome, for faster service we recommend you schedule an appointment.

As an added incentive, employees who are vaccinated at a mobile clinic are eligible to receive $5 off their next visit to Giant Eagle. You must present your Giant Eagle Advantage Card at the clinic to receive the $5 credit.
Funding for PSC's Bridges Supercomputer Extended by NSF
PSC's groundbreaking Bridges supercomputer will provide value to the research community for an additional year, extending operations through November 2020, thanks to $1.9 million in added operational funding from the National Science Foundation (NSF). The new award, which will fund mostly staff positions, brings the total funding for Bridges to over $19 million. NSF awarded the original grant for Bridges to begin in December 2014.
Bridges converges high-performance computing (HPC), artificial intelligence (AI) and Big Data. It is a user-friendly platform that enables academic experts in fields that traditionally have not used HPC, such as genomics, artificial intelligence, neuroscience, economics and urban planning, to harness scalable computing to address their data-intensive challenges.
Swartz Center Seeks Teams for Fall NSF I-Corps Program
The Swartz Center for Entrepreneurship is recruiting teams for its fall 2018 NSF Innovation Corps (I-Corps) customer discovery training program. Teams are open to CMU faculty, staff, students and recent alumni and can be reimbursed up to $2,500 to further their business venture. Teams also will receive access to Project Olympus programs, business mentors, and workshops and guidance in writing proposals for external funding. More details about the program and eligibility can be found online. There have been 113 teams in the program since fall 2014 and they have received more than $18 million in additional funding for their ideas. The deadline for teams to apply is Sept. 7 at https://bit.ly/2mN1XSk. For more information on the program, please contact Melanie Simko, program manager, at msimko@cmu.edu.
Pittsburgh Renaissance Festival Tickets Available
Staff Council is offering discounted tickets to the Pittsburgh Renaissance Festival each weekend through September. Other offers this fall include tickets to performances in Pittsburgh's Cultural District, Kennywood's Phantom Fright Nights, Idlewild Park's Hallowboo and Scarehouse: Pittsburgh's Ultimate Haunted House. See all the Staff Council discounts online.