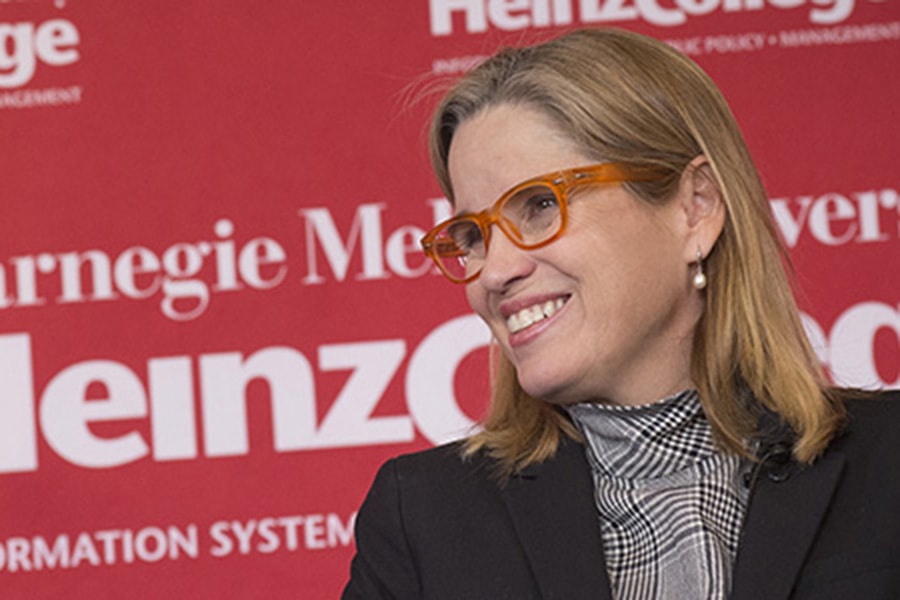 April 25, 2018
Personal Mention

San Juan, Puerto Rico, Mayor and Alumna Carmen Yulin Cruz has been named to Time magazine's list of the 100 Most Influential People for 2018. Cruz, who earned a master's degree in public policy and management in 1986 from the Heinz College of Information Systems and Public Policy, made international news last year for her advocacy for the victims of Hurricane Maria. Cruz recently visited campus to participate in a forum with Pittsburgh Mayor Bill Peduto during Carnegie Mellon's Energy Week. Cruz took the opportunity to thank Pittsburgh and Carnegie Mellon for their relief efforts for Puerto Rico. "The City of Pittsburgh helped us, but above all Carnegie Mellon University rose to the occasion and showed what Carnegie Mellon is all about. It's putting technology to work, but making sure that technology doesn't replace the heart of people. Lives were saved because of the people in this room. This is what power is about. It's about insuring that we all have access to things that can help us transform our way of life," she said. Read her entry in Time.

University Professor Vivian Loftness, the Paul Mellon Chair in the School of Architecture, has received the 2018 Professional Leadership Award from the Northeast Sustainable Energy Association. The award is given annually to someone who demonstrates exemplary professional practice and exceptional humanity. Her award inscription reads: "Vivian Loftness never ceases to remind us that buildings are, first and foremost, for people. She is a brilliant advocate for providing human comfort and well-being through elegant design. She is always generous in sharing her expertise with students, practitioners, and policymakers around the world, and she has had a profound impact on the NESEA community." Loftness is an internationally renowned researcher, author and educator focused on environmental design and sustainability, climate and regionalism in architecture, and the integration of advanced building systems for health and productivity. She recently gave an invited presentation, "Microbiomes of the Built Environment: A Research Agenda for Indoor Microbiology, Human Health and Buildings" at the Federal Facilities Council & International Facility Management Association on Capitol Hill in Washington, D.C.

Michael Trick, dean of Carnegie Mellon University in Qatar, was part of a Federal Communications Commission team that was awarded the 2018 Franz Edelman Award for Achievement in Advanced Analytics, Operations Research and Management Science from INFORMS, the leading international association for operations research and analytics. The FCC team created a revolutionary approach to meet the demand for the spectrum used for wireless communication in North America. The FCC conducted the world's first two-sided "Incentive Auction" that reclaims low-band electromagnetic spectrum from TV broadcasters. By purchasing spectrum from TV broadcasters and reselling it to wireless providers, the auction repurposed 84 MHz of TV spectrum for mobile broadband, next-generation "5-G," and other wireless uses. The auction raised nearly $20 billion in revenue, and contributed more than $7 billion to reduce the U.S. federal deficit. Find out more.

Simon DeDeo and a team of researchers used machine learning techniques to comb through transcripts of nearly 40,000 speeches from the deliberations of the makeshift assembly formed during the early days of the French Revolution to hash out the laws and institutions of the new government. The researchers analyzed speech patterns to determine how novel they were and whether they persisted or disappeared over time. They also categorized speech patterns by political affiliation and context — whether the speech was given during the assembly's public deliberations or in a committee held behind closed doors. DeDeo is an assistant professor in the Department of Social and Decision Sciences. Find out more.

Associate Professor of Computer Science Ariel Procaccia has been named a recipient of a 2018 Guggenheim Fellowship. The fellowship recognizes Procaccia for his research in artificial intelligence and algorithmic economics, specifically in algorithms for participatory democracy, and will support his work on mechanisms that would enable voters to participate in the process of allocating a city's budget.  The prestigious award allows an exceptionally promising and diverse group of scholars, artists and scientists to further their research and contribute to their respective fields. This year, the institution recognized 175 fellows across 69 different academic institutions in the U.S. and Canada.

Jay Price, a 2017 Alumni Distinguished Service Award winner who provided invaluable leadership to Carnegie Mellon's alumni relations efforts, died on April 18. He was 72.
A Pittsburgh native and 1966 graduate of the Mellon College of Science with a degree in mathematics, Price worked at Procter & Gamble for 36 years, serving in various information technology positions. He also spent many years conducting workshops, training employees in organizational development, team building, leadership and diversity.
From 2009 to 2011, Price served as interim associate vice president of Advancement and director of Alumni Relations at CMU, where he helped develop the Loyal Scot program, among other accomplishments. A dedicated volunteer, Price was president of the Alumni Association Board from 2006 to 2008.

Along with his passion for CMU, Price was involved in several organizations in Cincinnati, where he lived, including the Cincinnati Hearing, Speech and Deaf Center, the Cedar Village Health Care Center, the American Jewish Committee, Jewish Family Service and Valley Temple, among others.

He is survived by his wife, Susan, their two daughters and their families.