April 19, 2018
Trick a Member of FCC Team Honored for Operations Research
By Kara Nesimiuk karan(through)qatar.cmu.edu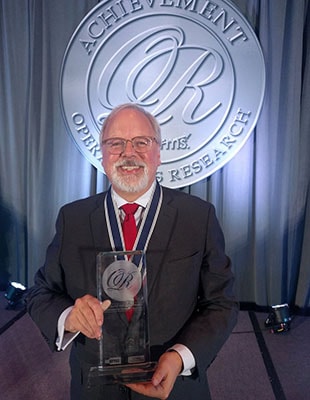 Michael Trick, dean of Carnegie Mellon University in Qatar, was part of a Federal Communications Commission team that was awarded the 2018 Franz Edelman Award for Achievement in Advanced Analytics, Operations Research and Management Science from INFORMS, the leading international association for operations research and analytics.
The FCC team created a revolutionary approach to meet the demand for the spectrum used for wireless communication in North America. The FCC conducted the world's first two-sided "Incentive Auction" that reclaims low-band electromagnetic spectrum from TV broadcasters. By purchasing spectrum from TV broadcasters and reselling it to wireless providers, the auction repurposed 84 MHz of TV spectrum for mobile broadband, next-generation "5-G," and other wireless uses. The auction raised nearly $20 billion in revenue, and contributed more than $7 billion to reduce the U.S. federal deficit.
"This was an important project that repurposed spectrum to allow further enhancement of the app- and wireless-economy," Trick said. "Success for this auction relied heavily on advanced optimization and analytics methods."
Trick was appointed dean of CMU-Q in September 2017. The Harry B. and James H. Higgins Professor of Operations Research, Trick has been a faculty member at CMU's Tepper School of Business since 1989. His research specializes in computational methods in optimization. He previously was named a fellow of INFORMS and is president of the International Federation of Operational Research Societies, an umbrella organization of 50 operational research societies whose 51 members represent more than 30,000 academics, professionals and students in more than 45 countries.
Presiding over the event was Ramayya Krishnan, dean of Carnegie Mellon's Heinz College of Information Systems and Public Policy, and the president-elect of INFORMS.
The prize was awarded at the INFORMS Conference on Business Analytics and Operations Research in Baltimore, Maryland, an event that drew more than 1,000 professionals in analytics and operations research.