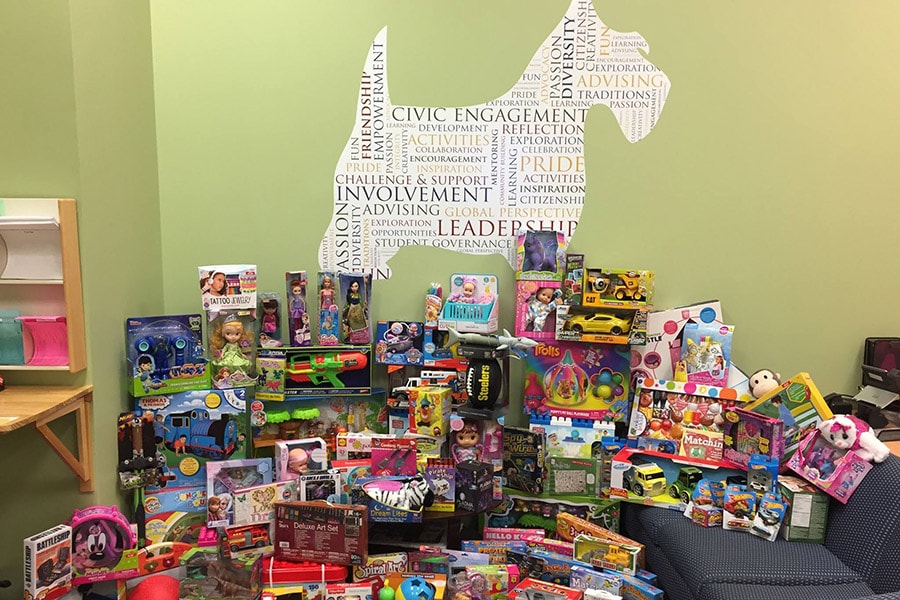 November 08, 2017
News Briefs
Help With Toys for Tots, Thanksgiving Baskets and Winter Clothing
Carnegie Mellon students, faculty, and staff have several opportunities to donate during this season of giving through three initiatives being coordinated by the Student Leadership, Involvement and Civic Engagement (SLICE) office.
Toys for Tots. The U.S. Marine Corps Reserve Toys for Tots Program collects new, unwrapped toys and distributes them as Christmas gifts to less fortunate children in the local area. New unwrapped toys can be dropped off at the SLICE Office or one of several other locations around campus. You also can make a monetary donation to the program by dropping your gift in the cash box in Entropy in the Cohon University Center. You also can shop the Amazon Wish List and the toys you purchase will be delivered directly to the SLICE office. For more information, email the SLICE Office.
Create a Thanksgiving Basket. Baskets holding ingredients for a full Thanksgiving meal will benefit families at Light of Life Rescue Mission, Sojourners House and Rainbow Kitchen. Download the sign-up sheet and a checklist you can use to track items for the basket. Completed baskets should be delivered to Rangos Hall on Monday, Nov. 13 between 9 a.m. and 4 p.m. Email Kristine Kengor for more information.
FORGE Winter Clothing Drive. FORGE (Facilitating Opportunities for Refugee Growth and Empowerment) is collecting new and gently used winter clothing for refugee families in Pittsburgh. They are in need of hats, gloves, scarves and winter coats of all sizes. The group also is collecting packages of diapers and wipes for families. Donation boxes are located around campus, or purchase an item from their Amazon Wish List and items will be shipped directly to the Student Life Suite. Email FORGE for more information.
CMU Packages 150,000 Meals for Madagascar
Carnegie Mellon students, faculty, staff and their families gathered on Nov. 4, to package more than 150,000 dehydrated meals scheduled for shipment to Madagascar, an African nation facing a deadly plague outbreak. This is the third year the university has partnered with The Kraft Heinz Company Foundation and the global hunger-relief organization Rise Against Hunger to host the community service event. CMU's Office of Student Leadership Involvement and Civic Engagement, Partners Allied in Civic Engagement and Alpha Phi Omega service fraternity recruited more than 600 volunteers who packaged the meals in less than two hours in the Jared L. Cohon University Center's Wiegand Gym.
ETC Press Publishes First Original Release
The ETC Press has published its first original single, Frankenstein's Legacy: Four Conversations about Artificial Intelligence, Machine Learning, and the Modern World.
Edited by ETC Press Director Brad King, the book takes a look at some of the most powerful technological tools in society with four Carnegie Mellon professors: Jeffrey Bigham, an associate professor of human-computer interaction; David Danks, head of the Department of Philosophy; Physics Professor Barry Luokkala; and Design Professor Molly Wright Steenson.
The four professors individually spoke with King in a wide-ranging one-hour discussion about AI, machine learning and their impact on the world.
The book is part of the ETC Press' "In Conversation With" series.
Honorary Degree Nomination Deadline Extended
The deadline to nominate candidates to be considered for honorary degrees from CMU at the spring commencement ceremony in Pittsburgh has been extended to Nov. 20. Submit your nominations using the online form.

Beyond the standard criteria included on the nomination form, nominees must be distinguished individuals who have:
achieved pre-eminent levels of distinction in their fields and demonstrated extraordinary achievements, preferably those associated with educational, research, or performance programs at Carnegie Mellon; and
demonstrated respect and appreciation for the responsibilities of citizenship and service to society.
If you have any questions, please contact Cathy Light, Chief of Staff and Secretary of the Corporation, at 412-268-5345, or via email at calight@andrew.cmu.edu.
Swartz Center Hosts Global Entrepreneurship Week, Nov. 13-17
Celebrate the entrepreneurial and innovative culture at Carnegie Mellon during Global Entrepreneurship Week, powered by the Kauffman Foundation! Be a part of the world's largest celebration of innovators and job creators who launch startups and bring ideas to life. This year's celebration will be a collaboration with Pitt's Innovation Week, hosted by the Innovation Institute.

Activities include a talk by CMU alumnus Rob Cochran, owner of #1 Cochran, the area's top automotive dealership; a seminar on structuring third-party relationships; a social innovation panel including 412 Food Rescue and Eco-Soap Bank; a startup job fair; and student pitch competition.

Find out more.
Open Enrollment Ends Nov. 13
Open Enrollment for 2018 benefits ends at 5 p.m. ET, on Monday, Nov. 13. Open Enrollment is your annual opportunity to review your benefit coverage options and make choices for the upcoming calendar year.
Elections made during Open Enrollment are effective Jan. 1, 2018, and will remain in effect for the entire calendar year. Open Enrollment is the only time you can change your benefit elections, unless you experience a qualified life or family status change during another time of the year.
If you do not elect your benefits during the Open Enrollment period, you will be automatically enrolled in the same benefits you are currently enrolled in (except for flexible spending accounts, which you must actively enroll in each year to participate).
Enrollment changes can be submitted online through Workday. Workday Quick Guides are available to assist you with the online enrollment process. For information about 2018 benefits, including rates and the 2018 Benefits Guide, visit the 2018 Open Enrollment website.
Open Houses at the Children's School
The Children's School, an early childhood laboratory school run by the Psychology Department, will be holding Open Houses for potential Children School parents at 8 a.m. and 12 noon on Jan. 11. Applications for 2018/2019 half-day preschool for 3- and 4-year-olds, and full-day Kindergarten are being accepted. Families do not have to be affiliated with Carnegie Mellon University in order to enroll, and generous scholarships are available.
Please contact Maggie Rosenblum for more information about admission, to schedule a tour and to obtain an application. The $50 application fee will be waived for any applications received before Dec. 1.
Nominate a Stellar Student for 2018 Student Engagement Award
The CMU Alumni Association is seeking candidates for its Student Engagement Award, which recognizes students who have enriched the quality of life at the university. Nominations are due Nov. 30.
"We want to highlight CMU students that are truly engaged with the campus and alumni communities through this award," said Lynn DeFabio, director of Alumni Relations. "The Student Engagement Award recognizes those who have created meaningful connections with the CMU community that improved the experience for others."
The focus of the award has shifted from service recognition to honoring those students who have made an impact on the CMU community and are leaving a legacy that benefits current and future students, as well as fosters alumni engagement.
Last year's honoree, Angela Ng, a 2016 graduate of the College of Engineering, is a great example of the kind of student this award is designed to honor, DeFabio said. Ng was a fifth-year scholar who led many student organizations and projects that improved campus life, such as the Mindfulness Room, a quiet, meditative space free from distractions where students can slow down, sit down and wind down.
"We're looking for those who know our amazing students best — CMU faculty and staff — to help us put together a great slate of nominees who are leaving a legacy for their fellow students and are creating pride in their alma mater," DeFabio said.
Nominees must be currently enrolled as an undergraduate or graduate student. Nominations can be made online and must include a completed form; the nominee's resume, CV, bio or LinkedIn profile; and supporting letters.