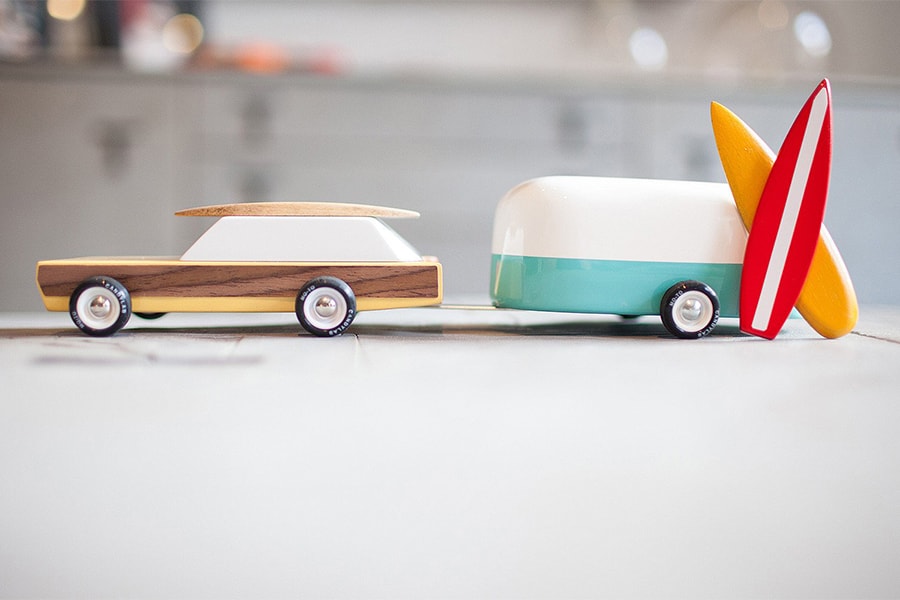 December 20, 2017
News Briefs
Design Alumnus Making Old Toys New Again
Kaeo Helder is driving back to the future.
Helder, a 2012 alumnus of CMU's School of Design, is an industrial designer for Candylab Toys, which builds handcrafted wooden cars inspired by "the glamorous '60s American modernist vibe." The sleek, durable, elegant, yet simple wooden cars crafted by Candylab evoke a modern take on classic car designs that aim to drive experiences that bring children and adults together.
"Right off the bat there is the beautiful color," Helder recently told CBS This Morning. "When you dig in deeper there are a lot of small details that are very well considered. You have small iconic moments that are pulled from actual cars that you can see."
Make a Difference TODAY Through United Way
Please help make an impact in the quality of life in Pittsburgh and Southwestern Pennsylvania by supporting Carnegie Mellon's United Way Campaign.
The United Way of Allegheny County addresses the most critical human needs in the region through its support of health and human service organizations and activities. Your generosity will provide meals for the hungry, beds for the homeless, care for young children, and new health care options for the sick and uninsured. For more information about the local charities the United Way supports, visit uwswpa.org.
Please help those less fortunate by making a donation to the United Way. CMU's United Way Campaign runs through Dec. 31.
CMU Silicon Valley Students Mentor Teens in Hackathons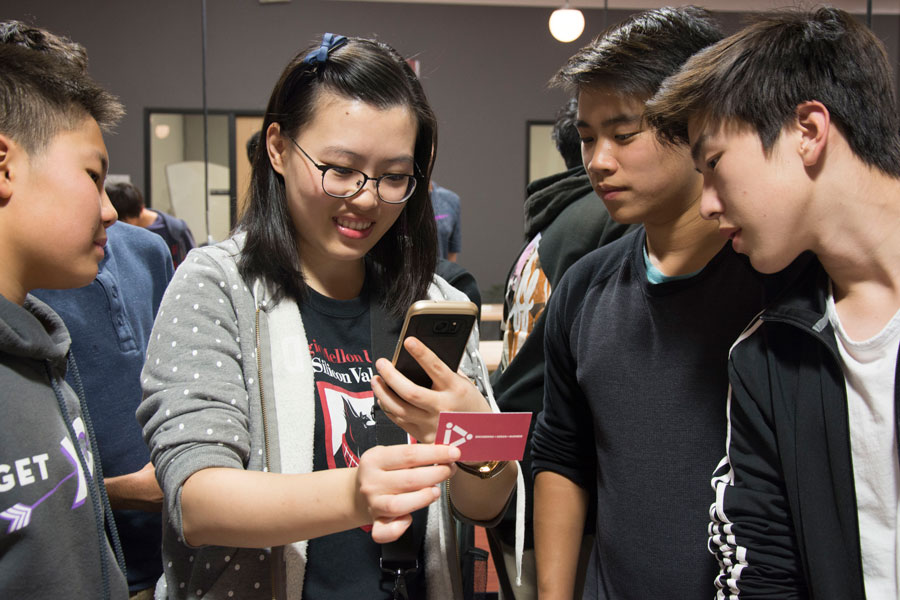 Students and faculty from Carnegie Mellon University Silicon Valley are working to support the next generation of technologists by mentoring high school students competing in community hackathons.
"The first time I saw these teens, I was quite amazed by their passion for computer science," said Miaozhen Zhang, a master's degree student studying software management at CMU's Integrated Innovation Institute (III). "At CMU we work hard, but we are doing what we love. It was inspiring to share my passion with young people to help them find what they love as well."
Instructor and CMU alumnus Catherine Fang has been a strong advocate for supporting Bay Area teenagers, connecting CMU students from the III, the Information Networking Institute and the Department of Electrical and Computer Engineering to many local volunteer opportunities, including recent teen hackathons like MVHacks, which was organized by Mountain View High School, and CU Hacks 3, an event organized by the Cupertino Library and Santa Clara County Library District.
Study: Carbon Capture, Utilization Won't Mitigate Global Warming
A study by four international scientists, including Carnegie Mellon's Edward S. Rubin, questions the effectiveness of a proposed plan to mitigate global warming by using carbon dioxide (CO2) to produce fuels for transportation.
The approach, called carbon capture and utilization (CCU), would collect CO2 emitted by a power plant or industrial process and convert it to a liquid fuel using existing chemical technologies. CCU is being promoted by a number of researchers and organizations as a way to reduce the extraction of fossil fuels while also reducing CO2 emissions linked to climate change.
The new study published in the journal Energy & Environmental Science finds that CCU has little potential to mitigate climate change and could actually worsen the problem — unless the large amount of energy needed to manufacture the fuel comes from carbon-free sources, such as wind and solar.
Rubin, the Alumni Chair Professor of Environmental Engineering and Science in the Department of Engineering and Public Policy, and co-authors find that a far more effective approach to manufacturing transportation fuels is to use that renewable energy to decarbonize the electric power grid, while sequestering the CO2 from fossil fuel use deep underground.
Student Looks to Machine Vision To Optimize 3-D Printing
Doctoral candidate Luke Scime is working at the intersection of mechanical engineering and computer science to optimize the process of metal 3-D printing.
3-D printing, also known as additive manufacturing, uses a layer-by-layer manufacturing process to print objects out of metal, plastic and other materials. The technology has the potential to make stronger, lighter and more customized products than traditional manufacturing.
Researchers, like Scime, are working to better understand and perfect the process.
Scime, who is in the Department of Mechanical Engineering, studies metal laser powder bed fusion, a process in which a machine spreads a layer of metal powder that is a fraction of a millimeter thick. Next, a laser beam melts the metal powder into a cross-section of the object being built. The machine repeats this process until the object is complete.
Find out more and watch the video.
Faculty, Students Win Architecture Prize for Restaurant Design
The Senyai Thai Kitchen project, designed and executed in Pittsburgh's Shadyside neighborhood by Carnegie Mellon's School of Architecture faculty Dana Cupkova and Gretchen Craig of EPIPHYTE Lab, was awarded The American Architecture Prize 2017 in the Commercial Interior Design category.
The project was designed and produced with help from the student team of fifth-year seniors Trent Wimbiscus and Sinan Goral, and Thomas Sterling and Colleen Clifford, who both graduated with bachelor's degrees in architecture in 2016.
The restaurant's ceiling, inspired by vaulted geometry of ancient Thai architecture, incorporates acoustic and lighting performance into a contemporary spatial experience. Visual layering of ceiling fins is suggestive of movement while reducing the reverberation of sound in individual vaulted zones, thus creating localized acoustic privacy within the space. The texture and color of the surface's 275 unique vertical slats play with light to create a sense of spatial weightlessness and visual expansion. At the same time it appears as a continuous surface, mimicking an active body of water, or, in homage to the restaurant's name (sen yai translates to "big noodles" in Thai), a bowl of hot noodles in broth.
Happy Holidays!
PiperWeekly wishes the entire CMU community a happy and healthy holiday season! PiperWeekly will return on Thursday, Jan. 11, 2018.