January 07, 2016
News Briefs
Cohon and Stine To Appear on "Our Region's Business"
Jared Cohon, president emeritus and director of the Scott Institute for Energy Innovation, and Deborah Stine, associate director of the Scott Institute and professor of the practice in engineering and public policy, will appear on "Our Region's Business" at 11 a.m., Sunday, Jan. 10, on WPXI-TV.
Cohon, a University Professor of Civil and Environmental Engineering and Engineering and Public Policy, and Stine will discuss the Scott Institute and CMU's first energy week (March 14-18), which will highlight the diversity of energy business activities in the region.
"Our Region's Business" is a business affairs program co-produced by the Allegheny Conference on Community Development and WPXI-TV. The program is hosted by veteran broadcast journalist Bill Flanagan, executive vice president of Corporate Relations at the Allegheny Conference and its affiliated organizations.
In addition to the 11 a.m. broadcast on WPXI-TV Sunday, the program will be rebroadcast on PCNC-TV at 3:30 and 7:30 p.m. that day, and at 3:30 p.m., Monday, Jan. 11.
Oakland Restaurant Week is Back
Visit your favorite Oakland restaurants and enjoy special lunch options and prices during Oakland Restaurant Week, Jan. 18-23.
Twenty-two eateries have teamed up to provide $6 lunches for six days. Patrons also can enter to win free lunch for one month along with other great prizes from participating Oakland retailers.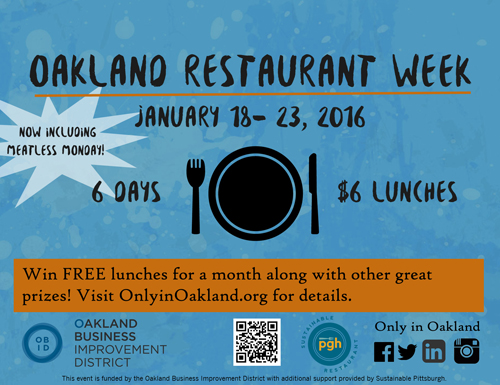 Oakland Restaurant Week features the following restaurants:
Fuel & Fuddle;
Fuku Tea;
Golden Palace Buffet;             
Hello Bistro;
IGA Market;                           
Love Yogurt;
McDonald's;                           
Noodles & Co.;
Oakland Bakery & Market;       
Original Milano Pizza;
Pamela's Diner;                      
Peter's Pub;
Popeyes Chicken;                   
Primanti Bros.;
Prince of India;                       
Red Oak Café;
Sciulli's Pizza;                        
Sincerely Yogurt;
Sorrento's Pizza Roma;        
Sushi Fuku;
Tenders;                                
Top Shabu-Shabu & Lounge
The event is funded by the Oakland Business Improvement District with additional support from Sustainable Pittsburgh.
Find out more at http://www.OnlyinOakland.org.
Sheng Shen's Solar Absorbers Convert 90 Percent of Sunlight to Heat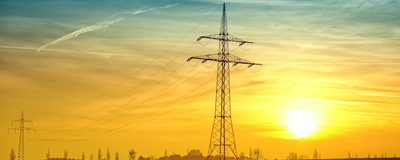 Sheng Shen, an assistant professor of mechanical engineering, and his colleagues have developed a new method of producing the devices used in solar thermal energy conversion that converts sunlight to heat. These new absorbers can take in about 90 percent of all sunlight, significantly reduce the cost of manufacturing, and can be produced in bulk.
There are two conventional methods of converting sunlight to electricity: solar photovoltaics (like the solar cells that you can buy at Radio Shack) and solar thermal energy conversion.
Though solar cells have the advantage of converting light directly into electricity, solar cells contain "band gaps," or ranges of light wavelengths that cannot be absorbed. A famous tenet of solar research, the Shockley-Queisser Limit, states that single junction solar cells can only convert about 33.7 percent of sunlight gathered into electricity.
But with Shen's new method, the absorbers used in the sunlight absorption process collect about 90 percent of sunlight and convert it to heat, before converting that heat into electricity.
Sea Spray Dramatically Affects Clouds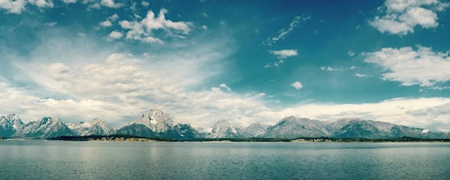 When waves crash, they send plumes of salt- and carbon-rich sea spray into the atmosphere. This spray significantly affects the formation and duration of clouds.
Assistant Professor of Mechanical Engineering and Chemistry Ryan Sullivan is part of a team that has found that sea spray is an underappreciated source of ice nucleating particles (microscopic bits that cause ice to form) in clouds. The number, size and type of these particles affect a cloud's ability to reflect solar energy and absorb terrestrial radiation. Since clouds cover 60 percent of the Earth, they have a dramatic effect on climate.
The research team's results were published in the Proceedings of the National Academy of Science (PNAS).
Sullivan is a faculty member in the Center for Atmospheric Particle Studies and holds a courtesy appointment in Civil and Environmental Engineering. Find out more.
Institute for Politics and Strategy Launches New Website

The Institute for Politics and Strategy (IPS), led by Director Kiron Skinner, has released a new website. The Dietrich College's newest academic unit serves as a center for research, undergraduate and graduate education, and university-wide initiatives in the fields of political science, international relations, national security policy and grand strategy.
Leveraging the Dietrich College's strengths in the social sciences, the IPS course offerings engage students and faculty by using the analytic tools of game theory, economic and statistical analysis, qualitative analysis, historical research methods, rational choice theory, and theories of behavioral decision-making in the study of domestic politics, international alliances and coalitions, international institutions, transnational actors and political strategy.
Academic programs include a Bachelor of Science in International Relations and Politics, and minors in international relations and politics and politics and public policy. At the graduate level, the IPS administers the Dietrich College portion of the Master of Information Technology Strategy Program.
Find out more about the institute.
Employee Discounts and Perks
Did you know that CMU faculty and staff are eligible for special discounts just because they are employees of the university?
Looking to save some dollars on your wireless plan? CMU employees are eligible for discounts with AT&T, Verizon, Sprint and T-Mobile.
Traveling? CMU employees can get discounted rental car rates through Enterprise Rent-A-Car. If you are interested in buying a car, CMU employees can purchase vehicles at discounted rates through Chrysler, General Motors, Ford and Nissan.
Buying or selling a house in the New Year? Look into Howard Hanna's Hanna Gold Advantage Program, which gives employees special perks, including cash rewards, free consultations and credit toward closing costs.
Do you need help with child care? CMU employees receive a discount from Au Pair in America, which screens young women from around the world to live with your family and take care of your children.  
There are many more discounts and opportunities available for CMU employees, including enhanced banking services through PNC Bank and Citizens Bank, free tickets to CMU sporting events and music performances, discounted tickets to CMU drama performances, Cultural District shows, the Pittsburgh Symphony Orchestra and the Pittsburgh Opera, and discounts for area retailers and hotel stays.
Benefits eligibility varies based on your position. For more information about these programs, visit the Additional Benefits page and the Staff Council Discounts page. 
Crane Lift at Mellon Institute To Cause Restrictions
A crane lift for lab renovations at Mellon Institute will cause restrictions in and around the building this Saturday, Jan. 9.
The crane lift from the Fifth Avenue side of the building will restrict Fifth Avenue to two lanes from 4 a.m. – 7 p.m. For safety precautions, floors 2, 3, 7 and 8 of Mellon Institute will be inaccessible to faculty, students and staff.
It is important to note that this crane lift is dependent on the weather.
Contact Carnegie Mellon Project Manager Jan Held at 412-268-1838 or jheld@cmu.edu for more information.
Grad Student Nomination Period Now Open
The Graduate Student Service and Teaching Award committees are now seeking nominations of graduate students who have excelled in teaching or service so their efforts can be recognized by the university community. Nominations are due Feb. 5.
The awards will be presented Thursday, April 7, during the Innovation with Impact: Celebration of Graduate Students event. The event is part of Graduate Student Appreciation Week, April 4-8. Award recipients will receive an engraved tray and monetary award and have their names added to the respective plaques in the Cohon University Center. The awardees also will be recognized at the Celebration of Education later that month.
Find out more about the Graduate Student Service Award.
Find out more about the Graduate Student Teaching Award.
Seeking Presenters for Daughters & Sons To Work Day
Staff Council's Take Our Daughters and Sons to Work Committee is looking for activity leaders/presenters and general volunteers to contribute their time and enthusiasm to the 2016 Take Our Daughters and Sons to Work Day event, which will be held on Thursday, April 28.
On this day, children of faculty and staff between the ages of 8 and 15 are invited to campus to learn about the many career and learning opportunities that exist at CMU. This year's theme is "Sparking Aha! Moments."
The committee is seeking individuals who would like to create and lead an activity or presentation for one or two sessions in the afternoon. Each session will run roughly 45 minutes. If you volunteer for both sessions, your total commitment will be from approximately 12:40 p.m. – 3:20 p.m., considering set-up and tear down.
Depending on the nature of your activity/presentation, you will have either a smaller group of children (15 maximum) or a larger group (30 maximum). While most presentations are held in the Cohon University Center, we encourage and welcome you to use a classroom, lab or room in your area.
If you are interested in leading an activity or presentation, contact Tom Wilk. 
You can also complete the Presenter Registration form. 
Attention Ph.D.s: Seeking Participants for Three Minute Thesis Competition

Three Minute Thesis (3MT®) challenges Ph.D. students to present a compelling oration on their thesis and its significance in just three minutes, in language appropriate for a general audience. 3MT is not an exercise in trivializing or "dumbing-down" research, but requires students to consolidate their ideas and crystallize their research discoveries.


Any currently enrolled CMU Ph.D. candidate may sign up to compete. Register online. The registration deadline is Jan. 24.


Qualifying rounds will be held February through March and the championship round will be held in April. Heat winners will receive iPads or the equivalent value as a research/travel grant. Championship winners will receive $3,000, $2,000 and $1,000 research/travel grants.