October 09, 2015
Prime Time
Powerful Two Weeks a Microcosm of CMU's Influence
By Bruce Gerson / bgerson@cmu.edu, Byron Spice / bspice@andrew.cmu.edu
and Robert Vickers / rvickers@andrew.cmu.edu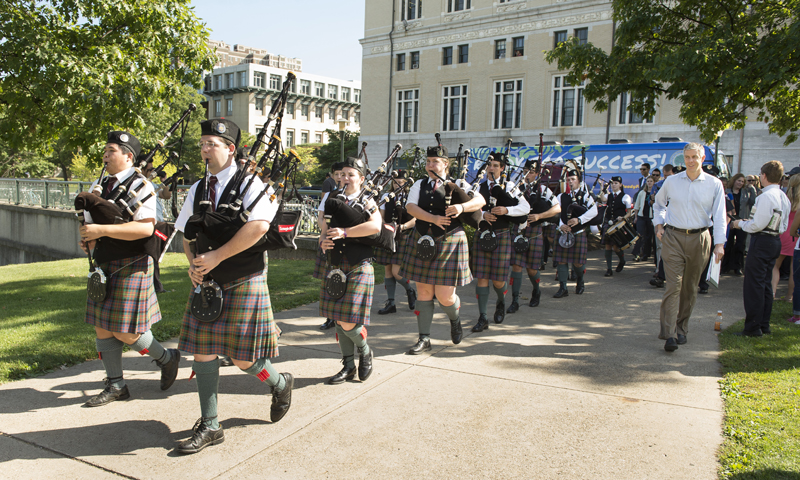 CMU bagpipers greeted U.S. Secretary of Education Arne Duncan (right) and his "Ready for Success" Bus Tour.
From Washington to China to Pittsburgh and beyond, Carnegie Mellon faculty and students are engaged in high-profile conversations about society's most compelling challenges, and are helping to set the public agenda in the process. 

Consider two weeks in mid-September. While 15 faculty members took the stage in Dalian, China, others were summoned to Washington, D.C., to testify before Congress and participate in two separate White House summits, and the Pittsburgh campus hosted diplomats and dignitaries from the U.S. and India. 
"As these powerful two weeks demonstrate, Carnegie Mellon is one of the most sought-after thought leaders among U.S. universities," said Director of Strategic Initiatives Rick Siger, who prior to joining CMU was chief of staff at the White House Office of Science and Technology Policy and deputy chief of staff at the U.S. Department of Commerce.
"During my time in the federal government — especially in the White House — my team relied heavily on talent and ideas from CMU on issues ranging from robotics, to high-performance computing, to advanced manufacturing. Being at CMU for the last year, I've been honored to witness this leadership firsthand, and to be a part of a university that continues to gain momentum nationally and globally," Siger said.
CMU sent the largest delegation of any university to the World Economic Forum's annual summer meeting in China, where they led discussions and demonstrations on robotics, artificial intelligence and data analytics for global thought leaders.
A few days later, university leaders and professors were called to Congress and the White House. University Professor Granger Morgan testified before Congress about making the U.S. electricity supply more secure. A CMU contingent attended a Smart Cities Forum announcing the MetroLab Network, a new national alliance aimed at improving urban infrastructure and services. And Professor Amy Ogan participated in a Technology in English workshop and briefed Congressional staff.
On the heels of the visits to the nation's capital, the university hosted U.S. Secretary of Education Arne Duncan and his back-to-school "Ready for Success" bus tour promoting STEM education and improving college access for America's youth.  
One day later, Carnegie Mellon hosted Arun Kumar Singh, the Indian Ambassador to the U.S., who spoke about the need to collaborate with universities, such as CMU, to improve higher education in India.
Several days after that, Singh's counterpart, Richard Verma, the U.S. Ambassador to India, came to CMU. He said Carnegie Mellon was symbolic of the strong ties that exist between India and the U.S.
"Having faculty and students engage policymakers at all levels drives new opportunities for the university to help address national and global challenges," said Debra Tekavec, CMU's director of Federal Relations.
Take the two-week tour.
Summer Davos, Sept. 9-11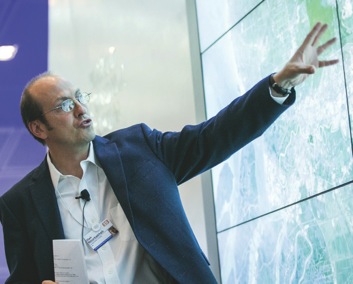 Leading the CMU contingent at the World Economic Forum's Annual Meeting of the New Champions, often referred to as "Summer Davos," were Justine Cassell, Andrew Moore, Jason Hong, Tom Mitchell, Daniel Neill, Aarti Singh, William "Red" Whittaker, Ralph Hollis and Illah Nourbakhsh.
They led presentations for, and discussions with prominent world leaders in innovation, business and entrepreneurship, science and technology.
"Carnegie Mellon is always on the cutting edge of technology innovation, particularly technologies that collaborate with people to address the most pressing challenges of our time, so the World Economic Forum meetings are natural venues in which to share our ideas and demonstrate our technologies," said Cassell, CMU's associate vice provost of Technology Strategy and Impact, and a member of several WEF councils and committees on Artificial Intelligence and Robotics, the Future of Health and New Visions for Education.
Moore, the dean of the School of Computer Science, presented a session on Machine Learning for Health, which discussed ways in which artificial intelligence can make people healthier.
CMU's dominance in robotic technology was on display in a "Meet the Robots" exhibition. Whittaker led a demonstration for participants that enabled them to drive CMU's lunar rover "Andy" remotely around a mining site in the Pittsburgh suburb of West Mifflin. 
Hollis presented his "Ballbot," a robot about the size of a person that moves atop a sphere the size of a bowling ball. Ballbot can maneuver in homes, offices and other environments to assist humans.
CMU is one of only 25 universities in the world, 12 in the U.S., that have been invited to join the Global University Leaders Forum (GULF). Business members of the forum include the top 1,000 companies from around the world that drive the economy forward and collaborate on shaping global, regional and industry agendas.
Pictured: Using a video wall, Illah Nourbakhsh presents at the World Economic Forum on using satellite imagery to better understand massive amounts of data.
Congressional Testimony, Sept. 10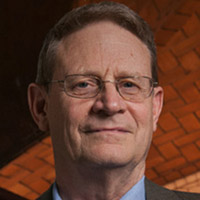 Speaking before the House Science and Technology Committee, Granger Morgan (right) highlighted actions that could make the nation's electricity supply less vulnerable and more resilient, which could save lives.
He focused on strategies to avoid physical disruption of the power system; strategies to speed the process of repairing the system after physical disruption; and plans to assure that critical social services continue when electricity is not available.
Morgan noted several natural disasters that affected the power system, including hurricanes Sandy and Katrina, and the 1998 ice store in Quebec. He also noted that the system is vulnerable to attackers.
"Of course, we can't avoid hurricanes and ice storms, but we can make the high-voltage power system much more resilient," he said.
Morgan said progress has been made to fortify the barriers and improve security surrounding large electricity substations, but more is needed. He also urged the Department of Homeland Security to develop and implement a stockpile of emergency replacement transformers.
"Equally important, the nation should take steps to assure that critical social services can continue to operate when the power goes out, whatever the cause," Morgan said.
He listed several continuity strategies, including LED traffic signals with solar cell and battery back-up so traffic does not limit the effectiveness of emergency vehicles; more systematic and reliable use of back-up generators; cellphone and other communication systems that will continue to operate for days, not hours; and greater use of smart meters and micro-grids to allow local islands of power to continue to support key services.
Watch Morgan's testimony. (Morgan begins speaking at 1:00:07.)
Smart Cities Forum, Sept. 14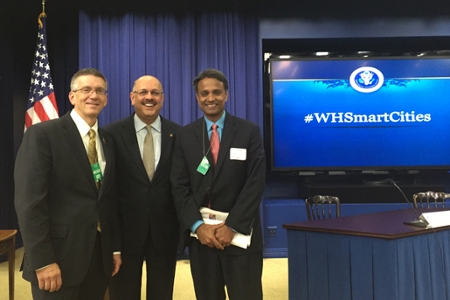 You could say the Memorandum of Understanding between CMU's Metro21 and the City of Pittsburgh signed in summer 2014 has gone viral. 
The agreement was the catalyst for the MetroLab Network, a new alliance among more than 20 city-university partnerships in the U.S. committed to researching, developing and deploying innovative technologies to address critical challenges in urban areas.
The network was announced at a White House event in which several university leaders participated, including Provost Farnam Jahanian, College of Engineering Dean Jim Garrett, Heinz College Dean Ramayya Krishnan and Distinguished Service Professor Rick Stafford, founder of Traffic21, an initiative that began in 2009 to leverage technology to improve the city's transportation infrastructure. 
Traffic21 led to the creation of Metro21, an effort led by Garrett and Krishnan to take a more comprehensive "smart cities" approach to the overall urban infrastructure. Metro21 is an initiative that taps expertise across the university to improve the economy and quality of life in metro areas through research, development and deployment.
"The MetroLab Network is a new way to solve old problems," said Pittsburgh Mayor Bill Peduto, who called the catalytic MOU between CMU and Pittsburgh "historic."
"It was the first time ever that a city and institution of learning entered into this type of agreement. For CMU it means the City of Pittsburgh becomes an urban lab. For the City of Pittsburgh, I now have a research and development arm," Peduto said.
The MacArthur Foundation has provided $1 million to CMU to cover MetroLab Network administrative costs, including the hiring of an executive director.
Pictured above at the White House event are (l-r) College of Engineering Dean Jim Garrett, Provost Farnam Jahanian and Heinz College Dean Ramayya Krishnan.
White House Workshop, Sept. 15
Amy Ogan (right) was among a select group of academic, industry and government representatives invited to participate in Technology in English, a daylong workshop at the White House Conference Center aimed at helping the U.S. Department of State use technology to make their educational outreach efforts more effective.
Ogan, an assistant professor in the Human-Computer Interaction Institute, said State Department officials would like to use technology, such as mobile technology, natural language processing and open learning platforms, to increase worldwide access to these high-quality resources.
The workshop participants spent much of the day brainstorming about how that could be achieved and about the kind of partnerships that might help make that a reality.
"Rather than simply discuss, participants in the workshop used human-centered design techniques to start developing solutions, something that is second nature at the HCII," said Ogan, who is among faculty members developing technology as part of the university's Simon Initiative.
Named for the late Nobel and Turing laureate Herbert Simon, the Simon Initiative aims to leverage decades of research in learning science to develop technology to improve student-learning outcomes.
The Bus Stops Here, Sept. 18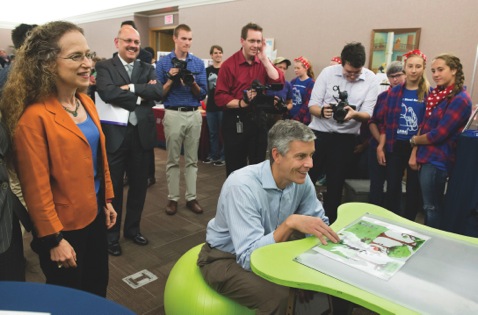 Secretary of Education Arne Duncan saved Carnegie Mellon for his last stop on his seven-state bus tour.
"This could be an ivory tower type elitist institution, but it's not," Duncan said. "It's got real heart for the community, a real heart for giving back. The commitment to bringing more women in [computer science], the commitment to increasing the number of PELL recipients you serve and helping them graduate means a huge deal to me personally. It's an example for other universities to follow.
"I'm thrilled to be here. I've been an admirer from afar," he said.
During his stop, Duncan participated in a town hall discussion about STEM education and college preparedness. He saw several demonstrations of the work CMU is doing to improve student learning through the use of technology and through its Simon Initiative, and to enhance educational opportunities for K-12 students. 
The exhibits included displays from Women@SCS, a support program for women in computer science; Professor Jack Beuth's 3-D Printing Lab; Justine Cassell's ArticuLab, which bridges the gap between language skills practiced outside and inside the classroom; and CreateLab, which develops technology to support social innovation.
Also represented was the Leonard Gelfand Center for Service Learning and Outreach, which conducts more than 75 educational outreach programs for K-12 students and teachers each year.
"Arne Duncan's visit to Carnegie Mellon clearly shows that we're a spot to visit when you want to know how technology can serve educational goals," Cassell said. "We're proud to have him come see what we're doing with the Simon Initiative. That really shows what a model we are."
Pictured: Secretary of Education Arne Duncan participates in a technology-enhanced learning demonstration. Among the onlookers are Justine Cassell and Farnam Jahanian.
Ties to India, Sept. 19 and 23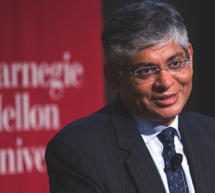 With more than 1,000 current students and 1,800 alumni from India, Carnegie Mellon celebrated its strong ties to the country with visits by ambassadors Arun Kumar Singh (top photo) and Richard Verma (bottom photo).
During a talk hosted by CMU Trustee Sunil Wadhwani, Singh, the Indian Ambassador to the U.S., spoke broadly about his nation's need for an expansion of higher education.
He said he is hopeful that of the approximately 100,000 Indian students now studying in the U.S. many will return to help create world-class institutions and educational partnerships that the country needs.
This past July, CMU forged a new partnership with India's Science and Engineering Research Board (SERB) to support outstanding students from India who want to pursue doctorates in math, science and engineering at CMU.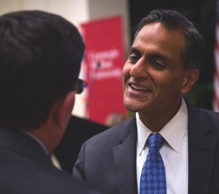 Verma, the U.S. Ambassador to India, spoke about the cultural ties between the two countries.
"At its core, the story about the U.S. and India is a story about personal connections and shared values," Verma said. "It is about the bonds between our people, our cultures, our shared commitment to learning and innovation, and our democratic ideals that knit us more closely together.
"Carnegie Mellon is, in many ways, representative of that story, and is symbolic of the strong people-to-people ties that define the U.S.-India relationship, enriching both of our societies."