May 21, 2015
News Briefs
Tepper Quad Prep Begins This Week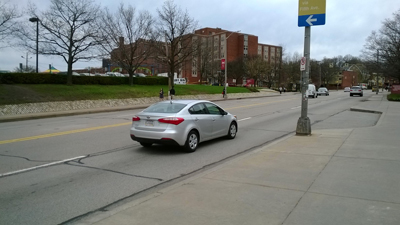 Site preparation for the Tepper Quad project is beginning this week. The work entails digging a 28-foot deep trench across Forbes Avenue to bring utility lines from main campus to the Tepper Quad site at the Morewood parking lot.
The work will last through the summer causing traffic restrictions along Forbes (one lane in each direction between Morewood Avenue and the Robert Mehrabian Collaborative Innovation Center) and pedestrian detours. Vehicles must turn right into the Morewood parking lot; left-hand turns into the lot will be prohibited. Bus stops also will be affected.
Learn more about the site preparation.
Find out more about the new Tepper School building.
Waterproofing Underway at Wean Hall Plaza; Pedestrian Restrictions Are in Effect
Work to waterproof the Wean Hall Plaza is underway. The existing pavers are being removed to install a new waterproofing system. Once the waterproofing work is completed, new pavers will be installed.
During the work, which is scheduled to last through the summer, pedestrian access to Wean, Porter and Hamerschlag halls will be open but restricted. Signs will be posted.
Please note that construction is weather dependent, and could cause work shifts to be adjusted to off hours, weekends or nights. Additionally, access to the adjacent buildings is subject to change.
VentureBridge Announces Inaugural Class of Companies
The College of Engineering has announced the inaugural class of companies to the new VentureBridge program. VentureBridge is a pre-accelerator housed at the Silicon Valley campus that assists graduating students and recent alums in converting their CMU-based project into a viable company through experiential education.
This entrepreneurial effort provides 10 weeks of advising, networking, mentorship and space under Entrepreneur-in-Residence and Software Management faculty member Ravi Thomas with additional support from faculty at Silicon Valley and Pittsburgh.
The inaugural class of companies are:
Toymetrics
Podium
Request
iBreathe
Find out more about VentureBridge. 
ASCE Honors CMU Chapter
CMU's Amercian Society of Civil Engineers (ASCE) Student Chapter was recently awarded the 2015 ASCE Distinguished Chapter Award for Region 2. This award is in recognition of the chapter's activities, programs, participation, and outreach on- and off-campus. ASCE has recognized the CMU student chapter with this award for two consecutive years.
The chapter aimed to strengthen ASCE's relationships for the 2014-2015 academic year by collaborating with peer student organizations such as the Society of Women Engineering (SWE), Engineers Without Borders (EWB), Chi Epsilon and the Civil and Environmental Engineering Graduate Student Association (GSA). Together, the groups hosted a number of social events and outreach programs that increased both the amount of programming for the community and overall attendance.
The chapter, advised by Assistant Teaching Professor Jim Thompson, also increased first-year engagement by creating a student mentoring program.
Girl of Steel To Lead Computing Camp For Girls
A member of the high school robotics team Girls of Steel will join with the Field Robotics Center to run "Programming Your Future With Robotics," a week-long camp for teaching computing concepts to middle school girls.
Sophia Lee, a junior at North Allegheny High School, received funding for the June 15-19 camp from AspireIT, an initiative of the National Center for Women & Information Technology. Lee will lead the camp, which she designed in partnership with the Field Robotics Center. The Field Robotics Center also sponsors the Girls of Steel team, which just participated in its fifth FIRST Robotics Championship.
Girls attending the camp will learn to program with Scratch, and to design and build their own robots with LEGO MINDSTORMS EV3 and Hummingbird Robotics kits.
"It is important for girls to participate in computing and technology because it may not only lead to career opportunities but also provide greater technological innovation due to more diverse perspectives and ideas," Lee said. "We hope this camp will encourage more girls to see themselves doing computing and robotics in the future."
Find out more about the Girls of Steel. 
Learn more about the camp and how to register.  
Purchase Discounted Tickets to the Opera Theater
The Opera Theater of Pittsburgh is selling tickets to its annual SummerFest at 
the Twentieth Century Club in Oakland. This year's SummerFest, which includes over 30 operas and recitals as well as the musical "Damn Yankees," runs from July 10 - August 2.
See the schedule.  Please use Code CMU15213 to receive 10 percent off the ticket price. Students can attend recitals for free with valid ID at the door.
PSO Offers Discounts for CMU
The Pittsburgh Symphony Orchestra is offering discounts to CMU students, faculty and staff for upcoming shows at Heinz Hall. Students can purchase tickets for $15, and faculty and staff tickets are available for $25.
At 7:30 p.m., Friday, May 29, and at 2:30 p.m., Sunday, May 31, conductor Juanjo Mena joins the Pittsburgh Symphony for Dance and Flight — impressionistic and passionate performances of music from dance, featuring the symphony's principal bassoonist — and CMU School of Music faculty — Nancy Goeres. The program includes Debussy's "Ibéria," No. 2 from Images, Ludwig's Pictures from a Floating World, for Bassoon and Orchestra, a Suite from Panambi, Four Dances from Estancia and Interlude and Dance from the opera La Vida Breve.
To purchase tickets, go to www.pittsburghsymphony.org/cmu.
Kennywood Park Picnic is June 13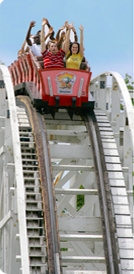 CMU's Staff Picnic at Kennywood Park, presented by Staff Council, will be Saturday, June 13. CMU employees can purchase two Funday tickets for $15 each (valid only on June 13) and additional Funday tickets for $22 each (limit 10). Pavilion 7 will be reserved for the CMU community. The children's prize giveaway and ice cream distribution will be at 1 p.m. at Pavilion 7. Ticket sale times and dates are as follows:
June 2, Cohon University Center, 11:30 a.m. - 1 p.m.
June 3, Mellon Institute, 11:30 a.m. - 1 p.m.
June 3, Cohon University Center, 4:30 - 5:30 p.m.
June 5, Cohon University Center, 11:30 a.m. - 1 p.m.
June 10, Cohon University Center, 11:30 a.m. - 1 p.m.
June 11, Cohon University Center, 11:30 a.m. - 1 p.m.
June 12, Cohon University Center, 11:30 a.m. - 1 p.m.
You must have your own CMU ID to purchase tickets. Cash only.
Idlewild & Soak Zone Offers Discounts for CMU Employees
Order tickets online at $31.99 per ticket and save $10 off the regular ticket price of $41.99. All online orders will be assessed a $1.25 processing fee per ticket. Tickets must be ordered at least seven days prior to your date of visit.
To purchase tickets go to idlewild.com. In the top right-hand corner of the home page, enter PROMO CODE: GSAF1546 and "ENTER." Follow the instructions to check out and finish the transaction with your credit card information.
Print your ticket voucher immediately and take it with you to the park.
Tickets are valid any operating day during the 2015 summer season, beginning seven days after your purchase date. A surcharge of $11 per ticket must be paid if the ticket is used prior to the valid start date printed on the ticket voucher.
The CMU discount cannot be combined with any other discount offer.
Discount Tickets Offered to Hershey Park
Staff Council is pleased to offer discount tickets to Hershey Park this summer. Visit http://tinyurl.com/cmu2015 to purchase tickets via Hershey's website. CMU's participant code is 95336.
If you purchase tickets before July 5, you will receive extra savings and tickets can be used ALL summer long.
Purchases made before July 5
Regular 1-day pass (ages 9-54) - $40.95*
*Admission tickets purchased online before 7/5/15 are VALID for the entire 2015 summer season.
Regular 1-day pass (ages 9-54) - $47.95*
Jr/Sr 1-day pass (ages 3-8; 55-69) - $35.95
Senior+ 1 day pass (ages 70+) - $23.25
Regular 2 day (ages 9-54) - $80.20
Jr/Sr 2-day (ages 3-8; 55-69) - $58.70
*Rate for purchases beginning 7/6/15
The gate rate for regular passes is $62.80 and the Jr/Sr rate is $39.80. Each ticket is subject to a $.75 processing fee.
If you have any questions, please contact Sharon Cavlovich at sharonw@cmu.edu or Nicole Stenger at nstenger@cs.cmu.edu.
For more summer discounts, including offers to Cedar Point and Sandcastle, visit the Staff Council Discounts Web page.