December 17, 2015
News Briefs
'Tis the Season for Employee Discounts and Perks
Everyone likes getting a bargain. But did you know that CMU faculty and staff are eligible for special deals just because they are employees of the university?
Looking to save some dollars on your wireless plan? CMU employees are eligible for discounts with AT&T, Verizon, Sprint and T-Mobile.
Traveling? CMU employees can get discounted rental car rates through Enterprise Rent-A-Car. If you are interested in buying a car, CMU employees can purchase vehicles at discounted rates through Chrysler, General Motors, Ford and Nissan.
Buying or selling a house in the New Year? Look into Howard Hanna's Hanna Gold Advantage Program, which gives employees special perks, including cash rewards, free consultations and credit toward closing costs.
Do you need help with child care? CMU employees receive a discount from Au Pair in America, which screens young women from around the world to live with your family and take care of your children.  
There are many more discounts and opportunities available for CMU employees, including enhanced banking services through PNC Bank and Citizens Bank, free tickets to CMU sporting events and music performances, discounted tickets to CMU drama performances, Cultural District shows, the Pittsburgh Symphony Orchestra and the Pittsburgh Opera, and discounts for area retailers and hotel stays.
Benefits eligibility varies based on your position. For more information about these programs, visit the Additional Benefits page and the Staff Council Discounts page. 
Two Crane Lifts at Mellon Institute To Cause Restrictions
Two crane lifts for lab renovations at Mellon Institute will cause restrictions in and around the building.
Saturday, December 19:
The first lift will take place on the South Dithridge Street side of Mellon Institute from 4 a.m. – 7 p.m., Saturday, Dec. 19. During this time, South Dithridge will be closed between Fifth Avenue and Winthrop Street. The entrance to the Dithridge Garage will be closed that day. Any cars already in the garage may exit onto Henry Street, which will remain open during this time period. 
Access to the Mellon Institute loading dock will be available from the Winthrop and Dithridge intersection. For safety precautions, floors 7 and 8 of Mellon Institute will be inaccessible to faculty, students and staff.  
Saturday, January 9
The second lift will take place from the Fifth Avenue side of the building. Fifth Avenue will be restricted to two lanes from 4 a.m. – 7 p.m., Saturday, Jan. 9. For safety precautions, floors 2, 3, 7 and 8 of Mellon Institute will be inaccessible to faculty, students and staff.
It is important to note that these operations are dependent on the weather. In the event that changes need to be made to the schedule, the campus community will be notified as soon as possible. 
Contact Carnegie Mellon Project Manager Jan Held at 412-268-1838 or jheld@cmu.edu for more information.
Some Athletic Facilities To Close During Winter Break
Due to construction and renovation work in the Cohon University Center, several athletic facilities will close during winter break.
The following areas will close from Dec. 21 through Jan. 10.
Equipment Desk
Men's and Women's Locker Rooms
Family Changing Rooms
Swimming Pool
Laundry and Towel Service
The equipment desk check-in will be moved to the top of the stairs near the balcony area in the Cohon Center. Arrangements have been made for swimmers to use the pool at the Jewish Community Center in Squirrel Hill. The cost will be $5 per visit, and users must show their CMU ID.
The Fitness Center and racquetball/squash courts in the Cohon Center will remain open. Skibo Gym lockers and showers will be open as well.
There will be a limited schedule of Group X classes during the winter break. Facility hours and Group X classes are posted online. 
Toys for Tots Campaign a Success
The College of Engineering's First-Year Advisory Board and the Carnegie Mellon Police collected 22 boxes of toys in this year's Toys for Tots campaign. The toys were delivered to the Marines who gave them to needy families in Western Pennsylvania.
"A special thanks to the Carnegie Mellon community for helping to make this project such a great success," said Officer Donald Campbell of the CMU Police Department. "Happy holidays to all and peace in the New Year."
Team Raises $8,900+ for Special Olympics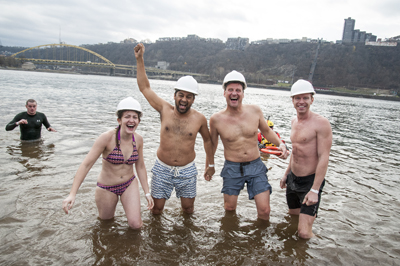 Carnegie Mellon's Pittsburgh Polar Plunge Team, which included CMU Police and members from Student Affairs and Campus Design and Facility Development, took its annual dive into the Allegheny River last Saturday to support Special Olympics in Pennsylvania.
The team raised more than $8,900 in pledges.
Carnegie Mellon will host the Special Olympics' Western Pennsylvania Spring Games in 2016.
At right are Polar Plunge members from Campus Design and Facility Development (l-r): Nicole Graycar, Utkarsh Ghildya, Bob Reppe and Brennen Garrison.
Grad Student Nomination Period Now Open
The Graduate Student Service and Teaching Award committees are now seeking nominations of graduate students who have excelled in teaching or service so their efforts can be recognized by the university community. Nominations are due Feb. 5.
The awards will be presented Thursday, April 7, during the Innovation with Impact: Celebration of Graduate Students event. The event is part of Graduate Student Appreciation Week, April 4-8. Award recipients will receive an engraved tray and monetary award and have their names added to the respective plaques in the Cohon University Center. The awardees also will be recognized at the Celebration of Education later that month.
Find out more about the Graduate Student Service Award.
Find out more about the Graduate Student Teaching Award.
Last Call: Thrill Mill Seeks To Help Early-Stage Startups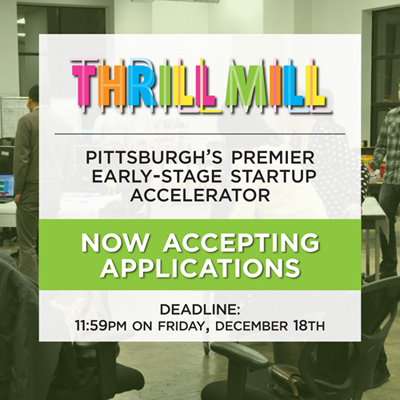 Thrill Mill, a Pittsburgh-based startup accelerator, has launched its fourth application cycle, seeking to help startups across a broad range of industries, including those building software technology companies, to family businesses, to nonprofits.
Thrill Mill has established partnerships with industry leaders in the region, whose teams and resources will be accessible to startups that join Thrill Mill's future cohorts. These partnerships include: UPMC Enterprises (health care technology startups); Up Prize (social ventures); and the Ed-Tech Refinery (education technology startups) among others. 


The application window closes at 11:59 p.m., Dec. 18. Find out more. 
Seeking Presenters for Daughters & Sons To Work Day
Staff Council's Take Our Daughters and Sons to Work Committee is looking for activity leaders/presenters and general volunteers to contribute their time and enthusiasm to the 2016 Take Our Daughters and Sons to Work Day event, which will be held on Thursday, April 28.
On this day, children of faculty and staff between the ages of 8 and 15 are invited to campus to learn about the many career and learning opportunities that exist at CMU. This year's theme is "Sparking Aha! Moments."
The committee is seeking individuals who would like to create and lead an activity or presentation for one or two sessions in the afternoon. Each session will run roughly 45 minutes. If you volunteer for both sessions, your total commitment will be from approximately 12:40 p.m. – 3:20 p.m., considering set-up and tear down.
Depending on the nature of your activity/presentation, you will have either a smaller group of children (15 maximum) or a larger group (30 maximum). While most presentations are held in the Cohon University Center, we encourage and welcome you to use a classroom, lab or room in your area.
If you are interested in leading an activity or presentation, contact Tom Wilk. 
You can also complete the Presenter Registration form. 
Attention Ph.D.s: Seeking Participants for Three Minute Thesis Competition
Three Minute Thesis (3MT®) challenges Ph.D. students to present a compelling oration on their thesis and its significance in just three minutes, in language appropriate for a general audience. 3MT is not an exercise in trivializing or "dumbing-down" research, but requires students to consolidate their ideas and crystallize their research discoveries.


Any currently enrolled CMU Ph.D. candidate may sign up to compete. Register online. Registration deadline is Jan. 24.

 Qualifying rounds will be held February through March and the championship round will be held in April. Heat winners will receive iPads or the equivalent value as a research/travel grant. Championship winners will receive $3,000, $2,000 and $1,000 research/travel grants.
Learn more about Three Minute Thesis at CMU.
CMU's United Way Campaign Runs Through Dec. 29

Carnegie Mellon's 2015 United Way Campaign will run through Tuesday, Dec. 29. This year's theme is "Together, We Are Stronger." Employees are encouraged to join the campaign by advocating for or volunteering with the United Way and by pledging or donating. Please make your pledge online today. 
Register for Gelfand Outreach Center's Spring Saturday Series
CMU community members can register their children for the Gelfand Center for Service Learning and Outreach's Spring Saturday Series for K-9 students. Classes fill fast so please register now to guarantee your child a spot in class!
Classes are developed by CMU faculty and staff to be fun, engaging, rigorous and hands-on. Available classes are listed in a primary division (grades K-2) and an upper division (grades 3-9). Classes are STEM focused and highlight the research and work of faculty, staff and students. Don't delay, register today!
PSO Offers Discounts for CMU
The Pittsburgh Symphony is offering discounts to CMU students, faculty and staff for their upcoming shows at Heinz Hall. Students can purchase tickets for $15, and faculty and staff tickets are available for $20.
At 2:30 and 8 p.m., Saturday, Dec. 19 and at 2:30 p.m., Sunday, Dec. 20, a sleigh full of guest artists will join the Pittsburgh Symphony for Highmark Holiday Pops, including The Voice's Chris Jamison, Three Rivers Ringers, the Mendelssohn Choir of Pittsburgh, Attack Theatre and of course Jolly Old Saint Nick!