April 16, 2015
News Briefs
UHS Offers Skin Cancer Screenings
University Health Services (UHS) will be holding its annual skin cancer screenings from 9 a.m. - 4 p.m., Friday, May 1, and Monday, May 4. Please make an appointment through Health Connect on the Health Services website. Skin cancer is the most common cancer in the U.S. and UHS has more screening appointment times this year than ever before. For more information, see http://www.cmu.edu/health-services/news/2015/skin-cancer-screenings-2015.html
Researchers Discover How Pain Fine-Tunes Pain Relief
At the cellular level, pain and pain relief are caused by two different signaling pathways. But the two pathways aren't necessarily independent of one another, according to a study published by Carnegie Mellon researchers in Cell Reports.
The researchers determined the mechanism by which cellular signals for pain fine-tunes neurons' sensitivity to opioids, medications that relieve pain. The finding could help researchers better understand pain and addiction.
Opioids, drugs that bind to opioid receptors on the surface of neurons, are effective against pain, but their use often leads to tolerance and addiction. Researchers have developed and studied more than 10,000 compounds based on morphine, but have yet to create a drug that has similar analgesic effects without causing addiction.
"Understanding how receptor localization changes in response to pain and medication is a different way to address the challenge of developing a non-addictive analgesic drug," said Manojkumar Puthenveedu, assistant professor of biological sciences and a member of the joint Carnegie Mellon and University of Pittsburgh Center for the Neural Basis of Cognition. "If we can control what happens to the receptor after the drug activates it, we might be able to better control how the body responds to opioids."
Chemists Create Gold Nanoparticles That Reflect Nature's Patterns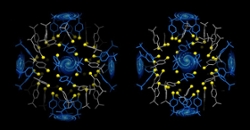 Our world is full of patterns, from the twist of a DNA molecule to the spiral of the Milky Way. New research from Carnegie Mellon chemists has revealed that tiny, synthetic gold nanoparticles exhibit some of nature's most intricate patterns.
Unveiling the kaleidoscope of these patterns was a Herculean task, and it marks the first time that a nanoparticle of this size has been crystallized and its structure mapped out atom by atom. The researchers report their work in the March 20 issue of Science Advances.
"As you broadly think about different research areas or even our everyday lives, these kinds of patterns, these hierarchical patterns, are universal," said Rongchao Jin, associate professor of chemistry. "Our universe is really beautiful and when you see this kind of information in something as small as a 133-atom nanoparticle and as big as the Milky Way, it's really amazing."
Gold nanoparticles, which can vary in size from 1 to 100 nanometers, are a promising technology that has applications in a wide range of fields including catalysis, electronics, materials science and health care. But, in order to use gold nanoparticles in practical applications, scientists must first understand the tiny particles' structure.
Get Recognized! Get ORCID @ CMU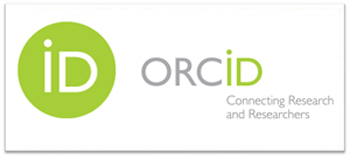 Are you a researcher at Carnegie Mellon? If so, have you used the University Libraries' Web application at https://orcid.library.cmu.edu to get an ORCID ID or to link your pre-existing ORCID ID to your Andrew ID? As of April 12, 892 of your CMU colleagues have.
If those 892 researchers drove to campus, their cars would fill the East Campus Garage, Gates Garage, and the Collaborative Innovation Center, Wean, Warner and Hamburg Hall parking lots.
892 was the number of male students enrolled in ECE and the number of sophomores living in university housing during the 2014 fall semester. It's also part of the numeric code of seven CMU courses: Foundations of Electronic Marketplaces (15-892), Bipedal Locomotion Seminar (24-892), Supervised Readings in Astrophysics (33-892), Seminar on Organizational Behavior (47-892), History Prospectus (79-892), Research Team Apprenticeship (82-892) and Infrastructure Management (92-892).
Do you want to get recognized for your work throughout your career? To be ready when your publisher or funder asks for your ORCID ID? Yes? Then participate in ORCID @ CMU. Go to https://orcid.library.cmu.edu and follow the brief instructions.
For more information, see the FAQs at http://www.library.cmu.edu/datapub/id/orcidinitiative.
Last Call: Register Your Child for Take Our Daughters & Sons to Work Day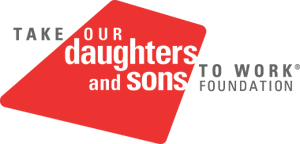 Registration for Take Our Daughters & Sons to Work day is now open through tomorrow, April 17, at https://www.cmu.edu/take-our-kids-to-work/registration/index.html.
Sponsored by Staff Council, this year's Take Our Daughters & Sons to Work Day is Thursday, April 23. The national program theme is '#MPOWR.' Faculty and staff are encouraged to bring their children between the ages of 8 and 15 to campus to give them a glimpse of the wide range of career and learning opportunities that exist at CMU. Following the lunch program, activity sessions will be held at 1:15 and 2:15 p.m. Students will register for a track that includes two activities.
For more information or questions, please contact Pattye Stragar (pls@andrew.cmu.edu) or Tom Wilk (twilk@andrew.cmu.edu).
If you would like to be a general volunteer to help the day of the event, please contact Gloria Gruber (ggruber@andrew.cmu.edu).
PSO Offers Discounts for CMU
The Pittsburgh Symphony Orchestra is offering discounts to CMU students, faculty and staff for upcoming shows at Heinz Hall. Students can purchase tickets for $15, and faculty and staff tickets are available for $25.
At 7:30 p.m., Friday, April 17, and Saturday, April 18, and at 2:30 p.m., Sunday, April 19, the Pittsburgh Symphony Orchestra will feature the Brothers Honeck. Concertmaster of the Vienna Philharmonic Orchestra and brother of music conductor Manfred Honeck, the concert opens with Dvorak's Rusalka, and features Britten's profound Violin Concerto and Tchaikovsky's powerful "Pathétique."
To purchase tickets, go to www.pittsburghsymphony.org/cmu.
Seeking People With Type 2 Diabetes for Online Research Study
Researchers in CMU's Department of Psychology are seeking adults in the United States who have been diagnosed with type 2 diabetes to take an online survey studying the relationship between psychosocial factors and type 2 diabetes self-care. Volunteers will be given the opportunity to enter into a drawing for one of four $50 money orders. For more information, go to https://sites.google.com/site/CMUDiabetes.
Volunteers Needed for Asthma Study
The University of Pittsburgh Asthma Institute is looking for healthy men and women between 18 and 65 years of age. Volunteers must be non-smokers or have less than five years of smoking. Participation includes: breathing tests, allergy tests, blood tests and a bronchoscopy.
Testing will be performed at UPMC's Montefiore Hospital in Oakland. Research study visits will take place over a 4-6 week period. You will receive financial compensation up to $450. Parking is provided at no cost and bus fare is reimbursed. To learn more, email asthmainstitute@upmc.edu or call 1-866-804-5278.
Household Chemical Collection Event is May 2
A household chemical collection event will be held from 9 a.m. – 1 p.m., Saturday, May 2 at the North Park Swimming Pool parking lot.
Acceptable items include aerosol cans, automotive fluids, batteries, chemistry sets, compact fluorescent bulbs, gasoline and kerosene, household cleaners, mercury, paint products, pesticides and herbicides, photo chemicals and pool chemicals.
There is a fee of $3 per gallon, cash only. For more information, go to www.prc.org or call 412-488-7452.
Discount Tickets Offered to Hershey Park
Staff Council is pleased to offer discount tickets to Hershey Park this summer. Visit http://tinyurl.com/cmu2015 to purchase tickets via Hershey's website. CMU's participant code is 95336.
If you purchase tickets before July 5, you will receive extra savings and tickets can be used ALL summer long.
Purchases made before July 5
Regular 1-day pass (ages 9-54) - $40.95*
*Admission tickets purchased online before 7/5/15 are VALID for the entire 2015 summer season.
Regular 1-day pass (ages 9-54) - $47.95*
Jr/Sr 1-day pass (ages 3-8; 55-69) - $35.95
Senior+ 1 day pass (ages 70+) - $23.25
Regular 2 day (ages 9-54) - $80.20
Jr/Sr 2-day (ages 3-8; 55-69) - $58.70

*Rate for purchases beginning 7/6/15
The gate rate for regular passes is $62.80 and the Jr/Sr rate is $39.80. Each ticket is subject to a $.75 processing fee.
If you have any questions, please contact Sharon Cavlovich at sharonw@cmu.edu or Nicole Stenger at nstenger@cs.cmu.edu.
Last Call: Golf Outing To Benefit Canine Angels Service Dogs
The Carnegie Mellon Student Veterans & Family Association, in coordination with the family of the late Lieutenant Colonel Christopher "Otis" Raible (E'95), who died in 2012 while serving in Afghanistan, is hosting a golf event to benefit the Canine Angels Service Dogs. Canine Angels, headquartered in Myrtle Beach, S.C., trains shelter animals as service and companion animals for individuals suffering from post-traumatic and/or post-combat stress. Canine Angels operates solely on donations.
The golf event is Monday, April 20 at South Hills Country Club. The cost of full registration (now $115) includes a buffet luncheon, golf cart, greens fees, eligibility for all contests, and one ticket for the post-outing gift presentation event and dinner. Golf-only ($75) and dinner-only ($40) rates also are available.
For more information and to register, go to http://www.cmu.edu/veterans/raible-golf/index.html.
Conduct of Research Seminar Series Underway
CMU's Office of Research Integrity and Compliance's (ORIC) Responsible Conduct of Research (RCR) Seminar Series continues for faculty, students and staff. All sessions for the spring 2015 semester are from 12 – 1 p.m. in the CUC, except where noted**.  Upcoming session dates and topics are scheduled as follows:
Wednesday, April 22: Human Subject Research Best Practices.
Friday, May 1: Export Control Topics and Fundamental Research, 1 – 3 p.m., presented by Kevin King of Cooley, LLP
More information is available on the RCR website. Space is limited, so please register early.