April 12, 2012
CMU To Name Building for Former President Robert Mehrabian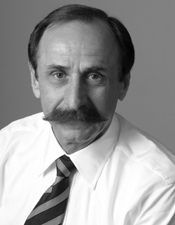 Carnegie Mellon will name the Collaborative Innovation Center (CIC) on its Pittsburgh campus for its seventh president, Robert Mehrabian, during an 11 a.m. ceremony in the CIC lobby on Wednesday, April 18. All members of the university community are invited to attend the naming ceremony. 
Mehrabian, CMU's president from 1990-1997, is chairman, president and chief executive officer of Teledyne Technologies Incorporated.
The Robert Mehrabian Collaborative Innovation Center recognizes his contributions to economic development in Pittsburgh and to technology commercialization at CMU. The building houses technology research and development offices for Apple, Intel and Disney. It also houses Carnegie Mellon's CREATE Lab — a robotics lab sponsored by Microsoft — and space for Carnegie Mellon CyLab, the university's Information Networking Institute and the CERT® Coordination Center, Carnegie Mellon's internationally known cybersecurity team.
Carnegie Mellon President Jared L. Cohon said the Collaborative Innovation Center was a particularly appropriate choice to honor Mehrabian's legacy to the university and to the region.

"During his presidency, Robert Mehrabian was an ardent and effective advocate for the role of Carnegie Mellon in generating prosperity for the city and the nation. It is fitting that his legacy be associated with a building that so visibly links the university, its students and faculty to leading technology companies and the broader Pittsburgh community. As an entrepreneur, a scientist and leader on this campus, he defined new relationships for Carnegie Mellon with many business and community partners and helped our Pittsburgh campus to grow gracefully and beneficially for its residents. It is an honor to attach the name of Robert Mehrabian to the Collaborative Innovation Center," Cohon said.
Driving Economic Development and Tech Transfer
Mehrabian played a vital role in the Regional Economic Revitalization Initiative, which in the 1990s developed a plan for economic development in the greater Pittsburgh area. Mehrabian also is credited with stimulating the university's technology transfer operation and his efforts helped lead to the development of the Pittsburgh Technology Center, a former mill site that is now a vital stretch of research and development facilities along the Monongahela River.

Efforts like these eventually enabled university and government leaders to successfully obtain funding for the creation of the Collaborative Innovation Center, a business incubator that led to Pittsburgh being named a top technology city by Forbes.com. The facility, which received a Gold LEED rating from the U.S. Green Building Council for its sustainability and energy efficiency, was built in 2005 to provide office and lab space for technology companies wishing to partner with Carnegie Mellon to create innovative new concepts and products for the marketplace. It's the only building in the world to have housed Google, Intel, Apple, Disney and a Microsoft-sponsored research lab under one roof.

During his presidency, Mehrabian helped lay the groundwork for CMU's successful technology commercialization efforts. Over the years that followed, Carnegie Mellon faculty and students have worked to create more than 300 companies and 9,000 jobs in the region. Building on the Mehrabian legacy, CMU announced earlier this year a Greenlighting Startups initiative, a portfolio of CMU incubator groups designed to speed innovation from the research lab to the marketplace.
Improving Undergraduate Education and Quality of Life on Campus
Carnegie Mellon continued to climb among the nation's elite universities during Mehrabian's presidency, making great strides in improving undergraduate education and the quality of life on campus for students, faculty and staff. For example, under Mehrabian's direction, the position of vice provost for education was created and dedicated to the student educational experience. The Andy Awards, recognizing staff dedication and teamwork, and the tradition of a summer picnic for the campus community began.
Enhancements in academic programs and student activities helped student applications soar to more than 13,000 in 1996, more than doubling the amount in Mehrabian's inaugural year in office. Mentoring and advising initiatives and efforts to enhance undergraduate teaching helped to attract high-quality students and greatly improved the student retention rate. Mehrabian also was responsible for the creation of advisory boards that continue to provide guidance on best practices to campus business and academic units.

Mehrabian oversaw the completion of the East Campus Project, an ambitious building plan that resulted in a new University Center, two residence halls, Gesling Stadium and a multi-level indoor parking garage. A research facility at the Pittsburgh Technology Center, and the George A. Roberts Engineering Hall were also completed during his tenure. The Intelligent Workplace, a research area for the School of Architecture; the Purnell Center for the Arts, a new home for the School of Drama; and Posner Hall, a facility that doubled the size of the graduate business school, were completed as part of the East Campus Project.
Mehrabian Biography
In November 1999, Mehrabian became president and chief executive officer of Teledyne Technologies following its spin-off from Allegheny Technologies. He became chairman of the board in December 2000.

Mehrabian holds bachelor's and doctor's of science degrees from MIT. His academic career spanned almost 30 years, starting at MIT in 1968 and concluding as president of Carnegie Mellon in 1997. He left MIT in 1975 as an associate professor. From 1975 to 1979, he was a professor of metallurgy and a professor of mechanical engineering at the University of Illinois at Urbana-Champaign. From 1983 to 1990, he served as dean of engineering at the University of California, Santa Barbara.

Mehrabian also spent four years in the Senior Executive Service of the U.S. government. As director of the Center for Materials Science of the Department of Commerce's National Institute of Standards and Technology, he initiated numerous government/industry programs that became models for such cooperative efforts. During his U.C. Santa Barbara and Carnegie Mellon tenures, he spun-off a number of high technology companies. An internationally recognized authority on advanced technologies, Mehrabian served as senior adviser in manufacturing and high technology processes for many Fortune 500 companies.

Mehrabian holds eight U.S. and more than 40 foreign patents. He has authored 139 technical papers and edited six books in the field of materials science and engineering. He has earned numerous honors and awards. A member of the National Academy of Engineering, he was named a fellow and distinguished Life Member of the American Society of Metals International (ASM), a fellow and Leadership Award recipient of the Minerals, Metals and Materials Society, and a winner of the ASM's Henry Marion Howe Medal. He's received honorary doctorates from Carnegie Mellon and Chatham University.