May 06, 2020
A Dramatic Shift
CMU professors pivot to remote learning with the help of alumni, industry professionals
By Julie Mattera jmattera(through)cmu.edu
Media Inquiries
Julie Mattera
Marketing & Communictions
Carnegie Mellon University School of Drama's transition to remote learning is opening up new opportunities to connect students with industry professionals and providing fresh approaches to courses that typically rely on face-to-face interaction.

Alumni from the school — including actors on Broadway, film and television; costume, sound and lighting designers; and stage managers — and industry veterans — including playwrights and casting directors — have guest lectured courses to discuss the crafts of singing, acting and design, life experiences, and the entertainment business. They also have led workshops — providing professional feedback on skills that could serve students through their careers.

Catherine Moore, teaching professor of movement and option coordinator of acting and musical theater, said the transition has been challenging. These crafts typically rely on actors and singers working together in the same room, feeding off each other's physical energy and hearing one another in real time. But the new format has provided unexpected bright spots.

Moore teaches physical approaches to actor training, which focuses on how actors use their bodies to express behavior and communicate. For lessons in stage combat, Moore brought in CMU alumni Aleyse Shannon and Patrick Wilson. Shannon, a 2018 School of Drama graduate who acted in the movie "Black Christmas" and the television show "Charmed," spoke about the differences between doing her own fight work on film versus television and described the experience of going from being a new graduate to working on set. Wilson, a 1995 School of Drama graduate, told students about filming fight scenes with Liam Neeson in "The A-Team," wire work with Jason Momoa for "Aquaman," and how his training in swordplay at CMU helped prepare him for the film adaptation of "Phantom of the Opera."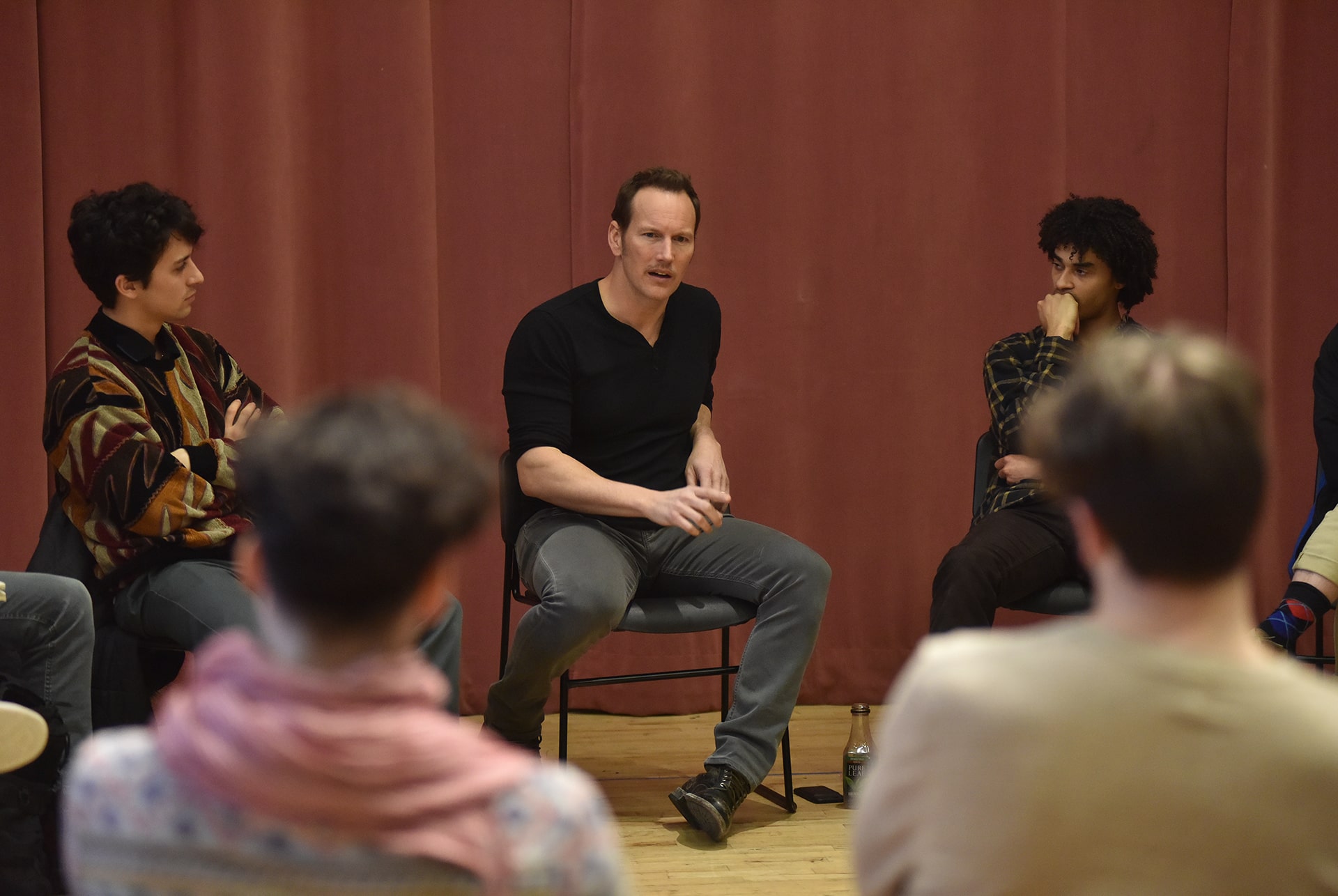 CMU alumnus Patrick Wilson returns to campus frequently to meet with students, such as for this class in 2016. This spring, he joined Gary Kline's and Catherine Moore's courses through Zoom videoconferences. Photo by Louis Stein.
"These guests have been inspiring to our students. Oftentimes, our alumni talk about how they've put into practice what they learned at CMU. It shows the value of their training," Moore said. "With this being such an uncertain time, that's reassuring to our current students."
Wilson also is among a group of prominent CMU alumni, including Megan Hilty, Corey Cott and Renée Elise Goldsberry, who have been dropping into the "Acting a Song" class, taught by
Teaching Professor and Assistant Option Coordinator of Musical Theater Gary Kline
. Wilson's guest lecture in mid-April provided Kline's 13-person class with a rare opportunity to ask the actor about everything from advice on self-tapes and auditions, to working with Barbra Streisand.
Wilson even coached School of Drama sophomore Laughton Berry as he belted out a few lines from "I Heard It Through the Grapevine," part of the student's upcoming audition for "Hair."
Sunday Manisto-Saari, a sophomore majoring in musical theater, said Wilson gave the students a clear sense of working in the industry, and she appreciated his tips for bringing alive a character, as well as his life lessons.
"He talked about the times that he turned down opportunities because of other priorities, like his family," Manisto-Saari said. "Sometimes it's about choosing the people that you love or your well-being, which is something we as actors need to remember."
Denée Benton discusses her time at Carnegie Mellon.
First-year students in
Associate Teaching Professor of Singing Claudia Benack
and
Associate Teaching Professor of Musical Theater Rick Edinger
's musical theater class have been treated to sessions with CMU alumni and Broadway stars including Grey Henson and Denée Benton. In her talk, Benton emphasized how she's continued to adapt and learn through her career: "Every job I've had has forced my voice to grow."
Benton, when asked about how to best navigate typecasting, said it's something she had struggled with since she didn't have a strong gospel voice. Instead, she focused on what she did well, leading to Broadway roles as Natasha in "Natasha, Pierre, & The Great Comet of 1812" and Eliza Hamilton in "Hamilton."
"When I focused on what actually made my heart sing ... the doors started to open," Benton said. "Don't be afraid to own that even if it hasn't been done before."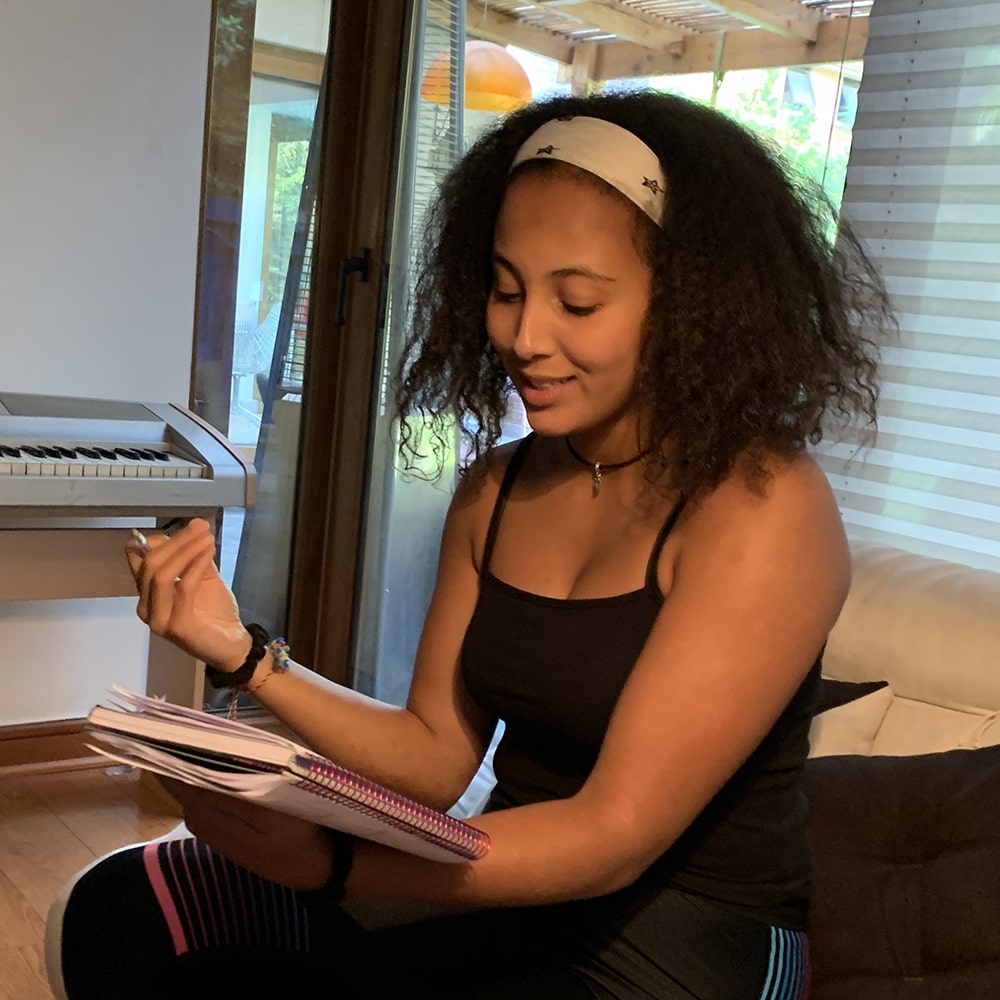 Amara Pedroso Saque, a junior in the School of Drama, works on a piece for McKay's course.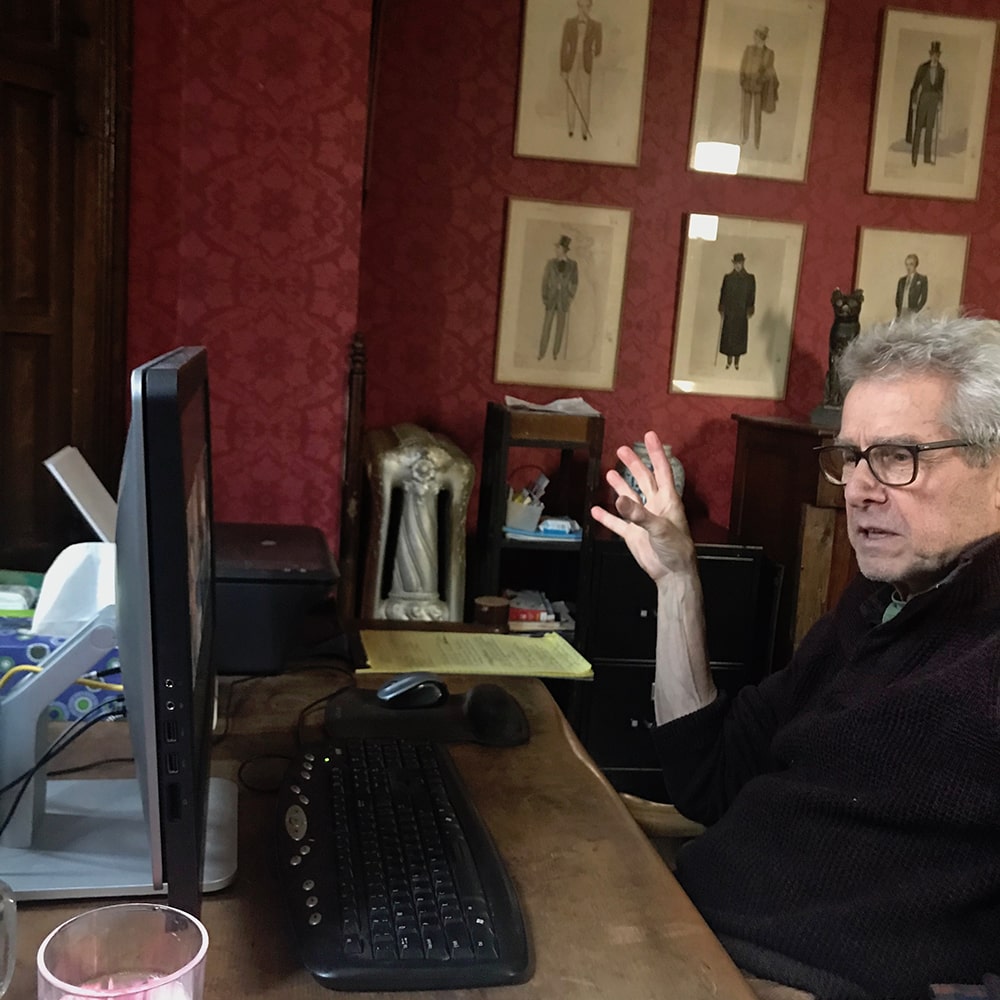 Tony McKay said standup is "challenging and a bit of a naked form of comedy. The material is your own, and the students have shown remarkable candor."
Pivots to remote teaching
Other professors are turning to new techniques to pivot to remote learning. Associate Professor of Acting Tony McKay replaced the typical scene work in his comedy course with standup comedy.

"That's one comedy medium that I thought would be viable, and I've been really impressed with my students as we've taken this on," McKay said. "It's a challenging and a bit of a naked form of comedy. The material is your own, and the students have shown remarkable candor."

In a recent class, students performed sketch comedy and anecdotal bits. Some played multiple characters, turning their gaze first left then right and then back again while raising and lowing their pitch to differentiate characters arguing with one another.

Students said that even with the change in format they've learned comedy basics, such as telling a joke, setting up a punch line, comedic timing and the ability to turn inwards to find that vein of honesty that they can tap for comedic truth.

Grant Reynolds, a School of Drama junior in McKay's class, said although his classmates are scattered across the U.S. and internationally, they're still able to work off of each other's emotions by hearing their voices and seeing their facial expressions on the screen. Reynolds and others also said this experience is forcing them to be more creative, curious and adventurous.

"It's just made us more clever," Reynolds said. "It's a frustrating element, but it's an element that definitely is grooming us and preparing us." 
Courses that have relied on collaborations and hands-on projects also are focusing more on the history of productions, the process of creating theater and character development.

Professor of Dramatic Literature and Dramaturgy Option Coordinator Wendy Arons said her devised and documentary theater students originally had been working together to create a theater piece using found source material. When that became challenging with the move to remote learning, the class pivoted to exploring the process and methods of artists and professionals who make documentary-based or collaboratively-devised theater, primarily through a series of guest visits from prominent practitioners.

Students had question-and-answer sessions with Broadway directors like Rachel Chavkin, who just last year won a Tony Award for "Hadestown," and alumni like Eleanor Bishop, creator and director of "Steubenville," and members of the The PigPen Theatre Company, who founded the band and theater troupe while at CMU.

In Robert Thomson's course on lighting design for musicals and operas, students have shifted from hands-on lighting design projects to exploring the history of major productions and design issues in large musical productions. Broadway lighting designers, such as Japhy Weideman and Jen Schriever, also have joined the class via Zoom. Some of the best discussions have focused on what it means to be a collaborative artist, the business of being a freelance designer and how to explore the power of apprenticeship, said Thomson, an associate professor of lighting design.

Professors, like Kyle Haden and Andrew Smith, also are finding that ideas hatched during remote learning likely could serve them well when students return to campus. Both have brought playwrights into their acting courses to discuss the play's development and life of the characters involved. While they wouldn't have considered the sessions prior to remote learning, but they plan include them in the future.

Haden, assistant professor of acting, said a Zoom visit from Chicago-based playwright Ike Holter helped students gain a deeper perspective on textual analysis. Smith, assistant professor of acting, has had his class speak with a playwright, director and actor from the "Gruesome Playground Injuries." Additionally, psychotherapist Binda Colebrook joined another session to help Smith's class understand the characters' mentality, explaining how a child's environment growing up can influence their sense of self as an adult.

"It really gave the class perspective and insight into these characters," Smith said. "It was a fantastically valuable experience."
Class visitors provide new perspectives
Ingrid Sonnichsen, a retired CMU professor and artist lecturer in acting, also has brought in alumni from various areas of the entertainment industry to prepare graduating seniors for their annual Showcase. Alumni Casey Cott ("Riverdale"), Rachel Keller ("Legion" and "Fargo"), Krista Marie Yu ("Dr. Ken" and "Last Man Standing") and Ross Phillips ("Hart of Dixie" and "Halt and Catch Fire") recently participated in a Zoom panel on being a television series regular.

Earlier in the semester, after the class switched to remote learning, 2007 School of Drama alumna Michelle Wong hosted a three-day workshop on voiceovers. The TV and movie actor lectured the class on the difference in style between commercials on television versus radio or audiobooks; gave them technical tips for auditioning at home; and wrapped up the workshop with feedback on their reading of animation and commercial copy.

Daniel Neale, a senior majoring in musical theater, said he and his classmates began the course with little to no experience in voiceover work but left with tools that they could use in the future.

"You're always working on developing your toolbox as an artist," Neale said. "At CMU's School of Drama, you're going to try a million different things, and not all will stick, but having those options will be helpful since you never know where your path will lead you."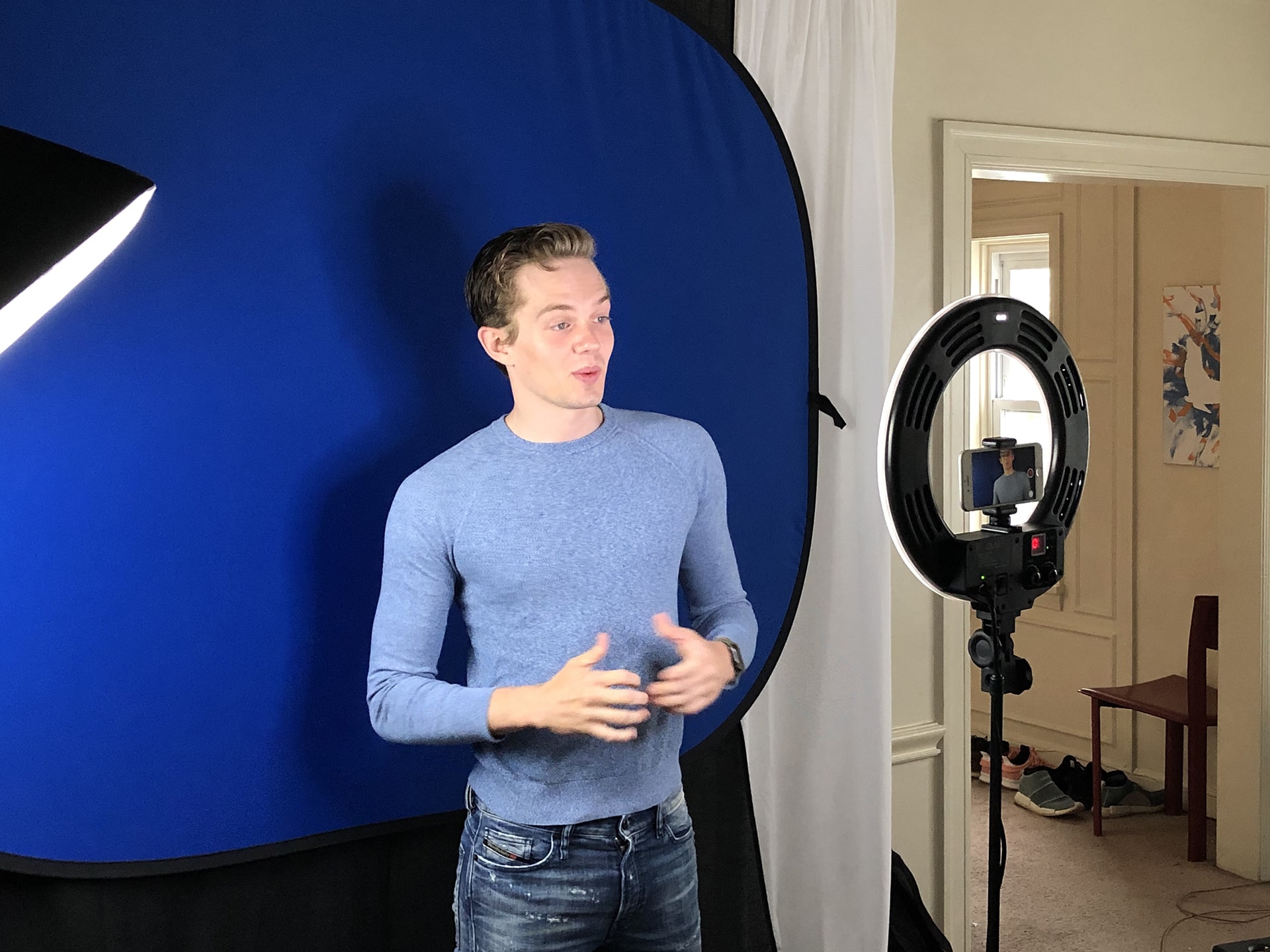 Daniel Neale, a senior majoring in musical theater, rehearses for a course while at home.
Wong has been able to continue her voiceover work despite the widespread shut-in from the coronavirus pandemic. It's a reminder to students that they can still continue their craft, even in this trying time, Neale said.

Wong reached out to CMU after learning that the pandemic had caused the cancelation of the senior's Showcase trip to Los Angeles, a culminating experience for Wong. She hoped that by offering up her expertise that she could help make the end of seniors' time at CMU still feel special.

"While I didn't get a chance to explore voiceover in school, it makes up a large part of this industry and utilizes all the skills we're taught," Wong said. "With the workshop, my hope was to introduce the students to an area of acting they didn't know much about, show them how capable they are, what it really takes to excel in this medium, and most of all, how fun it is."

Wong hopes to host the workshop in person in the future. Moore said it's been remarkable and humbling to see the generosity from industry contacts and CMU alumni who've taken the time to guest lecture and share their expertise with students.

"We have a vast network of alumni, and we're so fortunate that we have the kind of connection with them where we can contact them, ask them to visit our classes, and they do," Moore said. "When current students see these industry professionals giving back to their alma mater and modeling that kind of generosity, that's really valuable, too."