February 01, 2021
Students Pave the Way for Brick Street Preservation
By Heidi Opdyke opdyke(through)andrew.cmu.edu
Media Inquiries
Jason Maderer
Marketing & Communications
It turns out there's $285,000 at the end of a yellow brick road.
Students in the Carnegie Mellon University Heinz College of Information Systems and Public Policy gained a new appreciation for historic brick streets after taking a project course designed to provide a local municipality with data relevant to the upkeep of its infrastructure.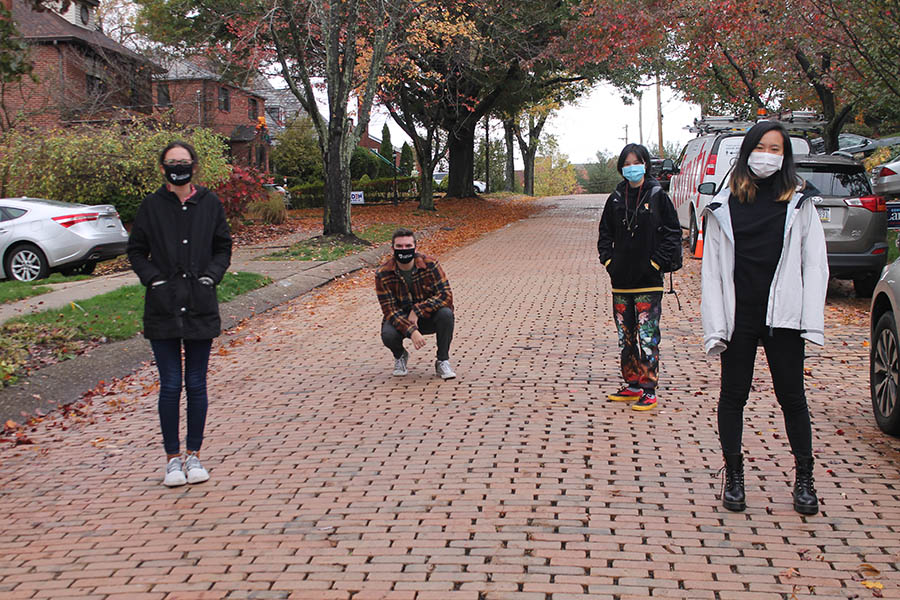 From left to right: Rachel Bukowitz, Erick Shiring, Yunxi "Luna" Hu and Shunyu "Charlotte" Rao studied the costs and benefits associated with preserving brick streets in Mt. Lebanon.
Mt. Lebanon, located about 10 miles southwest of CMU's Pittsburgh campus, has about one quarter of its streets paved with bricks, 76 in total. While anecdotal evidence showed that residents find the streets charming, the municipality didn't have hard data to show it was economical to continue to maintain the streets. Enter CMU students.
Anna J. Siefken, former chair of the municipality's historic preservation board and executive director of CMU's Wilton E. Scott Institute, is a Mt. Lebanon resident. Shortly after moving to the municipality in 2013, Siefken said that a brick street in the heart of the municipality, Castle Shannon Boulevard, was deconstructed and paved over.
"The preservation board felt blindsided," Siefken said. The municipality's commission said at the time that they didn't have enough data to make informed decisions about the brick-paved streets. She suggested that the commission collaborate with CMU to conduct a lifecycle analysis to determine the true costs of maintaining brick roads over 100 years.
"This is what Heinz College does best," said Siefken, who taught the project course that collected and analyzed information related to the brick streets. "Data can enhance decision making in all sorts of areas. The opportunity to dispel the perception that 'first cost' is the decision-making criteria most used for capital projects was intriguing."
The students spent more than 800 hours compiling information and analyzing data. Their work included creating a survey that was sent to residents, meeting with stakeholder groups, and learning everything from how bricks are manufactured and stored to what factors the municipality facility team takes into consideration when looking at road projects.
The team presented their findings virtually to the Mt. Lebanon Board of Commissioners in December. Of the 1,600 responses they received on the survey, 96% said that brick streets add charm to Mt. Lebanon, and 82% — which includes residents who don't live on brick streets — said they would be willing to pay for brick street restoration.
"When you focus on those who do live there, it jumps to almost 90% who are willing to contribute financially. They see the value," Siefken said.
Not only that, but the students showed why keeping brick streets was a financially sound and sustainable decision.
"What we found was by choosing to maintain the existing brick roads, you can save up to $200,000 in 50 years," said Yunxi "Luna" Hu, who served as the project manager and is in her final semester in the Master of Arts Management (MAM) program. The program is a joint partnership between Heinz College and the College of Fine Arts.
Over a century, Hu said that savings could be as much as $285,000, because brick streets need less maintenance over time and repairs can be made to smaller portions of the roadway, compared with asphalting an entire road.
"This is what Heinz College does best. Data can enhance decision making in all sorts of areas." — Anna Siefken
Students approached the study from different angles, depending on their interests. As part of the MAM program, Hu is combining her interest in finance with art and history. Shunyu "Charlotte" Rao, also a MAM student, took the lead on building the survey and created data visualizations for the project.
Rachel Bukowitz, a master's student in the Public Policy and Management program, studied the environmental impact of brick roads. She said because of their variable surface, storm water runoff flows slower over brick streets, which can contribute to less overflowing in the drainage system. Bricks can keep temperatures cooler by limiting the urban heat island effect that happens when sunlight strikes black asphalt, which then absorbs the rays and heats up the street. Lighter colored bricks, such as tan ones found on some of the Mt. Lebanon streets, reflect sunlight instead of absorbing it.
"Brick streets contribute to sustainability goals. In Pittsburgh, the director of the Department of Mobility and Infrastructure has elected to maintain historic blockstone streets, in some cases despite residents' requests," Bukowitz said. "In part because of the blockstones' ability to slow storm water runoff and prevent combined sewer overflows, as well as for its traffic-calming effects."
The course wrapped up in December, but because the team received some key information late in the process the students have worked on a policy proposal and planning strategy for Mt. Lebanon over winter break. The team will also provide tools to help the municipal commissioners with decision making in the future.
While none of the students had experience with brick streets before the project began, Erick Shiring, a master's student in the Public Policy and Management program, worked on rural transportation policy through a Metro21 project with the Pennsylvania Department of Transportation. Once he graduates in May, he'll be working on state and local government projects as a management consultant in Chicago.
"We don't know how much brick streets will be worth in 100 years. It might be that people are less concerned with the appeal and charm and more focused on efficiency, but now is a really important time to act if you want to preserve those assets," Shiring said. "A lot of people choose to live on a street because it's made of brick."