December 15, 2021
Trustee Lane Bess Sees Future of CMU in Space Technology
Lane and Cameron Bess made history as the first parent-child pair in space
By Heidi Opdyke opdyke(through)andrew.cmu.edu
Media Inquiries
Shilpa Bakre
University Communications & Marketing
Ryan Scarpino
University Communications & Marketing
A willingness to accept risks has served Lane Bess in life.
So, when the opportunity to travel to space with Blue Origin arose, he asked his family if they would like to go. Over his years of focusing on business, in leadership roles at Zscaler and Palo Alto Networks, as well as at his own firm Bess Ventures and Advisory, they spent many dinners without him.
He wanted to make up for lost time.
Bess' wife, Letty, declined, as did his two daughters. His youngest child, Cameron, 23, said yes. When NS-19 launched on Saturday, Dec. 11, the two made history as the first parent-child pair to travel into space together.
"I'd like to say in one week I made up for perhaps 15 years of focus on my career," said Bess, a member of Carnegie Mellon University's Board of Trustees and a 1983 graduate of the Dietrich College of Humanities and Social Sciences with a degree in managerial economics. "Being able to do this with Cameron was special."

Lane and Cameron Bess discuss their opportunity to go to travel to space together.
Members of the CMU community watched the livestream of the launch from Blue Origin's West Texas location, after it was delayed several days due to strong winds. Among those watching was Richard Scheines, the Bess Family Dean for Dietrich College.
"One of the things I've always loved about Lane is his zest for life. He is as attuned to risk as anyone, but he lives to say 'yes,'" Scheines said. "I loved watching Lane and Cameron ring the bell before climbing into the capsule, go up into space, and then come out of the capsule beaming with excitement. And because he is a friend, I also exhaled and said 'phew' to myself."
NS-19 was the first to carry a full manifest of six passengers into space. That day there were more people in space at one time — 22 — than any other day in history as the Blue Origin crew joined 16 others who were at the International Space Station.
"I get tears in my eyes when I think about the tranquility and peacefulness of that view after that acceleration to get there. I wish I could sit up there for hours, days," Bess said about the moment when the spacecraft reached apogee, or the highest point of its ride. "I fall asleep thinking about the view. All of the day's challenges and global issues seem a little bit less significant. We should be thinking more about the sustainability of the planet and making it a better place for everyone to live."
Part of Bess' payload for the mission included two Carnegie Mellon banners as well as a patch with a special designation that recognized the late CMU alumnus and trustee Glen de Vries, who flew on Blue Origin's second manned flight, NS-18 in October.
"Carnegie Mellon has very good bragging rights that in two of the first three flights to space for civilians its alumni have been there. No other college can make that claim," he said. "In the same way that Carnegie Mellon has led in the fields of engineering and science and in the humanities, space is going to be one of the new frontiers. I'd like to explore opportunities for the university and our students to be connected to future space efforts."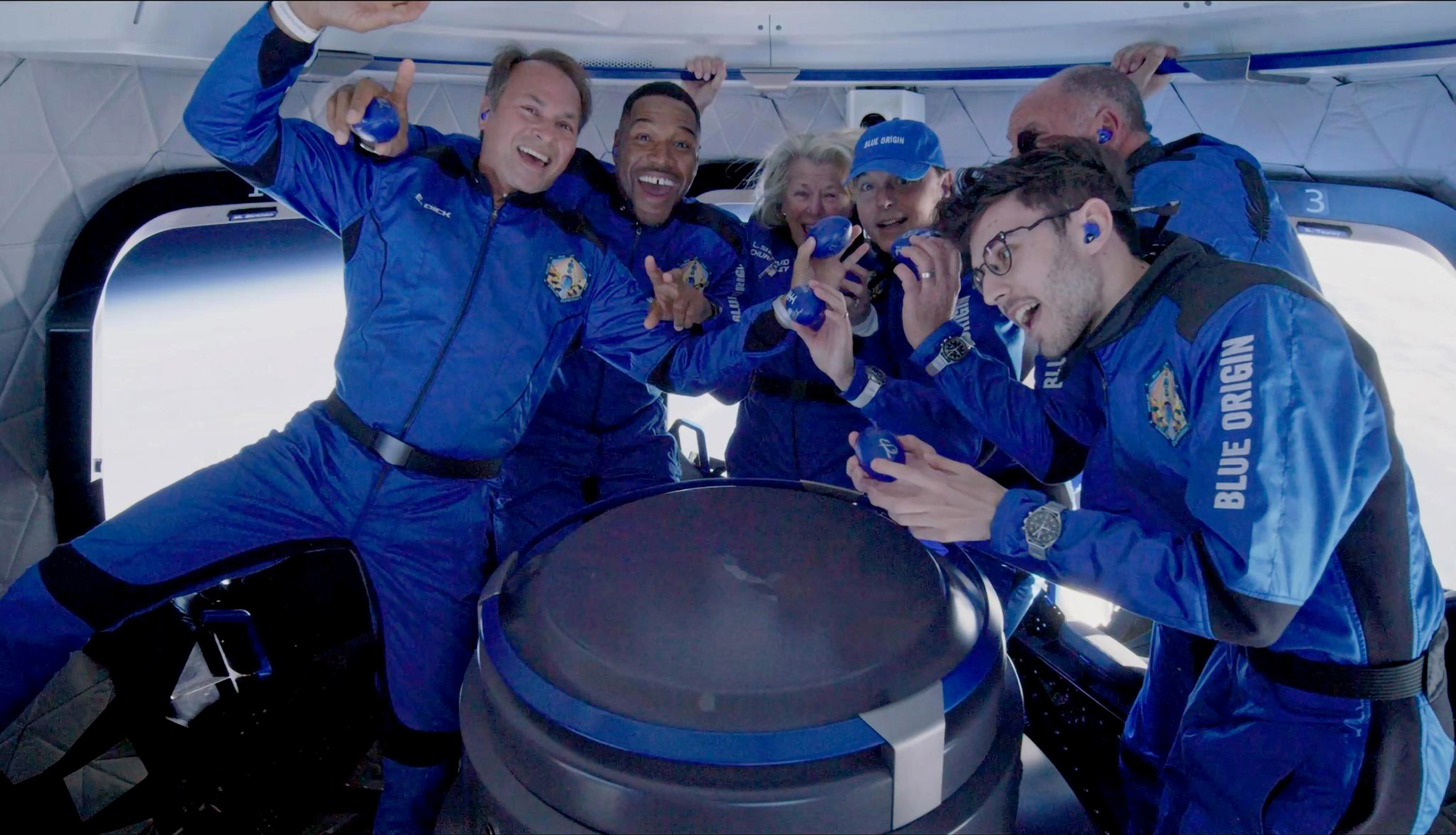 The NS-19 crew at apogee, from left: Evan Dick, Michael Strahan, Laura Shepard Churchley, Dylan Taylor, Lane Bess and Cameron Bess.
"Life is a journey. You don't know where exactly that journey is going to take you." — Lane Bess
Bess said that a few days before de Vries' tragic death in an airplane crash on Nov. 11, they discussed the experience of space.
"He was a good friend on the board, and I got to know him very well," Bess said. "He said, experience the zero gravity so that you spend more time focusing on the view when you take the launch. And I did that. I spent more than half of the time observing the beauty of the planet and putting things into perspective."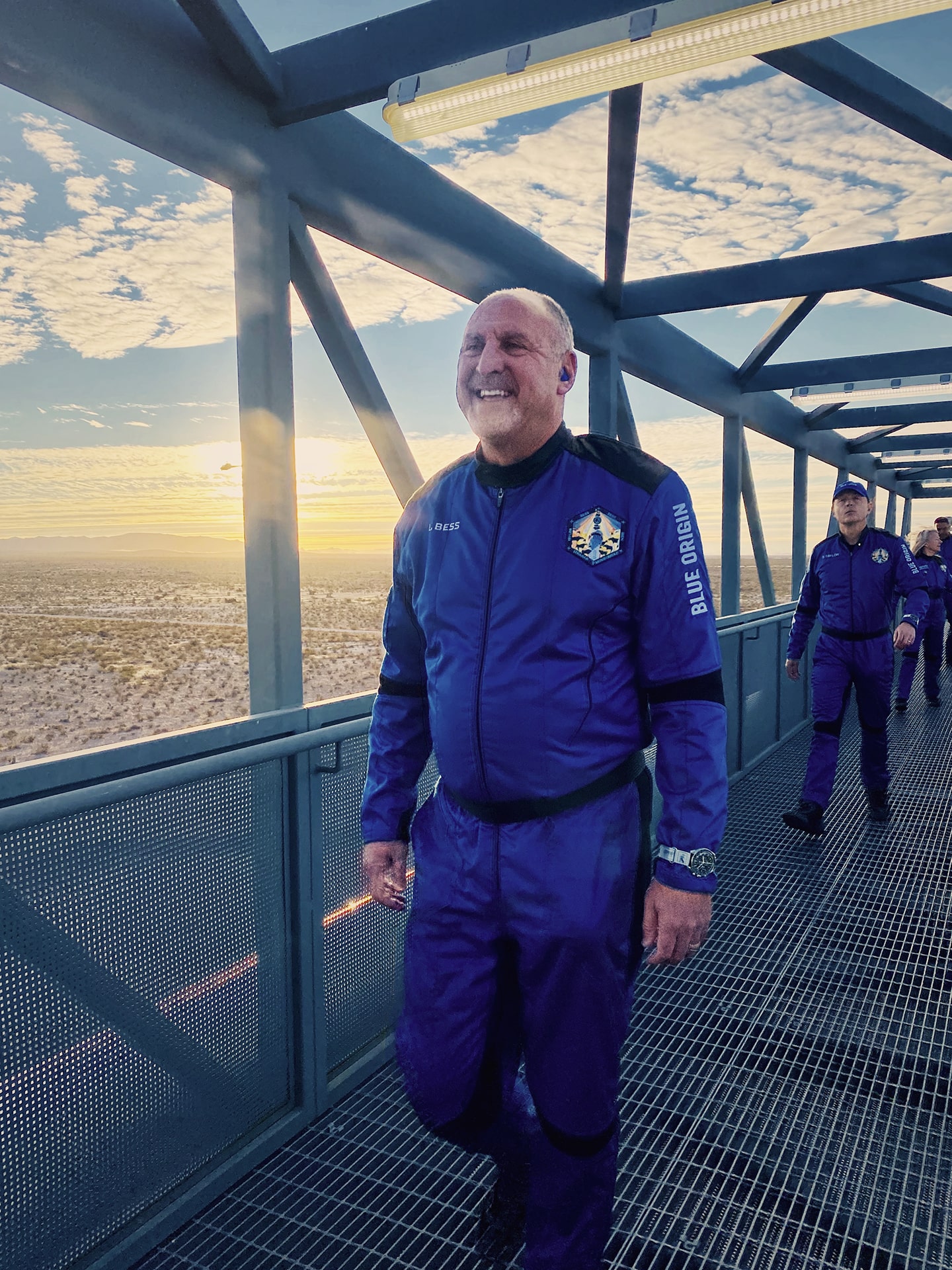 The NS-19 patch includes a nod to de Vries.
Along with the two Besses, the crew list included Laura Shepard Churchley, the oldest daughter of Alan Shepard, the first American to fly in space and the namesake for the Blue Origin's reusable, suborbital rocket system.
Also on the flight were Michael Strahan, co-anchor of ABC's "Good Morning America" and a Super Bowl Champion with the New York Giants; Dylan Taylor, chairman and CEO of Voyager Space; and Evan Dick, an engineer and former senior vice president for D.E. Shaw and managing director of Highbridge Capital Management.

"It was an interesting collection of people who went through a life-changing experience together. We became family around this common experience instantly," Lane said. "I can't imagine it without this group of people. Each brought something to the experience."
As part of the 11-minute mission, the crew spent about three minutes in weightlessness some 63 miles away from planet Earth. Bess was struck by the tremendous acceleration following the seven-second delay between ignition and the rocket's lift off. The orange glow of the ignition lit up the capsule cabin, which the crew could view through the capsule's large window.
"Nothing prepares you for those seven seconds," Bess said. "To see the Earth fall away so fast and all of a sudden, it's a view like something you've never seen. I was able to recognize the Rockies to the Gulf of Mexico. But the acceleration at the end glues you into your seat."
Bess said that his time at CMU helped ready him for big opportunities. One of three sons with a single mother, he worked as a student manager at a campus food facility to help pay for college. He said being a student worker enhanced what he was learning in the classroom, and the university prepared him to work smarter and be productive in the business world.
"Life is a journey. You don't know where exactly that journey is going to take you, but to the degree to which you can, develop yourself, develop your skills and work through challenges," Bess said. "I'd like to think that everyone who comes to Carnegie Mellon comes with wide eyes and an optimism about what their future can be. I hope they know that their Carnegie Mellon education can help them achieve from there."