December 03, 2021
CMU's Iris Rover Secured to Lunar Lander
Integration among final steps before launch of student-led moon mission
By Aaron Aupperlee aaupperlee(through)cmu.edu
Media Inquiries
Aaron Aupperlee
School of Computer Science
Carnegie Mellon University's Iris rover is bolted in and ready for its journey to the moon.
The tiny rover passed a huge milestone on Wednesday, Dec. 1, when it was secured to one of the payload decks of Astrobotic's Peregrine Lunar Lander, which will deliver it to the moon next year.
"It is exciting to reach this make-or-break milestone with only days left to the deadline after pursuing this goal for years," said Raewyn Duvall, the program manager for Iris and a Ph.D. student in electrical and computer engineering. "Success was so elusive with many development setbacks and schedule delays, and it has been hard-earned by the team. We gave this everything. Now success on the moon is up to the robot."
Weighing in at about 4 pounds, the shoebox-sized Iris aims to be the first American, student-developed, smallest and lightest rover to land on the moon. It is equipped with cameras to facilitate both its guidance and scientific observations of the moon's terrain and rock formations.
Work to integrate the Iris rover with the Peregrine Lander started Monday inside the clean room at Astrobotic's state-of-the-art headquarters in Pittsburgh. Technicians and the CMU integration team — clad in white gowns, hairnets, masks and gloves — delicately secured Iris to the underside of one of Peregrine's payload decks.
Before Iris could be attached the lander, the rover had to pass a series of tests to ensure that it could fit in its allotted space, withstand the vibrations expected during launch, endure the vacuum of space and survive the temperatures expected on the moon. The CMU team tested its electronic emissions to ensure that they do not interfere with the lander or other payloads.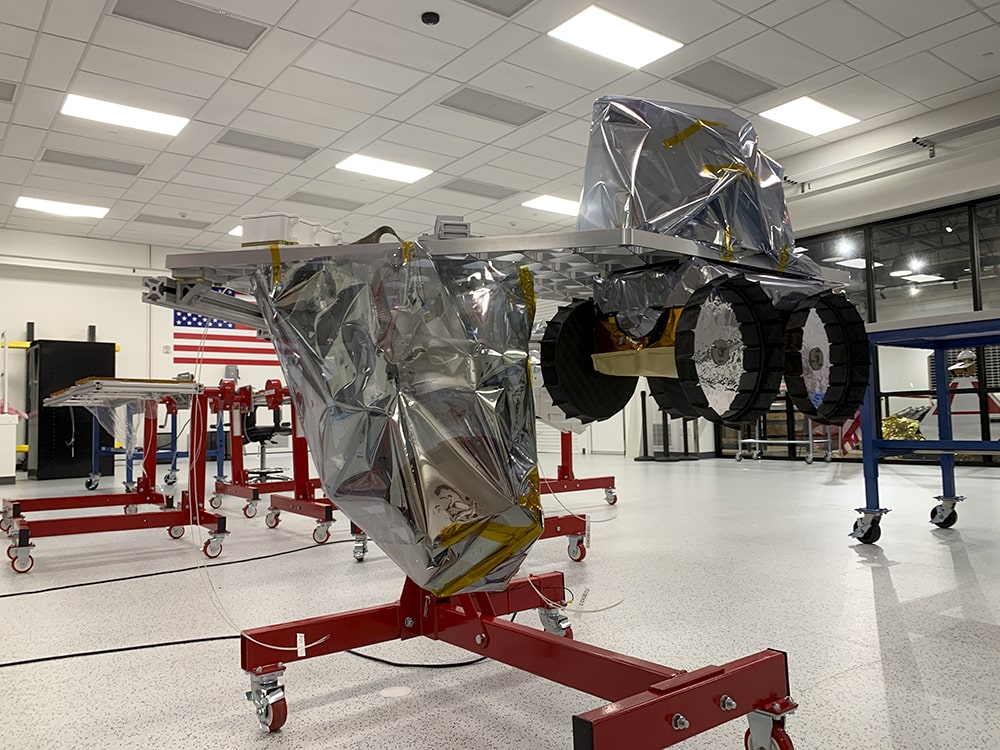 "This success is a testament to the more than 200 CMU students who worked on Iris over the span of three years. The initiative is a pinnacle of human achievement as much as it is a masterwork of technical virtuosity," said Red Whittaker, the Fredkin Professor of Robotics and director of the Field Robotics Center.
Iris is among the last payloads to be secured to the Peregrine Lander. MoonArk, CMU's other payload on this mission, is already integrated to its payload deck. The intricate titanium, platinum and sapphire artifact contains hundreds of images, poems and music relating to arts, humanities, science and technologies. Peregrine will carry more than 18 payloads, including Iris and MoonArk.
For more information on Iris, visit irislunarrover.space.