August 27, 2021
Convocation: Embark on a Journey
By Michael Henninger mhenninger(through)cmu.edu
Media Inquiries
Shilpa Bakre
University Communications and Marketing
Carnegie Mellon University President Farnam Jahanian surveyed the first-year students gathered in McConomy Auditorium for Convocation, the formal academic ceremony marking the start of their CMU experience.
Looking out at the masked faces, full of promise, of the class of 2025+, Jahanian considered the recent pace of change in the world, and his confidence in a better tomorrow remained steadfast.
"Your generation will profoundly shape our future," Jahanian said from the podium. "That makes me very optimistic that humanity's best days lie ahead."
"Take a moment to look around you and appreciate the journey you are about to embark upon." — Farnam Jahanian
That sentiment extended out to watch parties across campus, as each of CMU's colleges joined the reduced live audience. As Convocation welcomed both the incoming class and the class of 2024+, who had missed out on the ceremony due to the pandemic, Jahanian remarked on having students back on campus.
"It feels wonderful to be together," he told the incoming class. "Right now, the world is in desperate need of you. The challenges we face as a global society are truly unprecedented. But the foundation you will build here at Carnegie Mellon will prepare you to embrace these challenges head-on and provide solutions to society's problems."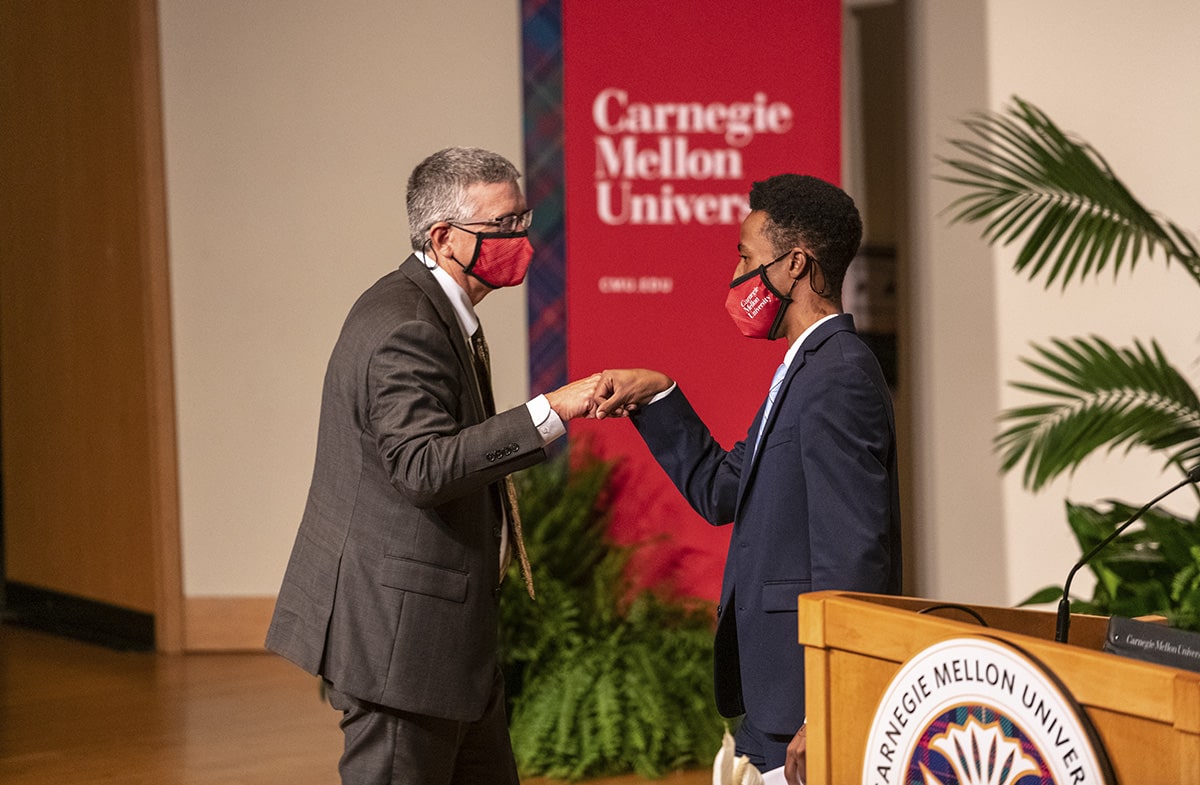 Provost James H. Garrett Jr. fist bumps Andrew Thompson, a head orientation counselor and master of ceremonies, before speaking.
This year's class is made up of 1,911 first-year students from 45 states and 39 countries. More than half of the incoming class are women, and 11% are first-generation college students. CMU Provost James H. Garrett Jr. welcomed the new Tartans to CMU.
"Today, you join our community. And we are a better university because you are here," Garrett Jr. said. "We are committed to your success and are working hard to provide you with an innovative, inclusive, supportive and excellent education experience for you at CMU."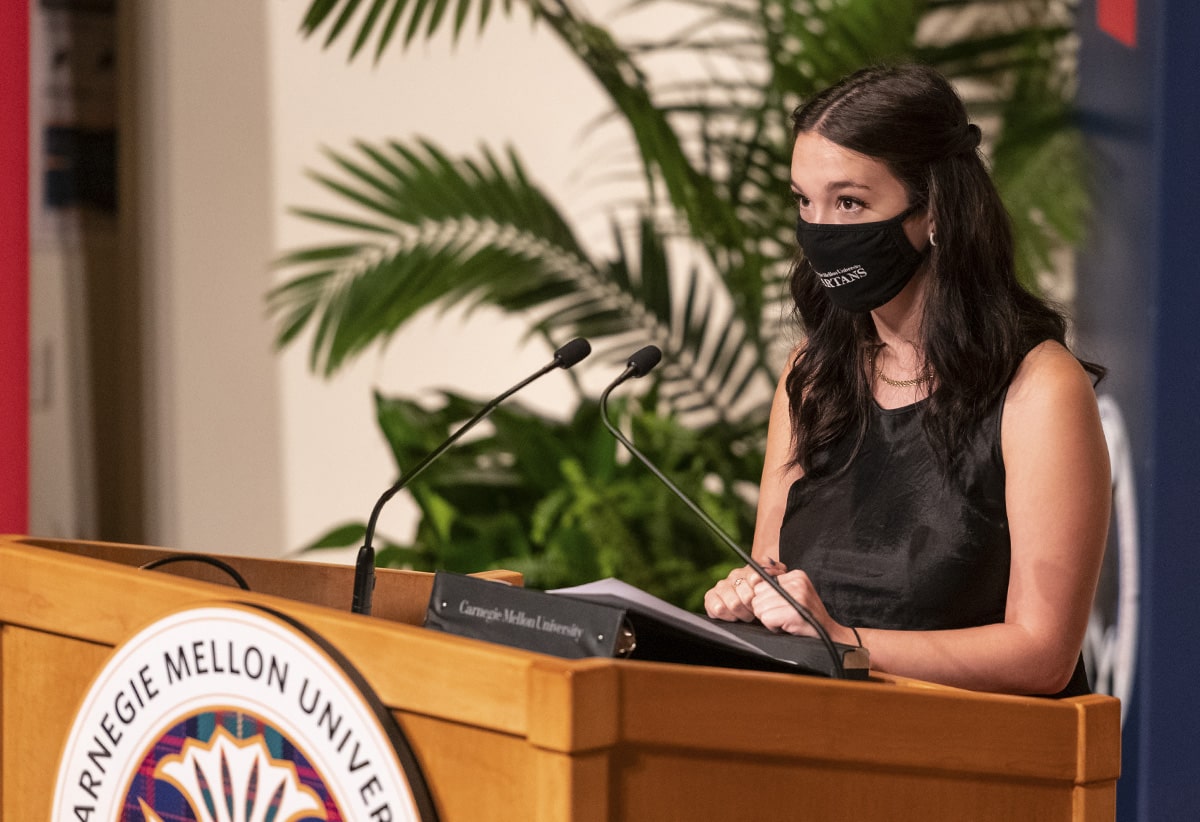 Alexis Ozimok (right) is CMU's student body president and one of this year's head orientation counselors. Now a senior pursuing a degree in international relations and politics with a minor in business administration, Ozimok shared the lesson she learned from her own Convocation in 2018.
"Lean into who you are. Your quirks, talents and stories are worth sharing with your peers," Ozimok said. "By being unapologetically yourself, you make our community rich, diverse and whole."
Erica Cochran Hameen, the director for diversity, equity and inclusion and an assistant professor in CMU's School of Architecture, delivered a rousing keynote address.
"At CMU, we truly know no boundaries and each of your unique experiences brings something special to the classroom, to this university and to the world," Cochran Hameen said. "At CMU, your experiences, your talent, creativity and ingenuity will be cultivated, respected and valued,"

Erica Cochran Hameen speaks at Convocation at left, and greets CMU President Farnam Jahanian at right.
Cochran Hameen shared her personal journey as the class of 2025+ began theirs.

"I am a descendent of enslaved people and our family tree dates back to the 1700s," she said. "Growing up, I learned from my great grandmother, my grandparents and my parents countless stories of my family's ingenuity and creative solutions to increase their wealth, opportunities and gain an education. They had several of what they called 'common sense solutions' to save money and keep the house warm in the winter and cool in the summer without the need of gas or electricity. Now, as a sustainability expert, I teach these common sense solutions so that I can help reduce the amount of people living with energy poverty — that's when you have a lack of access to safe, healthy and affordable energy."

Watch the full ceremony.
Her family's focus on education helped her find her path, and the chance to affect the billions of people affected by energy poverty globally.
"I took [my family's] values of hard work and education to heart," Cochran Hameen said. "Now ... here I am at CMU. I'm a Black woman, descendent of former enslaved people turned sharecroppers, a descendent of Civil Rights activists, and a descendent of fellow educators. Yes, I faced challenges along the way, but I heard my parents', grandparents' and great grandmother's voice in my head reminding me about the value of education."