November 06, 2019
Aviation Innovation
With all of the amenities of a mini city, research takes flight at Pittsburgh International Airport
By Jason Maderer maderer(through)cmu.edu
Media Inquiries
Jason Maderer
Marketing and Communications
Carnegie Mellon University's research partnership with Allegheny County Airport Authority began six years ago where most trips start: in the parking lot.
In 2013, School of Computer Science Research Professor Alex Hauptmann pulled into Pittsburgh International Airport's giant parking lot. Round and round he drove, up and down the lanes. Minutes passed, as did dozens of filled parking spots. Finally, he found an empty one. And an idea.
"There had to be a better way," Hauptmann remembers. "So I approached the airport with a concept to make parking easier."
Hauptmann and his students developed an app that used real-time parking information that detected available spaces, tracked cars and enabled navigation.
And so began a collaboration between the university and Pittsburgh International that has since produced nearly a dozen other projects, from understanding how people get around the airport to what they buy.
"Carnegie Mellon is world-famous for innovation and finding solutions to complex problems," said Samantha Stedford, the Allegheny County Airport Authority's director of customer experience. "We want to be the smartest airport in the world. CMU is the perfect partner."
Ari Lightman is the CMU faculty member most linked with Pittsburgh International. He's overseen five capstone and research projects.
"We want to be the smartest airport in the world. CMU is the perfect partner." — Samantha Stedford
"In 2014, I was looking to better understand how people use and move around large indoor structures, such as a mall," said Lightman, Distinguished Service Professor in the Heinz College of Information Systems and Public Policy. "Carnegie Mellon was already talking to the airport about developing a deeper partnership. A few months later, I had a real-world test bed."
At the airport's request, Lightman and his students studied wheelchair accessibility. They analyzed hundreds of handwritten sheets an airport wheelchair service provider had previously compiled to track how long guests waited at the gate for an escort, the time it took to arrive at the curb and where wheelchairs were scattered around the airport when not in use.
"We had to learn how an airport truly works," Lightman said. "It was a wonderful opportunity for my students, who don't always get to design and run experiments in a field setting."
One of Lightman's more recent projects identified shopping pattern trends when passengers encounter delayed or cancelled flights. The team assessed whether indicator purchases, like soda, could be a predictor associated with passenger experience.
Each of the CMU projects has been possible because of one key factor: the airport and the groups that comprise it — restaurants, shops, security, etc. — are very willing to provide data based on the trusted relationship that the university has with the airport.
"We all want to create technology that creates a seamless process for our guests, whether they're checking-in and flying away, or landing and headed to the curb," said Stedford. "Understanding how they move and interact with the airport environment better allows us to create solutions to meet their needs."
For another project, Chieko Asakawa, IBM Distinguished Service Professor in the School of Computer Science, has created technology that allows a smart suitcase to warn visually impaired users of impending collisions via beeps. The assistive system has a camera for tracking pedestrians in the user's path and can calculate when there is a potential for accidents.
She and her colleague, Kris Kitani, have deployed NavCog, a smartphone-based app that employs Bluetooth beacons at the airport. The app, developed by CMU and IBM, helps visually impaired people navigate the terminal and concourses independently. As part of the project, Pittsburgh International installed hundreds of Bluetooth beacons throughout the facility.
"Physically, the airport is very accessible for visually impaired and disabled travelers," said Asakawa. "There aren't many steps. It's relatively flat and has several elevators. Our partners at the airport have been very collaborative, allowing us to test our technology to make it even better. I never thought we'd have these opportunities."
Another project in use at the airport is Zensors, a CMU spin-off company that was founded by Chris Harrison in the School of Computer Science. Zensors provides real-time, accurate security checkpoint wait times using cameras.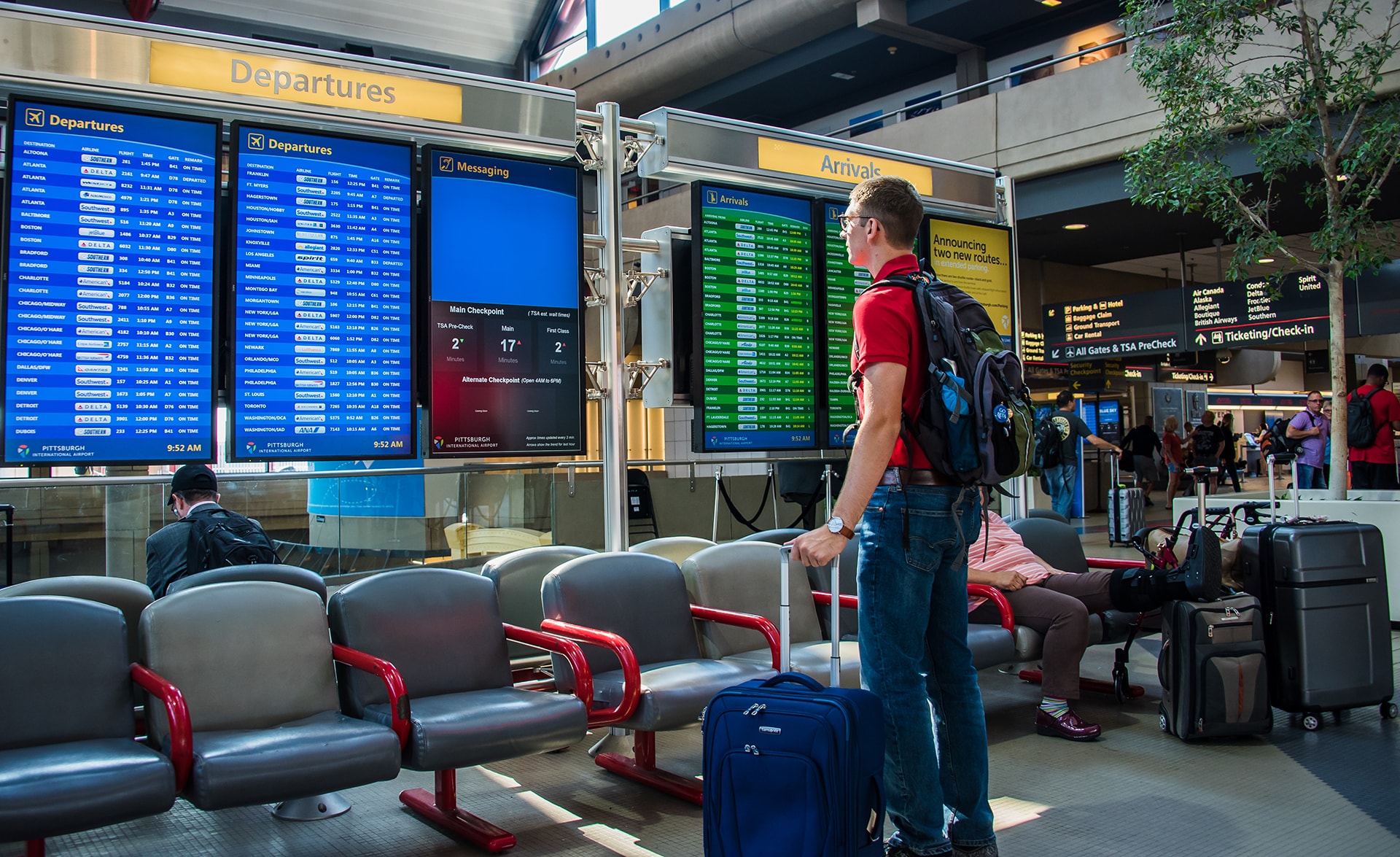 A passenger checks out departures at Pittsburgh International Airport. This summer, Zensors, a CMU spin-off company, began providing real-time, accurate security wait times using cameras. 
Carnegie Mellon was one of the first universities in the nation to partner with its home airport. In 2018, CMU and the Allegheny County Airport Authority signed a Memorandum of Understanding allowing faculty and students from CMU's Metro21: Smart Cities Institute to research, develop and deploy several projects throughout the airport that will benefit local travelers and the entire aviation industry.
Since then, Metro21 Executive Director Karen Lightman has fielded dozens of calls from other peer schools and other airports wanting to learn more about the collaboration.
"The airport is a mini city: fire, security, parking, shopping and more," said Karen Lightman, CMU's primary point of contact with the airport when faculty develop new research ideas "It's a great living lab for our faculty and students."
She expects the partnership to expand in the coming years, as Pittsburgh International embarks on a multibillion dollar project that will introduce a new terminal in 2023.
"The airport's success is tied to perception of our city," Karen Lightman said. "It deserves Carnegie Mellon's investment. This partnership is a win-win for all of us."
Carnegie Mellon University is committed to educating, empowering and aligning its community around the world to address the Sustainable Development Goals, also known as the Global Goals, which aim to create a more peaceful, prosperous planet with just and inclusive societies. Recognizing the critical contributions that universities are making through education, research and practice, CMU publicly committed to undertaking a Voluntary University Review of the Global Goals. The 17 Global Goals cover wide-ranging issues, including reducing violence, ending extreme poverty, promoting equitable education, fighting inequality and injustice, advancing economic growth and decent work, and preventing the harmful effects of climate change by 2030.

The preceding story demonstrates CMU's work toward attaining Global Goals 9 and 17.