March 25, 2019
Advance Equality for All: How Women in Tech Groups Can Spark a Culture Shift
Media Inquiries
Jessica Shirley
Information Networking Institute
Although International Women's Day is behind us, this year's theme of "Balance for Better" resonates with the work of Carnegie Mellon University alumnae advocating for women in the workplace. As the leaders and founders of employee resource groups, these women are part of the movement to challenge bias, increase the talent pipeline and foster a sense of belonging in the technology industry.
"Research shows that culture matters when it comes to increasing the number of women in tech, currently estimated to be only 24 percent of the U.S. STEM workforce," said Dena Haritos Tsamitis, Barbara Lazarus Professor in Information Networking and director of the Information Networking Institute. "Workplace women in tech groups play a vital role in creating a welcoming and supportive environment and cultivating a sense of belonging. The result is good for business and morale."
Today, employee resource groups exist at 90 percent of Fortune 500 companies and are an essential component of organizational diversity and inclusion strategies. For several INI alumnae, their experience in the student group Women@INI (WINI) inspired them to create or lead similar groups to support women at their workplaces.
Haritos Tsamitis founded WINI in 2005 to create an environment that would attract, empower and support women in computing and engineering at CMU. The resulting culture shift contributed to a significant increase in the number of female students at the INI, from 6 percent in 2002 to 42 percent in 2018.
Paying it Forward
Inspired by WINI, Saralee Kunlong, who graduated in 2012 from the INI's bicoastal program at the College of Engineering's Silicon Valley location, founded YP Women in 2014, the first official women in tech organization at her company YP (formerly Yellow Pages).
"I started the ERG because I believe a strong supportive system and encouraging culture can influence the experience of all employees, both women and men, in a positive way," said Kunlong, a senior software engineer.
YP Women focuses on increasing diversity in the company, partnering with GirlsWhoCode and local universities to support young women in tech, and raising awareness of unconscious bias and the gender pay gap.
INI alumna Divya Ashok, who graduated with a master's degree in information networking in 2009 and is senior director of product management at Salesforce, said that tech companies should prioritize equality to recruit and retain the best talent.
"We already have seen businesses with diversity in their board and leadership faring better than those that don't," said Ashok, who serves as the global president of the 8,000-member Salesforce Women's Network focused on women's empowerment, gender equity and allyship. "Resource groups can be used to amplify the progress of leaders within the company and the progress of its members. Similarly, these groups can become a great source of internal mobility and help in the advancement of careers."
Ashok leads a number of Salesforce Women's Network initiatives, including LeanIn Circles, supporting nonprofits focused on women and children, Woman of the Month series, mentorship programs and more.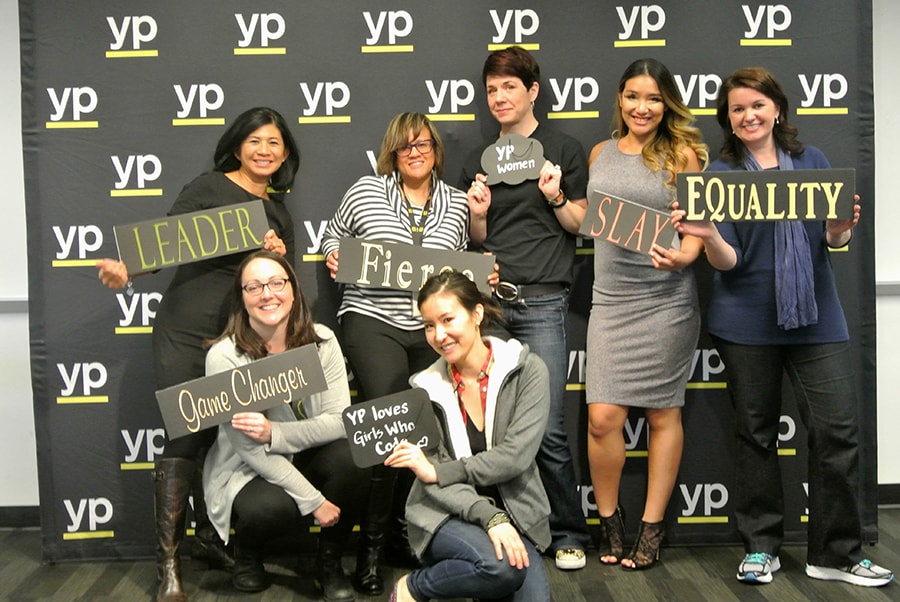 YP Women, the first official women in tech organization at the former Yellow Pages company, was created in 2014 by CMU alumna Saralee Kunlong.
Why Employee Resource Groups Matter
Research has demonstrated that companies with a diverse workforce perform better financially. Yet boosting diversity numbers without committing to integration and support — such as leveraging employee resource groups — leads to retention problems in today's competitive job climate. Ashok points to a recent Salesforce study that found employees who feel a sense of belonging at their company are 5.3x more likely to feel empowered to perform their best work.
"Everyone wants to feel a sense of belonging and be supported in their career growth," Kunlong said. "The impact of an employee resource group is long-term, and it's shifting the culture by educating people and connecting them together. Employees feel like they are a part of something that is meaningful and progressive, and it boosts your morale to reach your full potential."
Conference Discussion
At the Women in Cybersecurity Conference, hosted by Carnegie Mellon University from March 28-30, Haritos Tsamitis will moderate a panel focused on the future of women in tech groups.
"We'll discuss building a culture of allies, the importance of intersectionality and how to launch similar groups at schools and workplaces," Haritos Tsamitis said. "For women's employee resource groups to truly be impactful, participants must prioritize equality for all and dedicate themselves to having an impact on the broader organizational culture."
The panel will feature Kunlong and Ashok, in addition to Era Vuksani, a current INI student and co-chair of WINI.
Carnegie Mellon University is committed to educating, empowering and aligning its community around the world to address the Sustainable Development Goals, also known as the Global Goals, which aim to create a more peaceful, prosperous planet with just and inclusive societies. Recognizing the critical contributions that universities are making through education, research and practice, CMU publicly committed to undertaking a Voluntary University Review of the Global Goals. The 17 Global Goals cover wide-ranging issues, including reducing violence, ending extreme poverty, promoting equitable education, fighting inequality and injustice, advancing economic growth and decent work, and preventing the harmful effects of climate change by 2030.

The preceding story demonstrates CMU's work toward attaining Global Goal 5.