January 18, 2019
Deep CMU Roots Led CREATE Lab Staffer to EarthTime
By Robert Vickers
Media Inquiries
Jason Maderer
Marketing & Communications
As a Lego-loving child, Paul Dille had visions of being an architect. But the native of Pittsburgh's North Hills suburbs was always destined for the CREATE Lab at Carnegie Mellon University.
Dille's mother worked as an auditor at Carnegie Mellon. And his older brother earned three degrees at the prestigious Pittsburgh university known as a trailblazer in computing, engineering and artificial intelligence.
"We knew CMU quite well," said Dille, who graduated in 2010 with a bachelor's degree in Information Systems from the Dietrich College of Humanities and Social Sciences.
But unlike many of his undergraduate peers who jetted off to Silicon Valley to seek their fortunes by founding promising tech startups, Dille had his eye on a more substantive career path.
"I always wanted to apply my skills to something that could benefit people," he said. "I didn't want to work on something where the end goal was to make money. Even if just one person's life is better from something I've created, to me that's something worthwhile."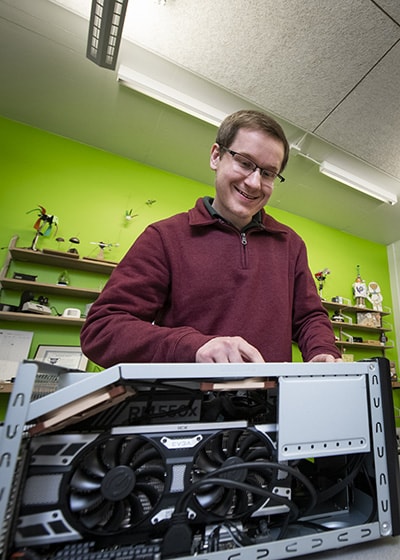 Dille, a senior software developer at CMU's CREATE Lab, found the start to his substantive career path during his undergraduate studies.
"I interned at CREATE Lab when I was in my junior year," Dille said. "My brother put me in touch with the lab. He'd done a little bit of work here when he was a student. And now it's become like a family to me."
Dille's adopted CMU family is well known among global thought leaders through EarthTime, a website that enables users to visualize the cumulative effects of local and global influences.
Illuminating issues such as air pollution, deforestation and trade, EarthTime has become a sought-after feature of the annual World Economic Forum in Davos, Switzerland.
Although Dille draws upon his childhood Lego hobby when building the machines that the CREATE Lab team take to Davos each year, he takes pride in developing the user interface.
"It's interesting to me because it's often the forgotten part and not done well by software developers," he said. "But that part is going to be what connects the user to your product. And if it's hard to use, or there's 10 million ways to do something, the user is not going to want to use it. You could have the fastest algorithm in the world, but if the system hard to use, you've failed from day one."
Dille hopes to couple the fame EarthTime has built at the World Economic Forum and its early applications to Pittsburgh transit and housing issues to encourage more widespread local use of EarthTime in schools.
"We've hit the point now that we have so much data that we really need to look at how the public can better engage with it," Dille said. "If a social studies teacher in North Dakota can pull up EarthTime and say: 'Here are 10 things that fit my lesson plan,' that would be awesome."