January 18, 2019
CMU Among World Leaders in Davos for World Economic Forum
EarthTime returns for fifth straight year; focuses on workforce trends, climate change, global trade
By Laura Kelly laurak(through)andrew.cmu.edu
Media Inquiries
Jason Maderer
Marketing & Communications
A contingent of Carnegie Mellon University faculty and researchers, led by President Farnam Jahanian, will travel to Davos, Switzerland, Jan. 22-25, for the 2019 World Economic Forum. The annual event gathers the foremost thought-leaders in government, education, technology, business and the arts to shape global, regional and industrial agendas.
This year's theme, "Globalization 4.0: Shaping a Global Architecture in the Age of the Fourth Industrial Revolution," addresses the fragility and controversies facing leaders today and encourages them to build the future in a constructive, collaborative way. Carnegie Mellon will contribute to the worldwide discussion in several sessions, including presentations on equality and bias in the workplace and global climate change.
"The World Economic Forum is a community of leaders at the forefront of helping to create the technology and resources that will positively impact the future of society," Jahanian said. "Carnegie Mellon's strategic initiatives align closely with the forum's, allowing our university to provide valuable insight as we gather to discuss the future of our world and address important questions about our global-governance architecture."

EarthTime, a Carnegie Mellon visualization tool, will be exhibited continuously throughout the week on a billboard-sized display. EarthTime illuminates enormous data sets, allowing internationally respected policymakers and business leaders to tell the narrative of the planet's most important stories. This year's topics include workforce trends, ocean warming and global trade.
EarthTime's creators Illah Nourbakhsh, Randy Sargent, Gabriel O'Donnell and Paul Dille, a team from the CREATE Lab in CMU's Robotics Institute, have partnered with the forum for the past five years to bring these stories to life. Nourbakhsh, Sargent and O'Donnell will travel to Davos again this year.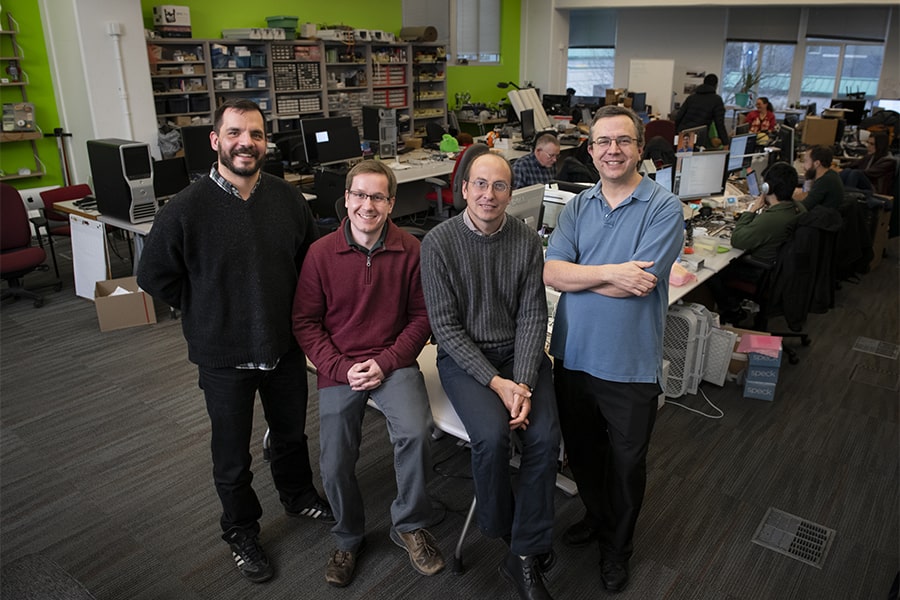 EarthTime was created by Gabriel O'Donnell, Paul Dille, Illah Nourbakhsh and Randy Sargent.
Justine Cassell, a professor in the Human-Computer Interaction Institute in CMU's School of Computer Science, will participate in three panels. In the first, Cassell will discuss algorithmic bias, which contributes to inequality in the workplace among women and underrepresented minorities.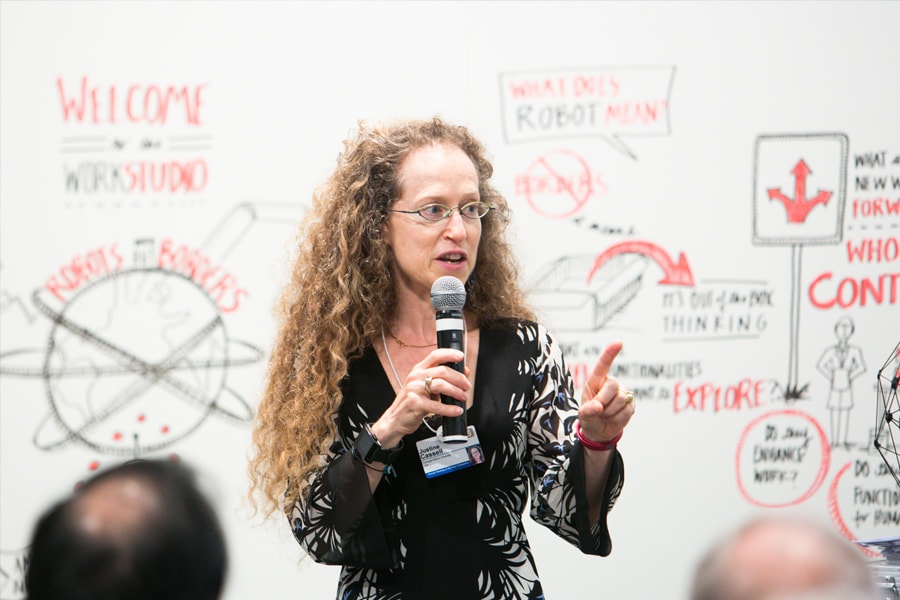 Carnegie Mellon Professor Justine Cassell has participated in the World Economic Forum since 2011.
Cassell also will participate in a panel "The Transformational Force of Female Founders," to discuss the evolution of gender equality and inclusive networking practices to ensure the trend continues. And, she will moderate a discussion about the future of learning.
Jahanian also has been invited to serve on a new multistakeholder Global Internet of Things (IoT) Council, convened by the World Economic Forum's Centre for the Fourth Industrial Revolution, and will speak at their inaugural meeting at Davos. This group of government, business, academic and civic leaders will help shape international cooperation on this important technology in the global public interest. They include Madeline Gannon, who received her master's and Ph.D. degrees in computational design from Carnegie Mellon in 2011 and 2017, respectively. Gannon is the founder and principal researcher of Atonaton, a research studio inventing ways to better communicate with machines.
Follow #CMUatWEF on Facebook, Instagram, Twitter and LinkedIn for the latest updates from Carnegie Mellon's participation at the 2019 World Economic Forum.