August 28, 2019
CMU-Africa Taking Big Step Forward
By Adam Dove amdove(through)andrew.cmu.edu
Media Inquiries
Technology companies, biotech firms and world-class universities sit side-by-side in an area of gently rolling hills. That could describe Silicon Valley or Pittsburgh, Pennsylvania, and it could soon depict Kigali, Rwanda, home to Carnegie Mellon University Africa.
CMU-Africa will be moving this fall to Kigali Innovation City, a public-private $2 billion development with a goal of creating more than 50,000 jobs in Kigali's Special Economic Zone. The location is in its eighth year operating two graduate programs, a Master of Science in Information Technology (MSIT) and a Master of Science in Electrical and Computer Engineering (MSECE).
"For the last seven years, I would say the location has been in startup mode," said CMU-Africa Director Vijayakumar Bhagavatula. "We were a brand new location, starting from scratch in a completely new place, and learning a new culture. And kudos to the whole team that brought us to the position we are currently in. But now — we are ready for the next step."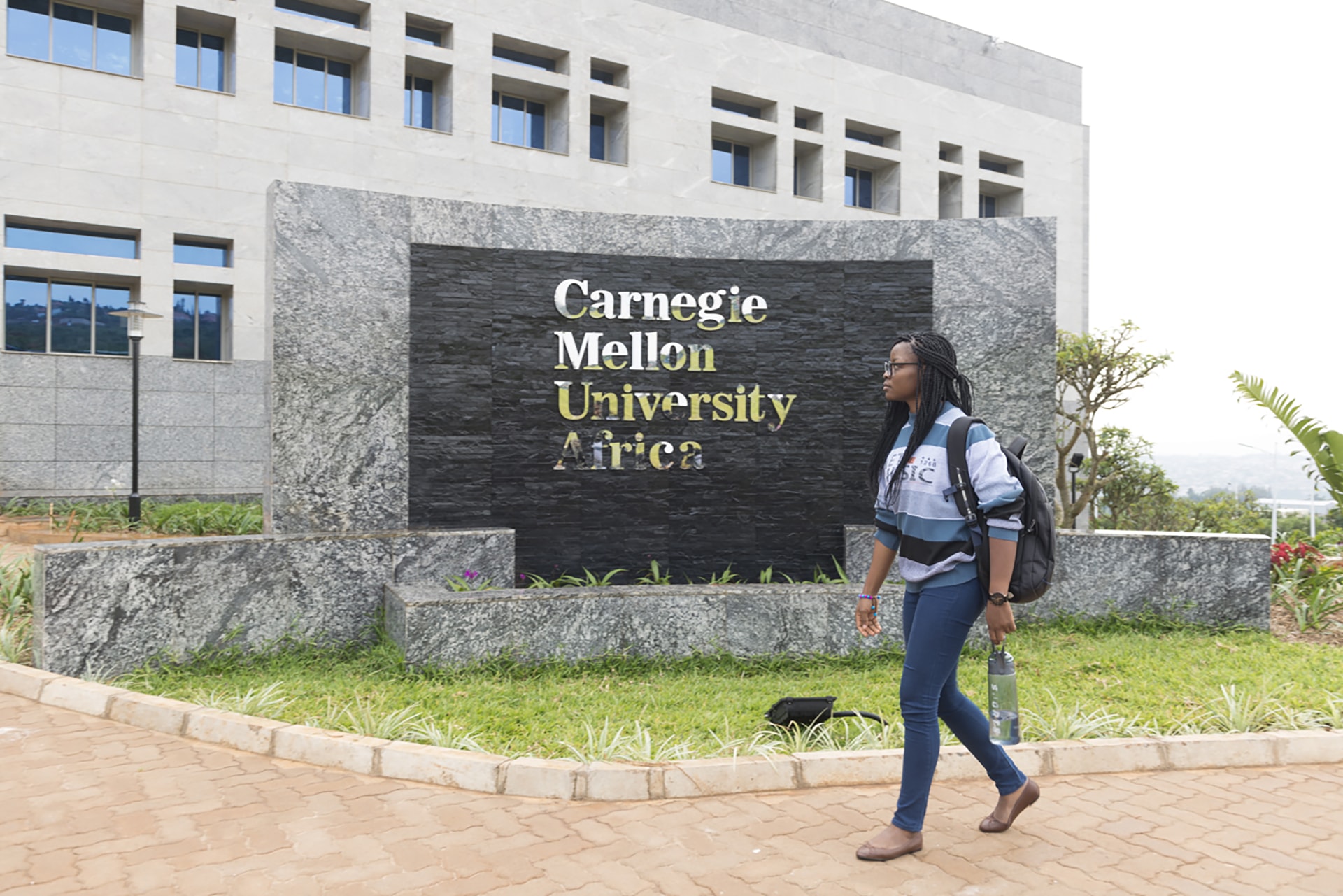 A student walks in front of the entrance to the new home for Carnegie Mellon Africa in Kigali, Rwanda.
CMU-Africa's new home, a 6,000-square-meter facility, is designed to accommodate about 300 students, more than double its current enrollment of 130. The location will contain twice as many labs as its previous location, more classroom space and modern distance education facilities. With the additional space, the CMU-Africa will be able to expand its graduate programming.
"Some of this additional space will be used for an incubator to help entrepreneurs, particularly CMU-Africa students and alumni, start their own businesses," Bhagavatula said.
CMU-Africa's new location will help support and develop African entrepreneurs, which is central to the program's mission and supports Kigali Innovation City's goal of creating a technology hub for Rwanda's growing knowledge-based economy.
"We teach a lot about IT entrepreneurship in our courses," Bhagavatula said. "We have several courses, and in fact, one of the six concentration areas for our MSIT program is IT Entrepreneurship, in which we prepare students to start their own companies, and to think like entrepreneurs.
"What does it mean to start a company in a developing environment like Rwanda or Kenya or other parts of Africa? These questions are very different, and our program equips them with the right ways to approach them," he said.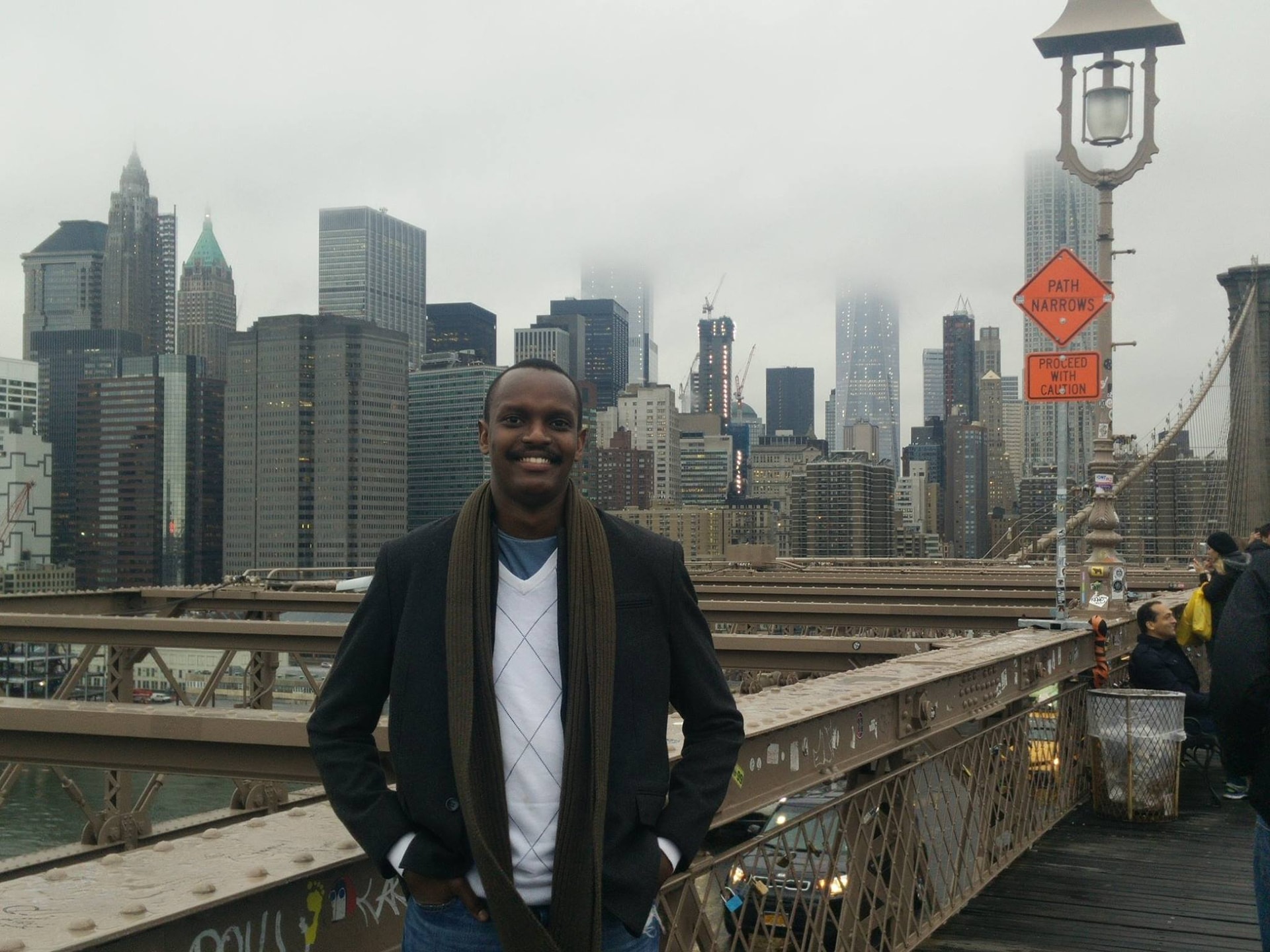 Alumnus Paul Buchana founded Datum Labs.
When Paul Buchana enrolled into the CMU-Africa program he could see it was unlike any other on the continent. It gave him the tools he needed to succeed as a data scientist, but it provided much more.
"I was part of the global CMU community, and that what I was studying here in Rwanda was the same as what my classmates were studying over in Pittsburgh and Silicon Valley," said Buchana who graduated in 2015 with a master's degree in electrical and computer engineering. "Looking at the curriculum and the list of options from which I could choose, I knew this was an education for the future and that it was going to be applicable for decades to come."
Buchana worked for a private equity firm after graduating and established and led its data science division. Thanks to his CMU-Africa education, the entrepreneurial bug took hold, and he left the firm to start his own company, Datum Labs, which focuses on innovating in the field of data science and machine learning to help clients improve their business processes.
"I work every day hoping that what I do in trying to solve a plethora of problems leaves lasting, significant impact," Buchana said.
The Kigali-Pittsburgh Connection
With more than a dozen degree-granting locations, and more than 20 international research partnerships, Carnegie Mellon is a university with its eye on the world. Despite 7,000 miles separating Kigali from the Pittsburgh main campus, connections are strong in part through CMU's collaborative culture.
Each semester students from CMU-Africa will spend several months in Pittsburgh bringing their unique perspectives to ongoing research and trading ideas with fellow students.
"The opportunity to travel to Pittsburgh is great for the students," Bhagavatula said. "They have access to a much broader set of courses and projects than they do at CMU-Africa. But it also gives us a great chance to assess the quality of both of our programs. The fact that our visiting students perform just as well academically as our Pittsburgh-resident students is a clear sign to us that our program in Africa is just as rigorous as any of our other programs."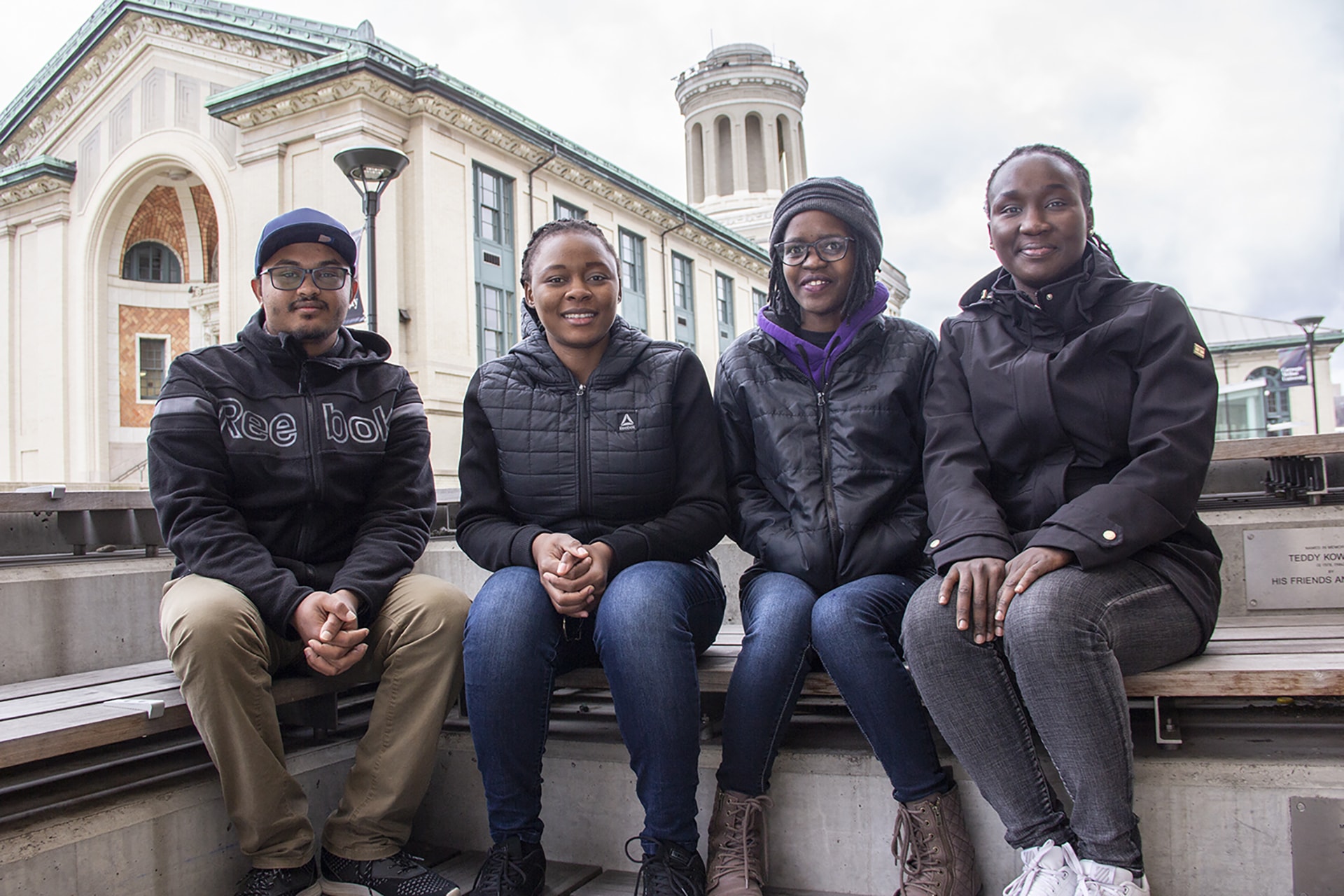 Electrical and Computer Engineering master's students Felistus Ayera Misiko, Agatha Niwomugizi and Daniel Fekadu Marew, and Information Technology master's student Mary Amuti studied in both the Pittsburgh and Kigali.
Daniel Fekadu Marew, who graduated in 2018 with a master's degree in electrical and computer engineering, was among the students who spent time in Pittsburgh.
"Before coming to CMU-Africa," Marew said, "my chances of getting into Ph.D. programs at prestigious institutions in my area of interest were slim to none, coming from a lesser-known university in Ethiopia. But since getting into CMU, I've had the chance to work on research projects with world-class professors, and take challenging courses that I believe have prepared me to pursue any Ph.D. program anywhere in the world."
Spending time in Pittsburgh and Kigali allows students the opportunity to maximize training in specific disciplines related to their career goals, such as developing algorithms to help robots interact with humans in more natural and effective ways, managing products for growing startups, or making major decisions to change the energy sector in Africa.
CMU-Africa graduates, like Felistus Ayera Misiko and Josephine Nyiranzeyimana are playing a strategic role in Africa's trajectory, leveraging information and communications technology to advance socioeconomic development across the continent.
"You can't go wrong with an education from CMU-Africa," said Misiko, who graduated in 2018 with a master's degree in electrical and computer engineering. "It challenges, transforms and empowers you to be a leader in your career and an agent of change in engineering and technology."
After earning a master's degree in information technology in 2014, Nyiranzeyimana began her wide-sweeping immersion into the field, working in academia, the private sector (Intel Corporation), and non-government organizations. Today, she is the government chief information officer with the Rwanda Information Society Authority (RISA). Established in 2017, RISA is a government institution aimed at increasing usage of information and community technologies in the country to accelerate the development of the economy and other sectors.
"My time at CMU helped me discover my personal potential and how much I could do with the 24 hours in every day," Nyiranzeyimana said. "It taught me not to be comfortable with the status quo, but to always challenge myself for the better — there is always room for improvement."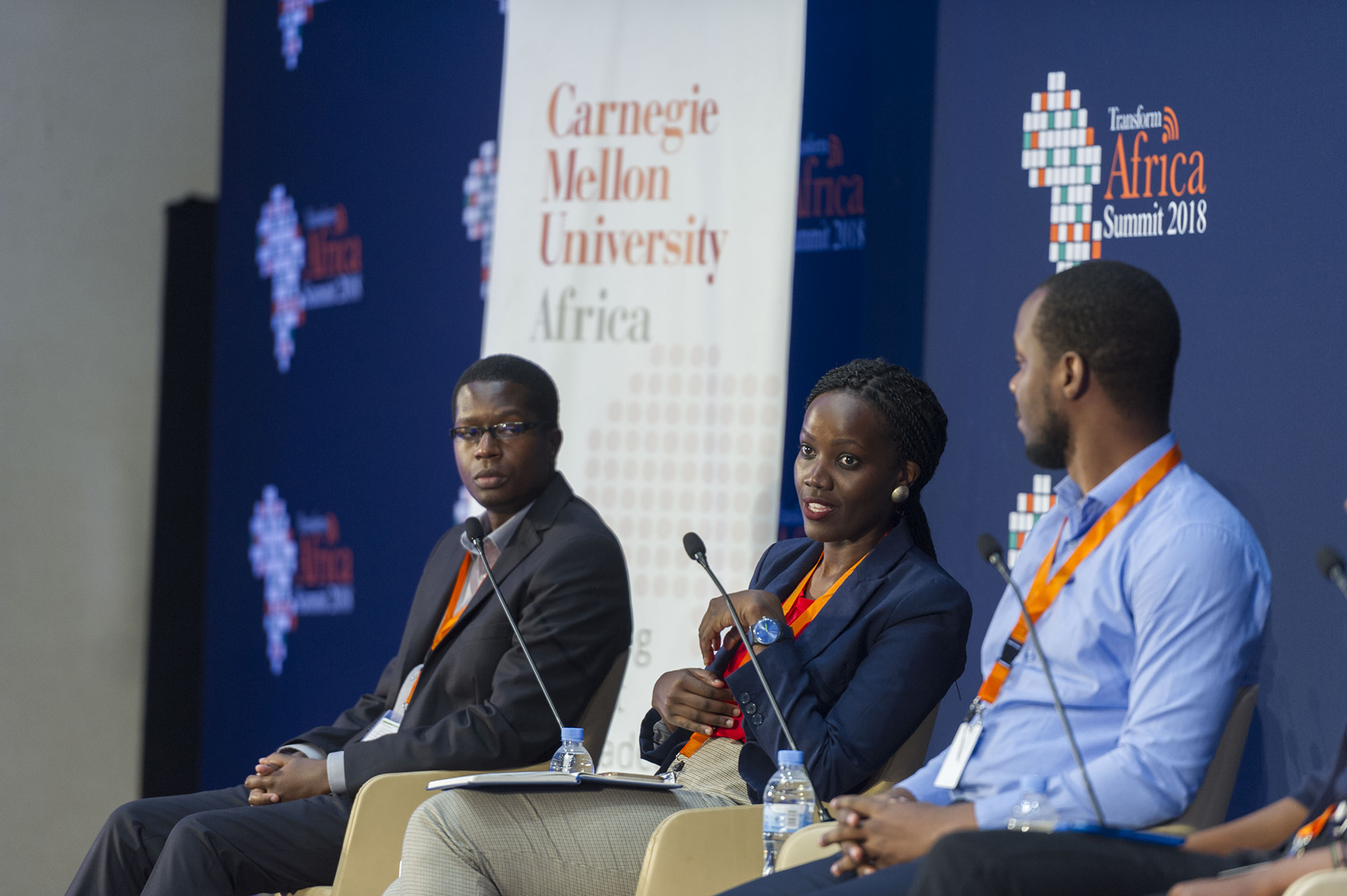 Students from CMU-Africa alumni Andrew Kinai, Joan Nkiriki and Davy Uwizera were part of a panel of young disruptors at the Transform Africa Summit in Kigali in 2018.
Mastercard Foundation Pays it Forward
As it prepares for its next chapter, CMU-Africa looks back on substantial success. Nearly 200 students from 15 countries have graduated from CMU-Africa, thanks in part to a partnership with the Mastercard Foundation.
Formed in 2016, the Mastercard Foundation Scholars Program has provided funding for 40 CMU-Africa students to pursue their dreams. In the past year alone, 35 of 130 students attending CMU-Africa are fully funded through the program, and this year the number is expected to grow to 45.
"Prior to the Mastercard Foundation Scholars Program, we had mostly students from Rwanda. But we didn't have as much funding to support students from other parts of Africa," Bhagavatula said."Not only have we become pan-African, but our Rwandan students are now exposed to a more diverse environment."
The foundation's financial support also has enabled CMU-Africa to hire more staff members, offer leadership training and networking events to help support the local academic community.
"Now, when you come to CMU-Africa," Bhagavatula said, "you have people from Ghana, from Tanzania, Kenya, Nigeria, even Lesotho. All of these countries that many students wouldn't normally know anything about, because when they're in their own country or their own local college, they're mostly surrounded by the local population."
Mastercard Foundation scholar Sylvia Makario and six other CMU-Africa graduates founded Hepta Analytics, a big data and cloud computing company. The company's focus is to develop Africa-centric products to help solve the continent's inefficiencies in the data and infrastructure space. This desire to contribute to the economic growth of Africa, and to leave a mark on the next generation, was one of the primary values the CMU-Africa program instilled in Makario and her colleagues.
"My time [at CMU-Africa] was underpinned with several experiences, the most important of which was my time spent around a group of young Africans from different countries across the continent," said Makario, who graduated in 2018 with a master's degree in information technology. "There was always a story to learn from, lessons to carry forward and the need to improve the lives of those around me."