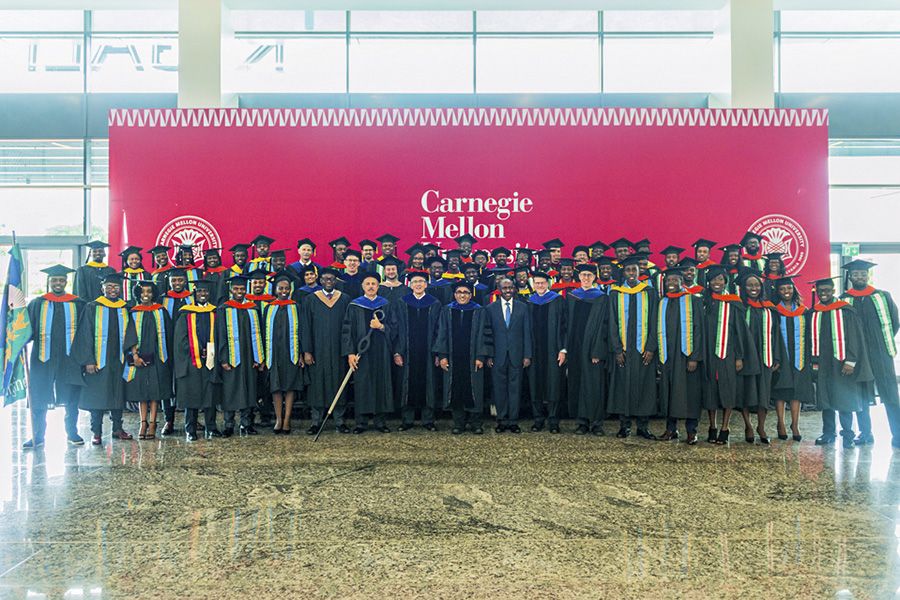 June 05, 2019
CMU Africa Celebrates Sixth Graduation
By Maria Mayanja maria(through)africa.cmu.edu
Media Inquiries
On June 2, Carnegie Mellon University Africa (CMU-Africa) held its sixth graduation ceremony in Kigali, Rwanda, where CMU-Africa harnesses Africa's brightest young minds and equips them with the technical knowledge and experience to make an impact in their communities and in the world.

Fifty-one students received their master's degrees in information technology and electrical and computer engineering, which will help them play a significant role in leveraging information and communications technology for socioeconomic development as they pursue careers in the private and public sectors. These graduates will join a network of 145 CMU-Africa alumni, 75% of whom work in Africa.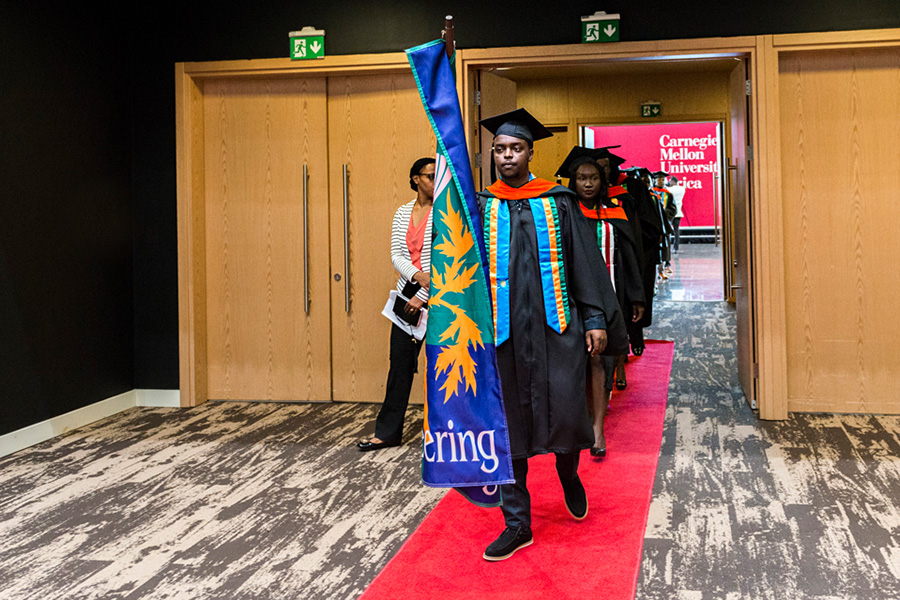 The graduation procession

The ceremony took place at the Kigali Convention Centre and was attended by more than 300 people, comprised of family, friends, current students, alumni, CMU-Africa staff and faculty, industry partners, and distinguished guests, such as the Honorable Minister of ICT and Innovation Paula Ingabire.

Speaking on behalf of the Government of Rwanda, the Hon. Minister of Education, Eugene Mutimura renewed Rwanda's appreciation for being associated with CMU and for CMU-Africa's contribution toward the economic transformation of Rwanda and the continent as a whole.

"Nothing has greater socio-economic value than people equipped with the knowledge and values needed to achieve their full potential as individuals and to the benefit of society," Mutimura said. He acknowledged the increased number and diversity of the students, as the graduating class represents seven nationalities.

"As the former dean of the College of Engineering, I remember how exciting it was when we worked to open our campus here - to mark a new milestone not only for CMU, but also for this magnificent country of Rwanda," said James H. Garrett Jr. attending his first CMU-Africa graduation as provost and chief academic officer. "It is remarkable and inspiring to see how the CMU community here in Rwanda continues to grow and thrive. We have completed construction on our new, 15-hectare campus in Kigali Innovation City, which will transform the CMU experience for students, faculty and staff of CMU-Africa."

A common thread running through the remarks of all speakers was the notable achievements made by the Class of 2019 and the incredible possibilities that lie before them as they embark on their post-CMU careers.


Class speaker, Nancy Lubalo, noted several students' outstanding internship experiences as IBM Research in Nairobi and at the World-Bank in Washington, D.C. and that this graduating class has broken the record for the highest number of students accepted for Ph.D. programs at CMU and other world-renown institutions.
Lubalo also talked about the graduates' success initiating numerous community-wide activities within the tech and engineering space in Kigali, with most of them being spearheaded by women.

"Fellow graduates, we have proven that we are not quitters," Lubalo said. "Never in my life have I met such resilience or been surrounded by people with so much desire to make Africa a better place. I wish you courage, joy, success, and I wish you adventures and mistakes to learn from. Don't try to get rid of fear. Accept that you will be afraid and do it anyway."

Lacina Koné, keynote speaker and director general of Smart Africa, emphasized that the graduation celebration was about celebrating the graduates' hard work, dedication, determination and grit to see their CMU-Africa journey through to the end.

"The education you have received is key to the development of the continent," Koné said. "As Africa looks forward to leading the Fourth Industrial Revolution, you will be at the forefront of defining what smart transportation, access to quality healthcare, and access to finance look like."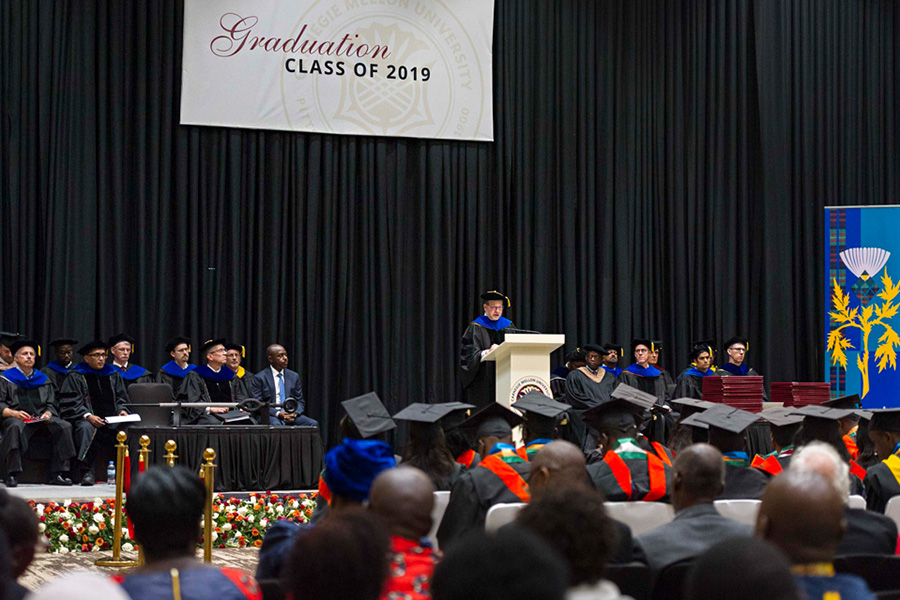 Interim Dean Jonathan Cagan speaks to the graduating class.

Jonathan Cagan, interim dean of the College of Engineering, encouraged graduates to be proud of their achievements as they make their mark in the world.

"This is a fascinating and exciting time in Africa with many opportunities unfolding around you - opportunities such as the exciting projects this year where our students and faculty worked together in the areas of healthcare access, cyber security, big data, robotics, renewable energy and agriculture," Cagan said. "These outstanding projects reflect the promise that entrepreneurship and technological development offer to both strengthen the economy and serve the needs of the continent."

This year's ceremony marked the graduation of the first cohort of Mandela Institute for Development Studies (MINDS) Scholars at CMU-Africa and the third cohort of Smart Africa Scholars. CMU-Africa Director Vijayakumar Bhagavatula expressed appreciation for these funding partners, as well as others including the Government of Rwanda, Mastercard Foundation and the Innovators Forward Fellowship Fund, whose support enables many CMU-Africa students access to a world-class education.

During the ceremony, students were recognized for extraordinary academic achievements. Two students received the Lakshmi Subramanian Student Excellence Awards: Oluwafunmilola Kesa Elizabeth, who graduated with a master's degree in information technology, and Agatha Niwomugizi , who graduated with a master's degree in electrical and computer engineering. Daniel Omeiza, an MSIT graduate, received the Jeremiah Mpagazehe Rising Researcher Award.

Garrett encouraged the graduates in their journey.

"When I think about the courage each of you possess - in deciding to attend college in the first place, to choosing where to go, and how you persevered in your studies and research - I know in my heart that you are ready," he said. "Today, I want you to reflect on how far you have come, and what challenges each of you have overcome. I want you to reflect on how you have grown, from strangers to a family, over the past two years. And, I want you to reflect on the comfort that you will always be part of a network of caring faculty and fellow Tartans from around the world, who you can always count on for support, as you follow your dreams."