June 10, 2019
CMU Students Find Common Ground in Africa While Teaching Tech Skills
By Heidi Opdyke
Media Inquiries
Julie Mattera
Marketing and Communications
Students from Carnegie Mellon University in Africa recently hosted CMU students from the Pittsburgh and Qatar campuses to conduct information technology skill workshops for primary and secondary education teachers.

"What makes Project Rwanda special is it brings people together from all over the world to work together for the greater good," said Andrew Edward, a junior in information systems who led the CMU-Q contingent. "All of these projects are connected to us all being CMU students."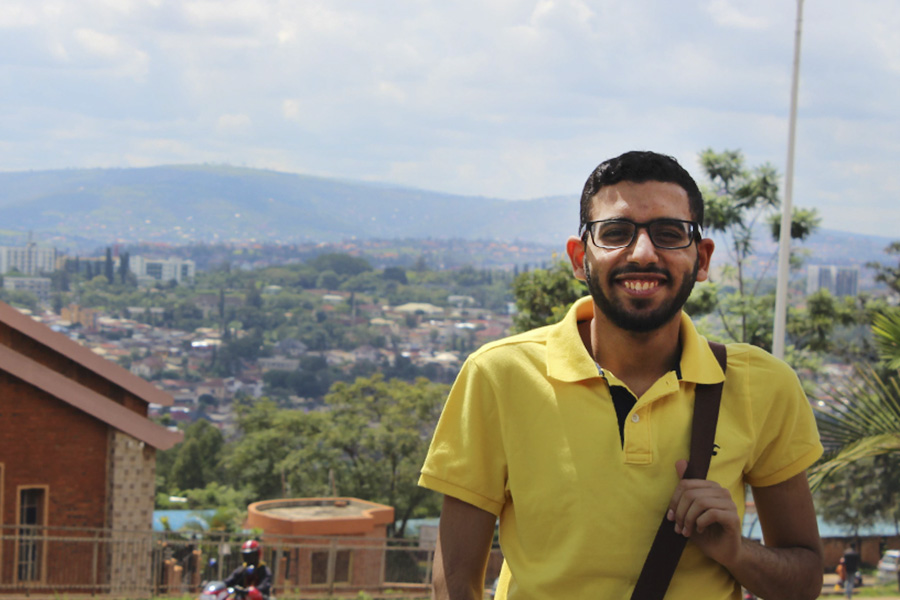 Andrew Edward 
Project Rwanda was founded in 2010 by students from Carnegie Mellon to support Rwandan children and teachers at schools as the one laptop per child initiative was being implemented into the education system.  

As the years progressed, the project's goals and objectives changed to support the teachers with the information and communications technology material in the national curriculum.

In 2016, the Rwanda Education Board launched a competence-based curriculum for primary and secondary education. This included the use of ICT as a tool to improve the quality of learning and teaching as well as introducing software and programming at the lower level to help the country meet its needs as a knowledge-based economy.

Leandre Berwa, a graduate student at CMU Africa, and other students in his class helped with selecting the schools to work with based on surveys and feedback from previous years.

Project Rwanda worked with schools to provide two weeks of teacher training on topics requested by the schools. On this trip they worked on an introduction to Scratch, TurtleArt and Etoys with SOS Village d'Enfants de Kigali, and on the basics of Java with the Institute de Formation Apostolique de Kimihurura (IFAK).

"The visit was a turning point for Project Rwanda," Berwa said. "There were many discussions about the sustainability and evaluation of the impact of the project, which may have happened before, but this time was different because CMU-Africa was extensively involved. The project needs a stronger base on the ground, and CMU-Africa is very well positioned to offer that. Fellow CMU-Africa students were inspired by the visit and the administration was very supportive."

On previous visits, Project Rwanda has provided training for programming, technology and creative arts to more than 140 primary and secondary students. Cory Bird, who co-led the trip with Edward and just graduated with a degree in computational neuroscience, said the organization has switched its teaching model to focus primarily on teachers to create a "ripple" impact. Edward said next year the team hopes to offer workshops at CMU-Africa's new campus to allow more teachers to attend. The group is discussing possibilities with CMU-Africa and the Ministry of Education.
Carnegie Mellon Africa, which recently celebrated its sixth graduation ceremony, offers two graduate degree programs: a Master of Science in Information Technology and a Master of Science in Electrical and Computer Engineering.

CMU graduates play a strategic role in Africa's trajectory, leveraging information and communications technology to advance the socioeconomic development across the continent. The Rwanda Government has a vision to use digital technologies to improve the economies of Rwanda and the region.

While in Kigali, the students had an opportunity to meet with H.E. Paul Kagame, president of the Republic of Rwanda.

The trip was an opportunity for students from the three campuses to meet each other through activities such as a soccer game and an African dance circle. One night, 50 students dined together and talked about what it meant to be a CMU student.

"We all have had the CMU experience. It was a great point of connection for us," Bird said. "I wish every student at CMU could have an experience like that, it would be truly special."

Edward and Berwa agreed.

"It was amazing to see students from three CMU campuses coming together to accomplish something, and something impactful to my community," Berwa said. "I loved the interactions; there were culturally, socially and intellectually enriching. I would love to have more of that."