April 17, 2019
Abalos Researches Music Through Storytelling
By Haley Nordeen
Media Inquiries
Emily Rybinski-Benish
Pam Wigley
Carnegie Mellon University student Theresa Abalos wants to help people feel the world through sound.
"Sometimes, you can't articulate why the world is so complex, but you can engage with it by creating something that's breathtaking and moving, often in healing ways," said Abalos, a junior Bachelor of Humanities and Arts (BHA) student in global studies and music performance. She's combining her two disciplines through researching musical practices of indigenous musicians of Argentina.
Abalos is also pursuing a minor in Hispanic Studies and she sees the importance of engaging with topics within their linguistic context.
"The specific language you speak is a lot like music — it's deeply connected to how you feel, how you respond to things and how you think" Abalos said.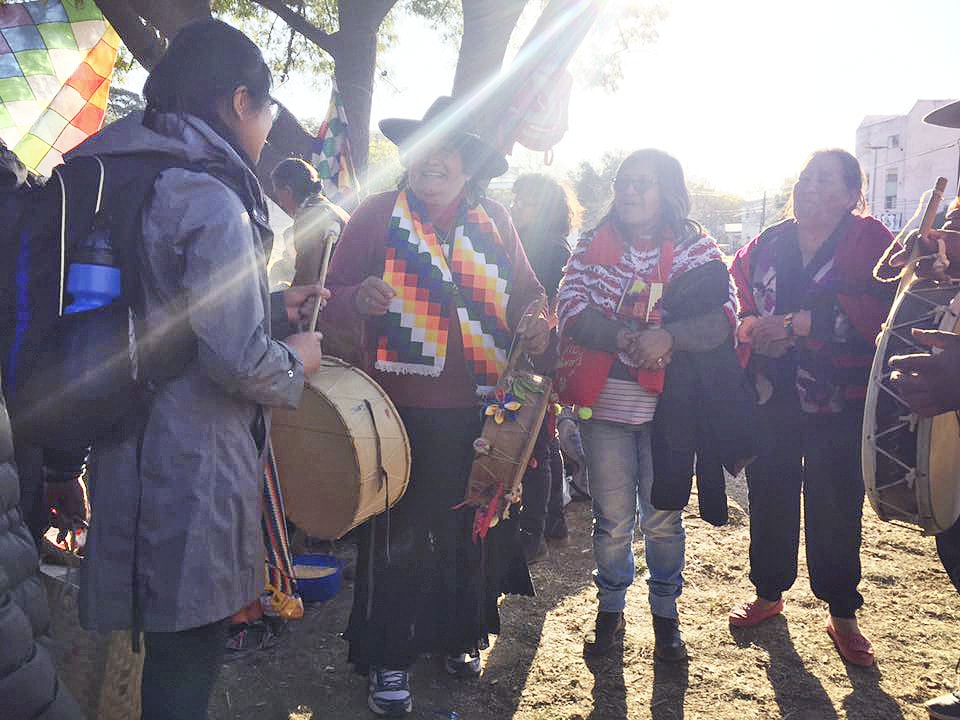 Theresa Abalos interviewed indigenous musicians in Argentina in 2018.
Last summer, Abalos studied in Argentina and conducted research and fieldwork in her interactions with indigenous peoples. The scholarship transformed her abroad experience.
"I found myself looking at everything more curiously," she said.
Her experience was supported in part by the Jennings Family Brave Companion Award, which supports underrepresented or first generation students with demonstrated financial need to travel and conduct research.
The Undergraduate Research Office has supported Abalos in her applications for fellowships and scholarships.
"We have been thoroughly impressed with her dedication to her academic and professional goals. Theresa's tenacity and focus will continue to serve her well throughout her graduate education and beyond." said Richelle Bernazzoli, assistant director of Undergraduate Research and National Fellowships.
Assistant Musicology Professor Alexa Woloshyn, helped guide Abalos' research, which focuses on the musical practices of contemporary indigenous musicians from Argentina and how they engage with and shape modernity.
"Their identity as indigenous does not mean they are frozen in the past; rather they're engaging with and helping to build what we consider modern, leading to movements both ideologically and across rural and urban spaces," Abalos said.
She is contributing to the growing scholarly conversation about how tradition is not incompatible with modernity. She recently presented her research, entitled "Who are the "folk" in música folclórica? Indigeneity and the Performance of Belonging in Argentina," at the Niagara Chapter of the Society for Ethnomusicology 2019 Conference at SUNY Buffalo State. She also will present her research at CMU's Meeting of the Minds in May.
When she says "música folclórica," she refers to the notion of music that represents the essence of pre-modern Argentina. But in her research, she noticed that many different types of music were being called "música folclórica." Her project aims to understand why the label has become vague, how it's connected to Argentina's history, and its implications for Argentina's indigenous peoples.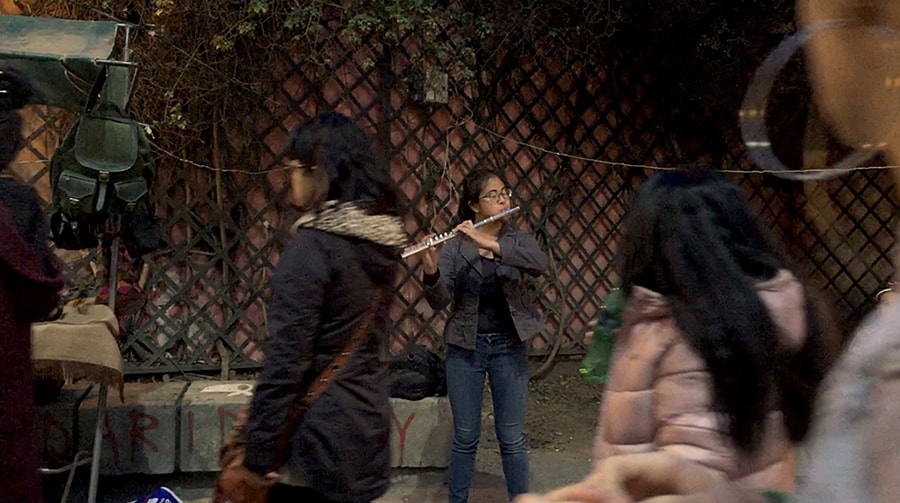 Abalos busking in an artisan fair in Córdoba, Argentina. While studying there she interviewed folk musicians.
For an example, she points to the National Festival of Folklore of Cosquín, which takes place every year in Córdoba, Argentina. For much of the festival's history, the musical traditions of indigenous peoples were excluded in favor of music romanticizing the pastoral Argentina experienced by European Argentines. In the past decade, however, indigenous musicians such as Mariana Carrizo came to the stage, bringing sounds of indigenous traditions to form a more diverse sonic representation of Argentina.
Music brought Abalos to CMU. In particular flute professor, Alberto Almarza, who has been an important mentor during her undergraduate experience.
"He has supported my activities outside the typical music trajectory, such as studying abroad and being in BXA," Abalos said. "And he has helped me develop my belief that with a lot of balancing work, non-musical endeavors can enrich, rather than hinder, my growth as a musician."
While she studied in Argentina, Almarza helped connect her to world renowned flutists Marcela Bianchi, Patricia Dadalt, Cecilia Ulloque, and Claudio Barile. Both Marcela Bianchi and Cecilia Ulloque studied in the CMU flute studio.
Studying flute performance alongside her research in cultural anthropology has given Abalos the chance to experience what she is researching, in performance and identity, language and sound. She said her research has helped her become a more critical musician.
"It's helped me realize that while music is transcendental, it's also rooted in the specific places and histories from which it was created." Abalos said.
Abalos urges more people in the CMU community to attend College of Fine Arts events and allow themselves to be transported.
"There's something to be gained from entering a space where the performers are sharing their life's work with you in every breath they take, every movement, from moment to moment — through what is most likely great music, a thought-provoking story, a scene that catches you off-guard, or all three," Abalos said.