April 23, 2019
Student-led Course Prepares Beginners for Marvel's Endgame
By Michael Henninger mhenninger(through)cmu.edu
Clad in Marvel swag, like her Dr. Strange sling ring and Eye of Agamotto necklace, Carnegie Mellon University junior Izzy Sio leads a discussion about the psychedelic horror film genre inside of Doherty Hall.
Sio, who is majoring in statistics and professional writing, runs "Marvel Film and Media Studies," a student-taught course, along with senior Sabrina Clarke, sophomore Erin Beasley, and their teaching assistant, first-year student Leila Berger. Today's topics are "Dr. Strange" and "Spiderman: Homecoming."
The class has run for seven semesters. It was founded by former student Chris Compendio to critically examine the films in the Marvel Cinematic Universe and their different genres. The instructors base the lessons in film theory: examining the directorial choices, behind-the-scenes material and the development process.
"If you're a senior now, the movie of your freshman spring was 'Captain America: Civil War,'" Sio said. "Now you're going to finish college with 'Avengers: Endgame.' That's a whole phase of your life. That's pretty incredible to have grown up with this."
Over 10 years and 21 films have passed since Marvel, which is now owned by Disney, launched its cinematic universe with the first "Iron Man" in May of 2008. Beasley, a computer science major, was eight.
"I was too young to see the first 'Iron Man' in theaters," Beasley said. "It was PG-13. My parents said no. With 'The Avengers' it became a big thing I paid attention to."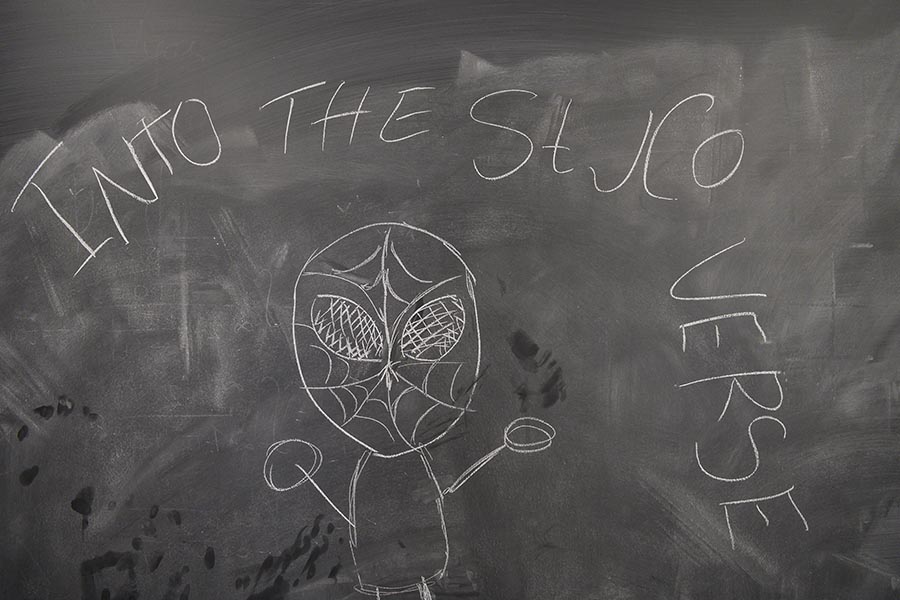 Before each class, the student instructors create a chalkboard drawing for that week's Marvel movie.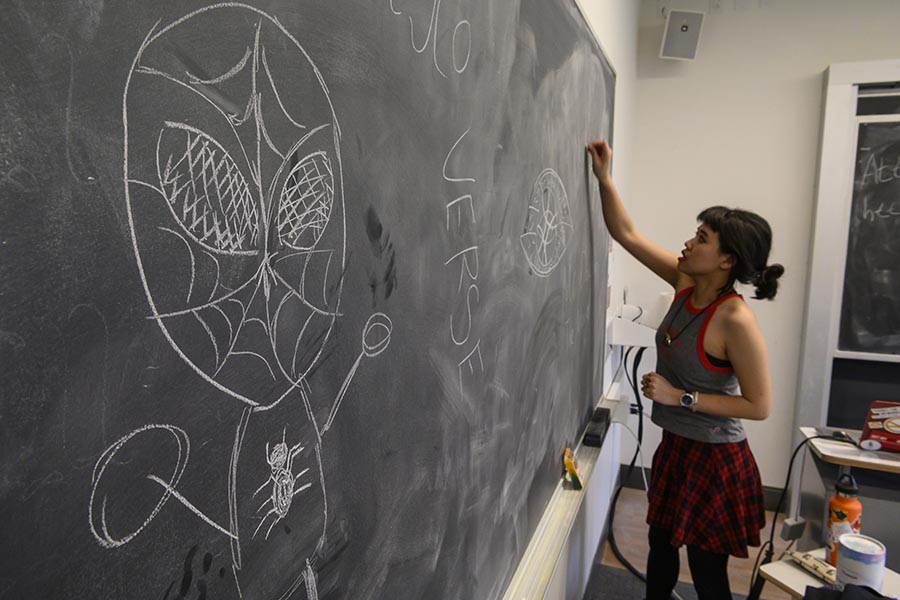 Izzy Sio draws a Dr. Strange-inspired chalkboard drawing before class.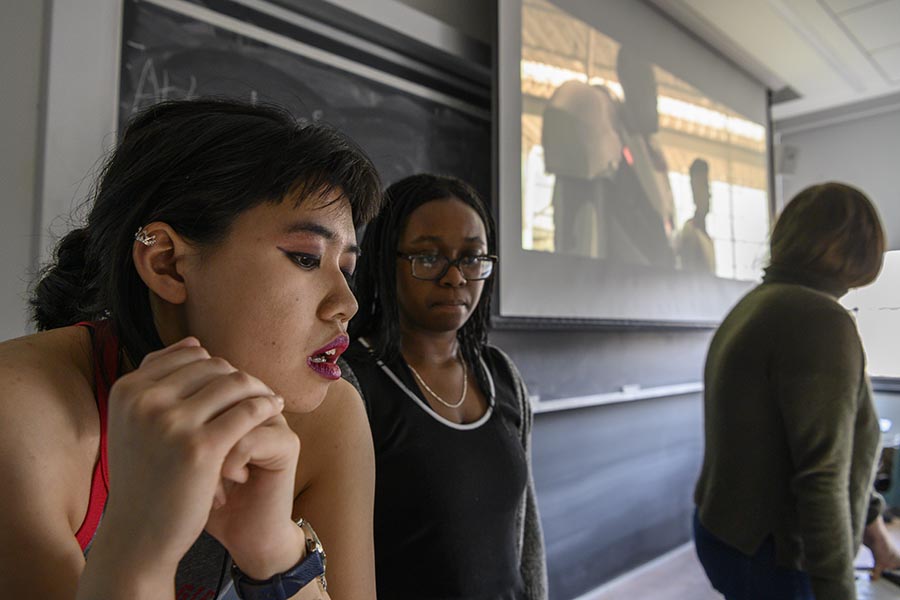 From left, Izzy Sio, Sabrina Clarke and Erin Beasley teach "Marvel Film and Media Studies."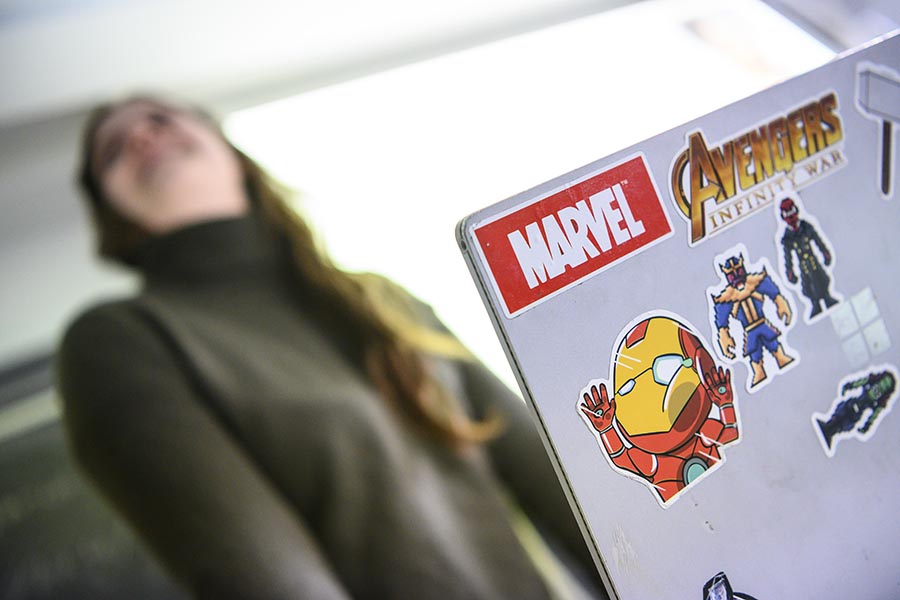 Erin Beasley's laptop is covered in Marvel stickers.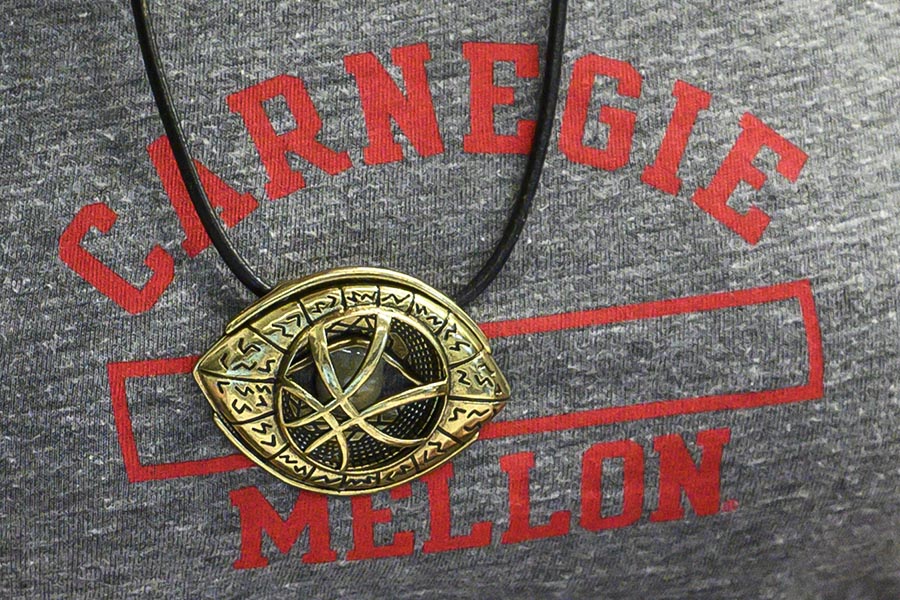 Izzy Sio wears an Eye of Agamotto necklace from the movie Dr. Strange.
Clarke, a linguistics major with a film minor, was a big Marvel fan before finding the class.
"I think Marvel's been an interesting way for people to become more invested in the film industry," Clarke said. "Fans are now voicing their opinions about casting decisions and how to approach cultural elements early in the process. That dialogue raises awareness and helps give new creators a chance in the market."
Clarke strives to be one of those creators.
"I am a screenwriter and director," she said. "I would love for Marvel to hire me to be a screenwriter. Long-long term, I would love to direct a Marvel movie. That would be a dream."
Past and current teachers of the course are planning a group outing of over 30 students to get dinner and see "Avengers: Endgame" at the Manor Theatre in Squirrel Hill.
With "Endgame" marking a shift in the Marvel Cinematic Universe, Sio said she is hopeful about the possible directions Marvel will pursue.
"I know after I watch Endgame, it's going to be bittersweet," she said. "We've seen these characters grow for a decade. But with the changing social landscape, it's a great opportunity to introduce new, diverse heroes for a younger audience. I want to see superheroes that represent the people that are watching."