December 09, 2015
In A Galaxy [Not] So Far Away...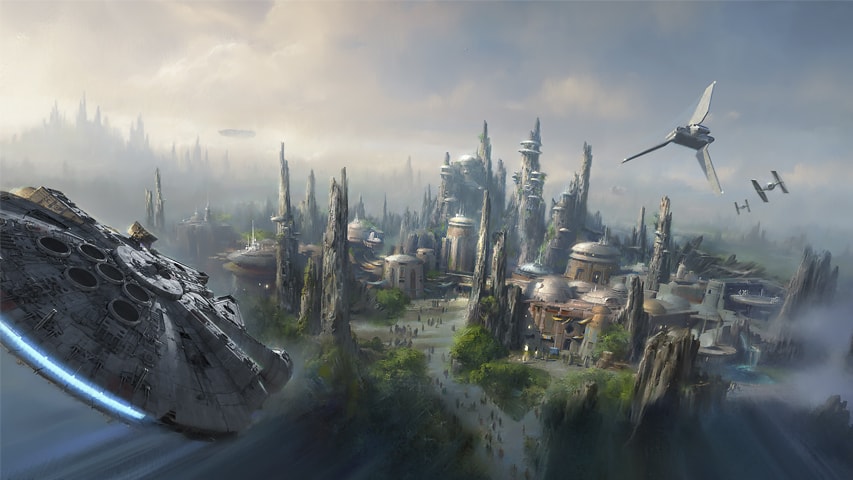 Droids, Jedis and Stormtroopers mingle on a remote planet that serves as a trading post. Visitors take a break from behind the controls of the Millennium Falcon, one of the most recognizable ships in the galaxy, for a drink served by aliens, before stepping into the middle of a climatic battle. Young fans join the Jedi Training Academy to learn about the Force.
The experience economy lives in the world of imagination. It seeks to transport audiences into another world by mixing architecture, characters, stories, carefully curated details and technology. And it can happen anywhere — theme parks, restaurants and sports teams have all embraced this way of thinking.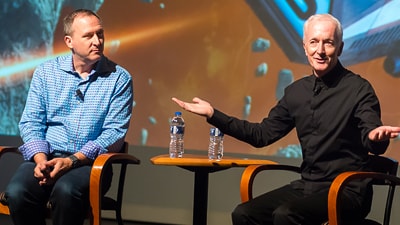 Scott Trowbridge and Anthony Daniels
Carnegie Mellon University is on the front edge of the experience economy; the Entertainment Technology Center (ETC) will be offering a concentration in Themed Entertainment, and it is immersing a range of majors across the university in a new course, "Guest Experience and Theme Park Design."
In October, Shirley Saldamarco, an ETC special faculty and TEA International Board Member, brought the annual Themed Entertainment Association's (TEA) Story + Architecture + Technology = Experience (SATE) conference to Carnegie Mellon where it was hosted jointly by CMU and the ETC and supported by the School of Drama through use of the Chosky Theater. About 300 industry professionals attended the two-day conference.
"Student attendees were able to hear about the latest and greatest of what's going on in the industry and also network with people who were in a position to hire them," Saldamarco said.


C-3PO and CMU
The conference showcased one of the ETC's Visiting Scholars and an experience economy icon — Anthony Daniels, the actor who has played C-3PO in every Star Wars movie to date.
Daniels, in a conversation with Walt Disney Imagineering's Scott Trowbridge, credits creator George Lucas with Star Wars' unique way of engaging its fans; an audience's participation is a hallmark of the experience economy.
"George came up with the story and said, 'Now you play with it.' There's so much creativity that's come out as a result," Daniels said.
The audience engagement, in fact, has transferred to the new Star Wars movie, "The Force Awakens," which will be released in U.S. theaters on Dec. 18. In conjunction, Disney has announced new Star Wars attractions at its Florida and California locations. Until then, the parks have freshened up some Star Wars experiences.
Trowbridge said the process of designing the new theme park attractions has had his team considering how to engage all the senses, including how to build the world of Star Wars in terms of texture and smell. (Daniels was quick to remind Trowbridge — in his droll C-3PO voice — that the Ewoks might be a detriment to the smell sensations.) Trowbridge said his team at Disney has been asking themselves: "Who are we in this world — and who do we want to be? How can we make it authentic, and how do we make it believable?"
"People have been dreaming about stepping into this world for 40 years. We have a lot of living up to do," Trowbridge said.
Daniels remained mum on any movie spoilers, but did reveal some news regarding C-3PO's costume when he took questions from SATE's audience, some of whom had traveled from the United Kingdom, Spain and the United Arab Emirates.
Daniels said his new C-3PO costume was 3-D printed — while he thinks it will look similar to the movie's audience, it makes a huge difference to him. It used to take him half an hour to get C-3PO's head in place on his own body. When he met with the new design team, they considered the old head, nodded and created a 3-D printed version, which he said takes only eight seconds to put on.
C-3PO's sidekick also is getting a makeover. "The Force Awakens" will debut a "new" R2-D2, built by amateur droid makers who are part of the Artoo Builder's Club, a collective of over 7,000 people.
"The droid they built was better than the one we had," Daniels said.
Daniels has brought his expertise of humanizing robots to CMU as a Visiting Scholar since 2007.
In 2010 he advised student Christine Barnes (ETC 2011) and her team, who were working on the Yume Project in conjunction with Japanese company Kokoro Robotics.
Barnes and her group were working to create a robot with a memorable character. The robot's name was Yume, which means "dream" in Japanese. As they worked to bring a dream to life, Daniels knew just how to help.
"He showed us how to look at Yume's perspective through her eyes, instead of our eyes looking at her. It was a new perspective, and it turned our world upside-down," Barnes said.
"People have been dreaming about stepping into this world for 40 years. We have a lot of living up to do." — Scott Trowbridge
In turn, Barnes, who now works as a set decorator at theme parks, came back this fall as a guest lecturer to the "Guest Experience and Theme Park Design" class. She shared one of the most important things she learned during her time in the ETC, which is part of CMU's Integrative Design, Arts and Technology Network, also known as IDeATe.
"The teamwork was definitely beneficial. I worked with people from so many different backgrounds, creating unique and innovative experiences. I never learned their job, but I learned their language," Barnes said. 
One of the students who heard Barnes speak was Trent Taylor (A 2017), who aspires to be a scenic designer.
"I had been to Disney parks when I was growing up — the first time it was all magical. When I would go back through, I was able to see through the magic, see the inner workings of stuff and how it was designed and built," Taylor said. "For me, that became just as magical in a different sort of way. I wanted to be part of creating these things."
Taylor wanted more collaboration between the School of Drama and the ETC, and was one of several students who lobbied for the "Guest Experience and Theme Park Design" class.
Saldamarco teaches the class in which students study the key phases — conceptualization, design, building, management and delivery. Working in teams, students create a total themed experience. 
"There are graduate students from the ETC, architects, mechanical engineers, artists, designers, computer scientists and [human-computer interaction] students. The diverse backgrounds of outstanding students and their ability to work as part of a team makes CMU the perfect resource for an industry that demands excellence and teamwork," she said.
With a robust waiting list, she is offering the class again in the spring.
"The class has become a microcosm of the CMU environment and that, in turn, is a microcosm of the experience industry," Saldamarco said.
Related:
National Geographic: The Real Science Inspired by Star Wars
Entertainment Technology Center
School of Drama
IDeATe