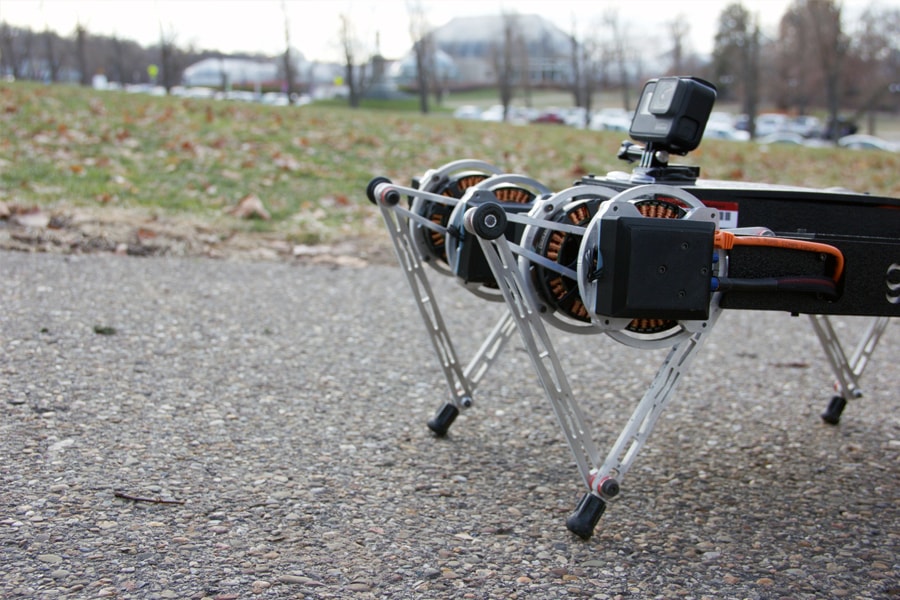 May 01, 2018
Meeting of the Minds a "Quintessential Carnegie Mellon Event"
Symposium puts spotlight on undergraduate research, a university hallmark
By Bruce Gerson bg02(through)andrew.cmu.edu
More than 600 students will transform the Cohon University Center into an exhibition hall filled with their research presentations, artwork, demonstrations and live performances during Meeting of the Minds, Carnegie Mellon's annual university-wide undergraduate research symposium, Wednesday, May 9.
Student exhibitors will showcase their work covering a vast range of topics and disciplines, from the humanities and arts, to computer science and biomedical engineering. Many of them have received a Small Undergraduate Research Grant (SURG) and/or a Summer Undergraduate Research Fellowship (SURF) to pursue their interests. Support for SURGs and SURFs comes from the generosity of individuals, foundations, corporations, departments and schools, as well as the Provost's Office.
"Meeting of the Minds is the quintessential Carnegie Mellon event," said Stephanie Wallach, assistant vice provost for undergraduate education. "Vice Provost Amy Burkert has dubbed it, Carnegie Mellon's 'Academic Carnival.' That captures how meaningful and historic it is for our campus to join together — all the disciplines — to share our knowledge and celebrate how central undergraduate research and creative inquiry are to our campus."
Wallach said the event is a chance for students to showcase their work and practice their presentation and communication skills.
"It's also a time to recognize our faculty who drive much of the research and it is a time for our campus — faculty, staff and students — to share new knowledge and to learn from each other," she said.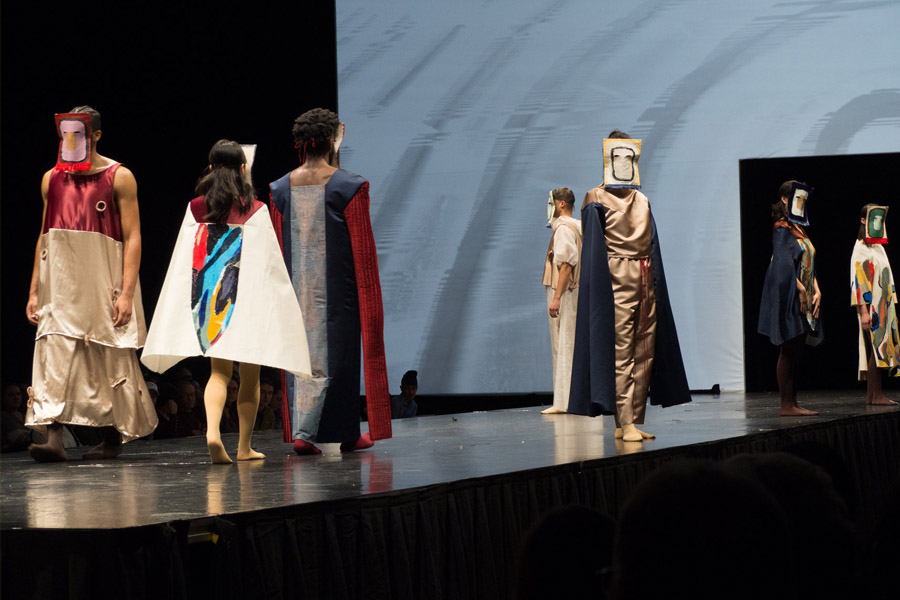 Na Eun Cheon's Meeting of the Minds project, "Descent," was featured in this year's Lunar Gala Fashion show.
Na Eun Cheon, a sophomore in the Humanities and Arts program, will present "Descent," her collection of eight handmade marriage costumes from around the world that obscure the gender of the wearer. Her garments, which were featured in this year's Lunar Gala Fashion Show, feature hand-painted designs and masks, and satin draping.
"I have always been interested in tackling the issue of gender inequality through art," said Cheon, who credits her SURG adviser Shawn Alfonso-Wells for being a "huge help" with her research. "I am using the garments to show an example of a society that disregards gender and therefore expectations that are specifically linked to gender. My garments simply pose the questions of "what if we were agender; what if gender, sex, and sexuality didn't matter; what if masculinity and femininity and queerness can be combined without stigma and taboo?"
Dhruv Khurana, a junior computer science major, is working on personalized robotic companions in a project titled "Making Quadruped Robots Interactive Using Computer Vision."
"Personalized robotic companions have been envisioned for decades, be it the 'Jetsons' or 'Doctor Who.' This project is a small step toward that larger objective," he wrote in his project description.
Khurana said his project aims to give robotic companions, or pets, the ability to follow and keep up with humans in complex and ever-changing environments.
"With the ability to keep pace with people, the robot can potentially go for a run with humans, and with a few modifications it can look for and chase objects. In the future, this can be a companion for the elderly, keeping them company, monitoring their vitals and calling for help in case of an emergency," he said.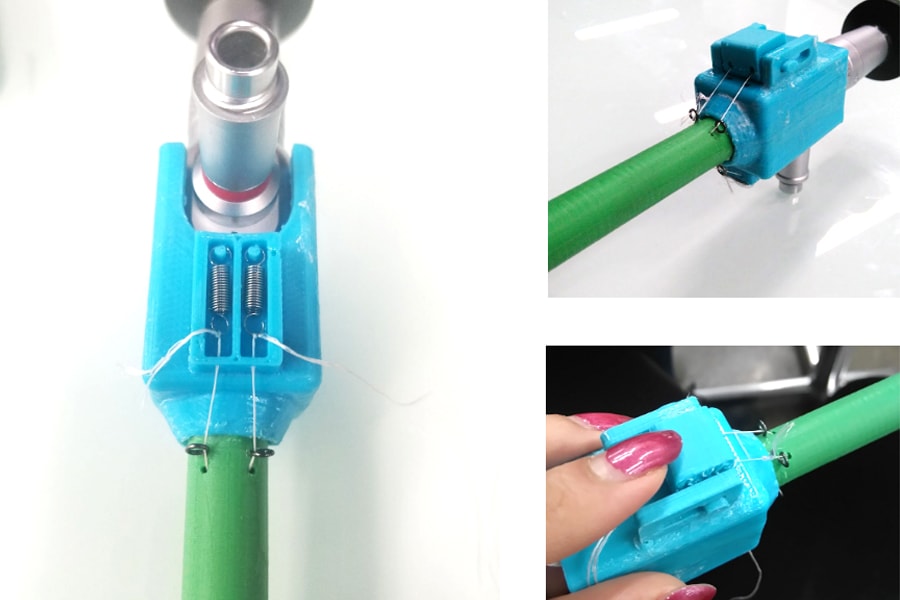 A laparoscopic lens cleaner system prototype was created with a 3D printer.
Biomedical engineering majors Eileen Ge, Julia Napolitano, Himali Ranade, Chauyie Soong and Shalani Stockton are developing a lens cleaning, or wiper, system that would allow surgeons to clean laparoscopic lenses without removing them from the patient. Laparoscopic lenses often become foggy and obscured from internal body fluids during surgery, causing doctors to repeatedly remove the scope to clean.
The team will create prototypes with 3D printers, with the wiper resembling a rubber squeegee blade. They hope to test the system, which would reduce the risk of contamination, in animal models.
This year's Meeting of the Minds also will include students who received an International Summer Undergraduate Research Fellowship (ISURF) and drew on their CMU faculty mentors to continue their research interests abroad.
Junior materials science and engineering major Gaurav Balakrishnan, who pursued research at Technion University, in Israel — supported by the Buncher Foundation — will be featuring a poster on graphene, a form of carbon that is flexible, lightweight, highly conductive and nearly 200 times stronger than steel. It is a material that can be used in a wide range of applications, including devices for biomedical applications.
Junior Rebecca Kang, a chemical engineering major, worked in a lab at Tokyo Institute of Technology in Japan over last summer. She will be highlighting her research on functional near-infrared spectroscopy, a non-invasive, portable procedure that can measure properties in blood to deduce valuable information about brain activity.
An awards ceremony from 5 to 6 p.m. in McConomy Auditorium will close the symposium. Awards will be presented in more than a dozen categories.