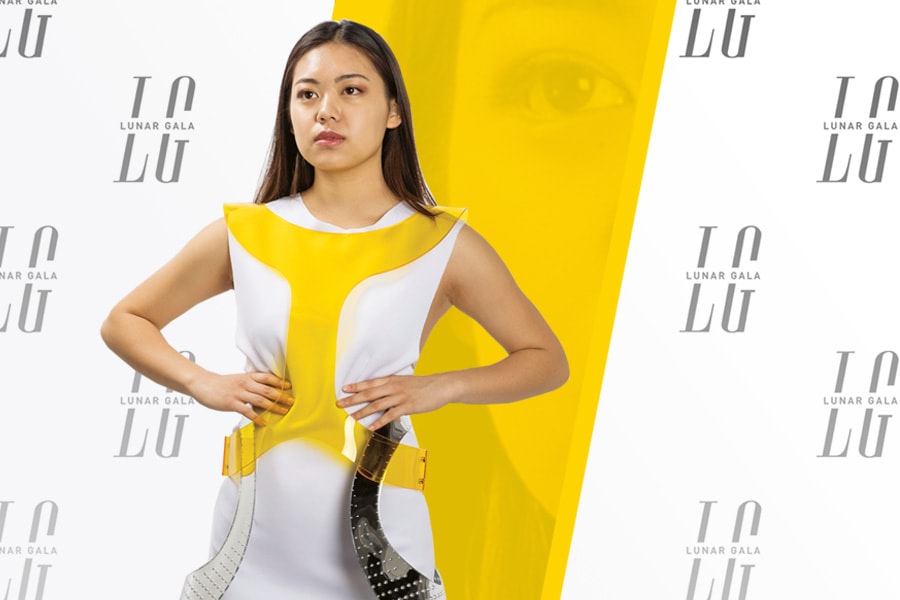 February 14, 2018
Fashion Meets Technology at 2018 Lunar Gala
Carnegie Mellon University students will be showcasing ensembles made of plexiglass, clothes that respond to heat and some that even include artificial muscles at the annual Lunar Gala fashion show on Feb. 17.
The Chroma design team, creator of the plexiglass clothes, is Brandon Darreff, Zain Islam-Hashmi and Alina Kramkova, all students in the School of Architecture. Inspired to apply building materials to the world of fashion, their line of streetwear uses plexiglass pieces that range in scale from a few inches to breast-plate size. The neon pieces are vacuum-formed or hand-heated and shaped to the human body, and laser cutters add patterns to the colorful surfaces.
"The clothes have fairly conventional silhouettes, but some of the looks incorporate new appliqué techniques that will be used in the future," Kramova said. Their work is funded by CMU's Small Undergraduate Research Grants program.
The student-run Lunar Gala began in 1997 as a celebration of the Chinese New Year; subsequent years have been thematically based on the zodiac. With 2018 being the Year of the Dog, Grace Kao, Gilly Johnson and Jarret Lin, producers of this year's Gala, chose "Ferox" as the show's title and guiding principle. Ferox is the Latin term for savage — to evoke discussions of ways that primal instincts are in friction with social structures.
The three producers said they have found invaluable lessons in management, budgeting and social media, as well as seeing a project through from start to finish.
"I'm interested in product management," Kao said, "so learning how to talk to so many different types of people has been a big part of this experience. Also, getting more savvy about social media, talking to press, getting non-CMU people involved-it will all prove useful in the future."
Lin said, "For me, it's been about seeing a project from the ideation stage to actual execution."
Kenny Cohen, this year's production manager, is working to transform the Wiegand Gymnasium in CMU's Jared L. Cohon University Center into a fashion runway. An information systems major, Cohen said he knows the experience will be valuable for his future work in management.
"Learning to solve conflicts is beneficial for anyone," Cohen said.
The intersection of fashion and technology is a common theme among this year's collections. The Lunar Gala's Homeostasis design team's clothes respond to heat. Materials Science and Engineering majors Jack Forman and Alan Guo and costume design master's student Mohan Yeh, along with support from CMU Human-Computer Interaction Institute's Morphing Matter Lab, incorporated artificial polymer muscles into their collection. The artificial muscles are processed silver-coated nylon thread, which, when heated, produces a spring that can lift 50 times more weight than human muscles of the same size.
Forman said this sort of innovation will soon be ubiquitous.
"It's crazy that our clothes don't respond to our environment yet," he said. "We're contributing to a future when your sleeves will roll up when you get hot, for instance, or your jacket will get puffier when the temperature drops."
For the first time, Lunar Gala is partnering with the Carnegie Museum of Art and is being crowdfunded to help with expenses. The producers also opened the show to participants from The Art Institute of Pittsburgh (AI). The producers sought input from Suzanne Mauro, AI fashion instructor, who connected them with AI alumni who will show pieces from their own collections, including Briana Green's Fro Factory and Krista Wilhelm Design.
Mauro said she has attended the show and was excited to work with the CMU students.
"I was blown away by the talent," Mauro said. "I wanted the whole city of Pittsburgh to see it."
Lunar Gala also partnered with Style412 this year, and the Pittsburgh-based nonprofit conducted a series of workshops for the CMU designers.
Lunar Gala tickets are still available online. Can't make the show? You can still see the designs. In another first, designers will have an opportunity to showcase their work in the Great Hall at the College of Fine Arts this spring. Designers will also be showing a few looks on mannequins and videos of the show at the Carnegie Museum of Art's Third Thursday in March.