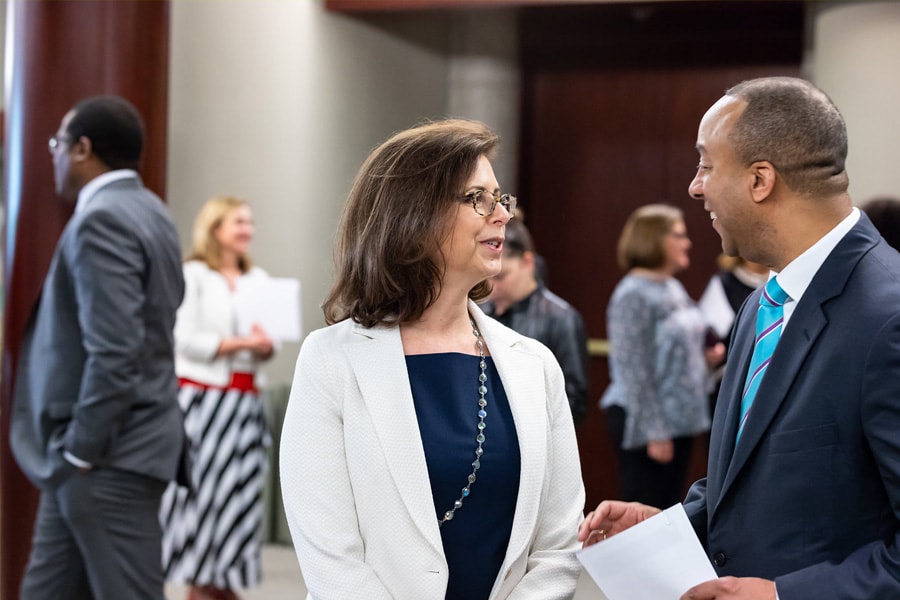 May 10, 2018
New Executive Education Program To Promote Greater Diversity in Leadership
By Mara Falk mmfalk(through)andrew.cmu.edu
Media Inquiries
Mara Falk
Tepper School of Business
A leading group of Pittsburgh executives has launched The Advanced Leadership Initiative, also known as TALI, to ensure African-Americans gain leadership roles on executive teams of the region's corporations and nonprofit organizations.
Laurie Weingart, interim provost of Carnegie Mellon University, kicked off the event and welcomed the audience of community leaders committed to improving diversity in the region. Weingart also shared details of the programs at Carnegie Mellon focused on promoting diversity, including the recently launched Center For Student Diversity and Inclusion.
"We are very proud to be a partner with TALI as part of our Executive Education program at CMU," Weingart said. "Together, we will enhance the pipeline of African-American talent in Pittsburgh by providing training and education for promising executive leaders and for corporations identifying and preparing the workforce of the future."
The signature program of the initiative is the Executive Leadership Academy, housed in Carnegie Mellon 's Tepper School of Business.
"The Tepper School values a diverse and inclusive community, not only because it is ethically and morally right, but because it leads to greater creativity and innovation in decision-making," said Bob Dammon, dean of the Tepper School of Business. "We are proud to partner with The Advanced Leadership Initiative to extend our commitment to diversity and inclusion to the greater Pittsburgh region."
Pittsburgh is recognized as a surging economic market, but it trails top markets in one key area — leadership diversity. African-Americans represent 24 percent of the population of Pittsburgh and 13 percent in Allegheny County, yet African-Americans represent less than 0.1 percent of executive leadership positions.
Evan Frazier, founding director of the initiative and senior vice president of Community Affairs at Highmark Health, said the effort will help build a continuous pipeline of local executive leaders.
"These leaders will be positioned to add significant value to their profession and to the community through their participation in world-class leadership development uniquely designed to give African-Americans the tools, exposure and training necessary to maximize success in the Greater Pittsburgh region," said Frazier, who graduated from CMU in 1996 with a master's degree in public management, marketing and planning.
As part of the Executive Leadership Academy, African-American cohorts will be invited to participate in an eight-module executive education program that will address general and specific skills that African-American executives need to move beyond the obstacle of implicit racial biases. The curriculum, offered though Carnegie Mellon's Executive Education program, includes classroom instruction, executive coaching, peer networking and a structured professional sponsor relationship.
Recruitment for the Executive Leadership Academy has begun, and classes for the inaugural cohort will begin in January 2019 in the new state-of-the-art Tepper Quadrangle on Forbes Avenue.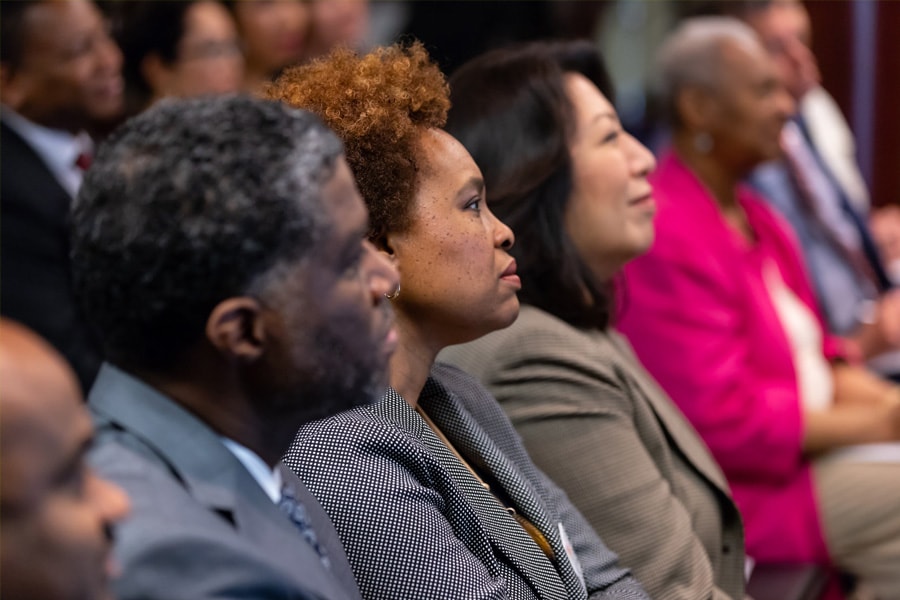 Sponsors and members of The Advanced Leadership Initiative advisory board listen to speakers during the initiative's announcement. 
"Successful companies effectively recognize and leverage diverse talent to drive productivity and profits — and outperform the competition," said Randy Dearth, advisory board co-chair of The Advanced Leadership Initiative and chairman, president and CEO of Calgon Carbon. "The model of The Advanced Leadership Initiative integrates core skill building with executive mentorship to quickly elevate a participant's contribution within their organization."
Allegheny County Executive Rich Fitzgerald said the county government is very proud of the work done at the county to ensure that employees, leadership and boards and authorities look like the residents they serve, but that there is more to do.
"The Advanced Leadership Initiative is exciting because it ensures that there is a pipeline and path for people of color to follow within local corporate structures, providing important mentoring and direction so that they can navigate the waters in those organizations, and strengthen our entire region in the process," Fitzgerald said.
Pittsburgh Mayor William Peduto said he proudly supports this initiative and believes it will help to drive major corporations to the region.
"The Advanced Leadership Initiative will not only help to encourage greater diversity in the executive leadership of the corporate, nonprofit and entrepreneurial communities in this region, but innovations like this will also help Pittsburgh continue to grow as a world-class city with top notch diverse leadership at the helm," Peduto said. "Because of this initiative we will continue to grow as one the most livable cities for all of our residents, which is a major attraction for corporations interested in moving to this region."
Some of the major corporations in southwest Pennsylvania already are investing in the effort as evidenced by their support. Founding sponsors are the EQT Foundation, Highmark Health, PNC and UPMC. The Richard King Mellon Foundation is the lead contributor, with other contributors including The Pittsburgh Foundation and BMe Community. Giant Eagle Foundation is the Gold Sponsor, and the POISE Foundation serves as the Fiscal Agent for The Advanced Leadership Initiative.
Prominent executives and regional stakeholders will guide the direction of the initiative ensuring it is focused on outcomes and is successfully addressing the needs of Pittsburgh's African-Americans.
"This is the bold solution needed to rebuild confidence among rising African-American leaders that Pittsburgh is a city that supports them as high-impact contributors in business and civic leadership," said Greg Spencer, advisory board co?chair of the initiative and president and CEO of Randall Industries.