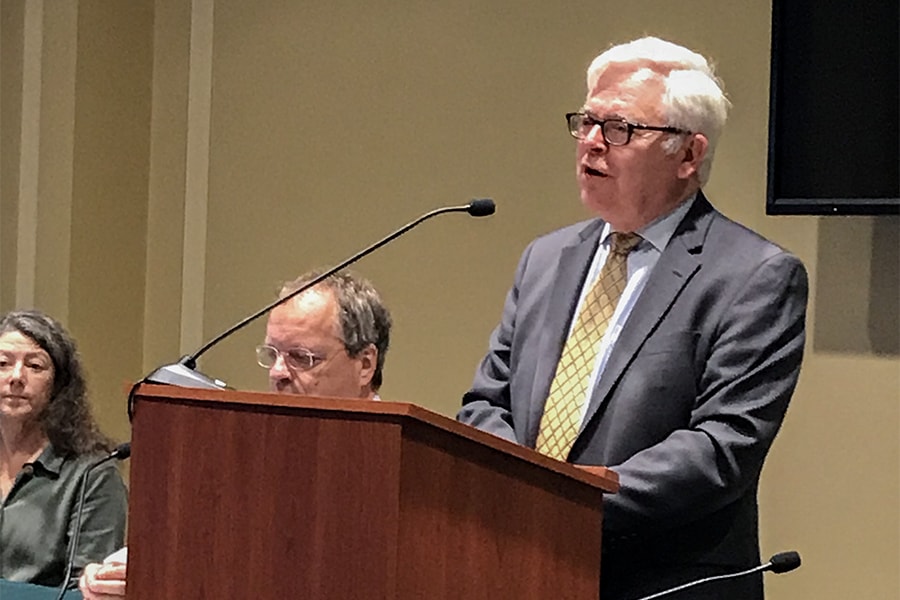 July 27, 2018
Hezir Speaks on Manufacturing, Energy Efficiency at National Policy Forum
Joseph Hezir is optimistic about the future of clean energy.
The former chief financial officer for the U.S. Department of Energy and current Professor of the Practice at Carnegie Mellon University's Wilton E. Scott Institute for Energy Innovation shared his team's latest research at the 2018 Congressional Clean Energy Expo and Policy Forum in Washington, D.C., earlier this month.
The event on Capitol Hill, hosted by the Environmental and Energy Study Institute and the Sustainable Energy Coalition, brought together businesses, academia and government agencies to discuss and showcase renewable energy efficiency policy and technology, and called for more federal support for the renewable energy industry.
During his talk, "Manufacturing & Energy Efficiency Policy Innovations to Advance Industry 4.0," Hezir said experts will need to approach the challenges of energy efficiency and manufacturing from "a systems-level perspective and look at energy efficiency not in isolation, but as an overall component of the manufacturing process."
"What we're seeing is we're creating a lot of new opportunities, but we also need to be thinking in new ways about federal policy toward manufacturing energy efficiency," said Hezir, who earned degrees in chemical engineering and public policy at Carnegie Mellon.
Outside of the Scott Institute, Hezir jointly leads the new Energy Futures Initiatives with former DOE officials, including Secretary Ernest Moniz and Melanie Kenderdine. The think tank aims to decarbonize the developed world's energy systems, advance clean energy technologies, build the 21st century energy workforce and boost energy security.
Hezir's research was conducted in collaboration with Deborah Stine, associate director for Policy Outreach at the Scott Institute and Professor of the Practice in the Department of Engineering and Public Policy, and Ashwin Balaji, energy policy research intern. A policymaker guide based on the team's research will be available in the coming months.
Related: Former DOE CFO To Join Scott Institute for Energy Innovation