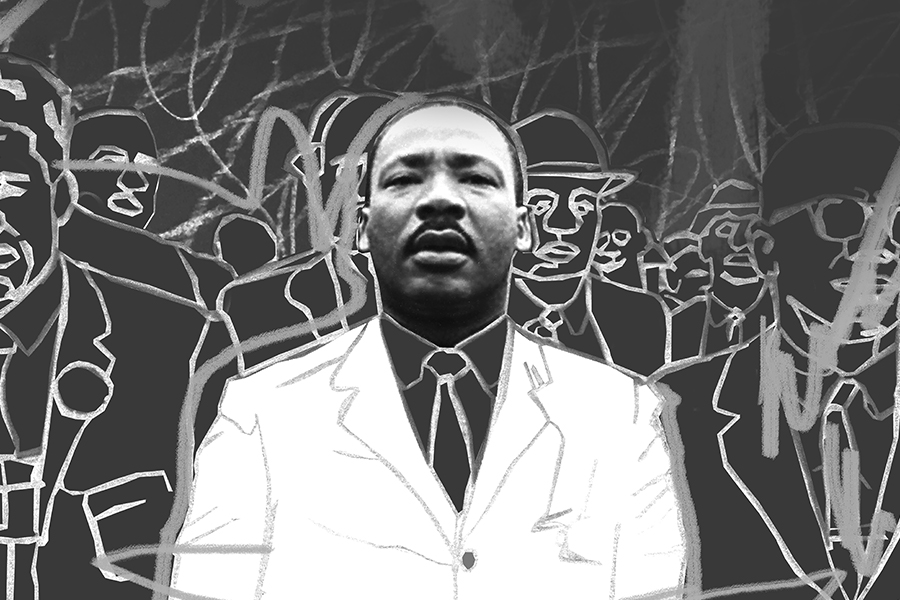 January 07, 2018
Martin Luther King, Jr. Day Writing Award Winners Address Contemporary Social Issues
By Stefanie Johndrow stef(through)cmu.edu
Media Inquiries
Shilo Rea
Dietrich College of Humanities and Social Sciences
For the 19th year, high school and college students from across western Pennsylvania addressed topics of difference and diversity in Carnegie Mellon University's Martin Luther King, Jr. Day Writing Awards. This year's winners touched on issues ranging from racial and sexual identity to the current political climate and more.

The student winners will receive cash prizes, have their pieces published in a booklet and will read their poems and essays at an awards ceremony at 4:30 p.m., Monday, Jan. 15, in CMU's Cohon University Center Rangos Ballroom. Campus music groups will perform, and the event is free and open to the public.

"We were particularly pleased to receive entries from a number of new schools this year, and the quality of the entries overall was exceptionally high," said Jim Daniels, the Thomas Stockham Baker University Professor of English who founded and directs the awards program.

CAPA student Emma Steckline, 15, won first place in the high school prose category for "Where's Waldo," an analysis of LGBTQ representation in the media. Last year, Steckline won an honorable mention in the high school prose category.

"Last year I finally came to terms with the fact that I am gay, one of 'those people.' 'Those people' who every single day are reminded of our minority status. When we see our world powers we are looking in a misprinted 'Where's Waldo' book except the stripes on Waldo's shirt are rainbow colored and they forgot to print his picture on any of the pages. And there are different versions of the book: 'Where's Waldo Book Two: Can You Find Any Queer Singers?' 'Where's Waldo Book Three: Can You Find Any Queer CEO's?' 'Where's Waldo Book Four: Can You Find Any Queer People in Government?' The list goes on and on. America sits on copies upon copies of books with no representation for centuries, and I know it isn't just us."

Placing first in college poetry, Marina Lopez's "Penance After DACA" reacts to the repeal of the Deferred Action for Childhood Arrivals. Lopez is a graduate student in CMU's School of Music.

Your silence is deafening.
Who's to blame you;
it's hard to relate to people who you don't know and who don't look like you.

But your silence is deafening.
And the world seems so strange in its normalcy;
and the continual chug of the gears of the daily business-as-usual grinds my bones to dust.
And I know that I also ignore those who suffer in far away lands
so I can have all these daily comforts, trinkets, small treats of emptiness...

I understand how it goes: out of sight, out of mind.

But we are right here.
Can't you see us?
We're forced to stay low, tumbling from shadow to shadow,
but I really thought you'd noticed us by now.

And I'm sorry for feeling personally aggravated by this
even though it doesn't directly impact me
yet.

I feel it encroaching upon me, like a many-fold roach;
strong and dark and nuclear-resistant,
drowning my morning sun.

Your silence is deafening.
And it's hard to keep on loving you
when you stripped all hope from my brothers
for no good reason.

Your silence is deafening.
Normalcy burns.
And I guess the rest of the world will keep on hating you
and I'll have less and less arms with which to defend you.

You'll keep believing you're a beacon of hope, when you're not.
And you'll keep going about your days.

And I'm sorry I resent you;
Life is tragedy.
And you're probably just trying to get on by.

I'm sorry I'm so self centered
and keep focusing so much on the heart
you shred to pieces.

And I'm sorry that I came here
(there is nowhere else to go).
And I'm sorry that I left my homeland to rot and fester in its own sins.
Your silence is deafening.

In addition to the annual writing awards, an anthology, "Challenges to the Dream: The Best of the Martin Luther King, Jr. Writing Awards at Carnegie Mellon University," was published by CMU Press last fall. The book features 91 pieces by 83 writers from the first 18 years of the awards program.

Tracy K. Smith, poet laureate of the United States and winner of the Pulitzer Prize, called the anthology "the mortar that will mend our nation's spirit."

"It is consoling beyond words to witness these young writers wrestling with the realities of race, bringing solid thought and well-wrought language to bear upon that process," Smith said.

The Martin Luther King, Jr. Day Writing Awards are sponsored by CMU's Dietrich College of Humanities and Social Sciences, the Department of English, the Center for Student Diversity and Inclusion and UPMC.