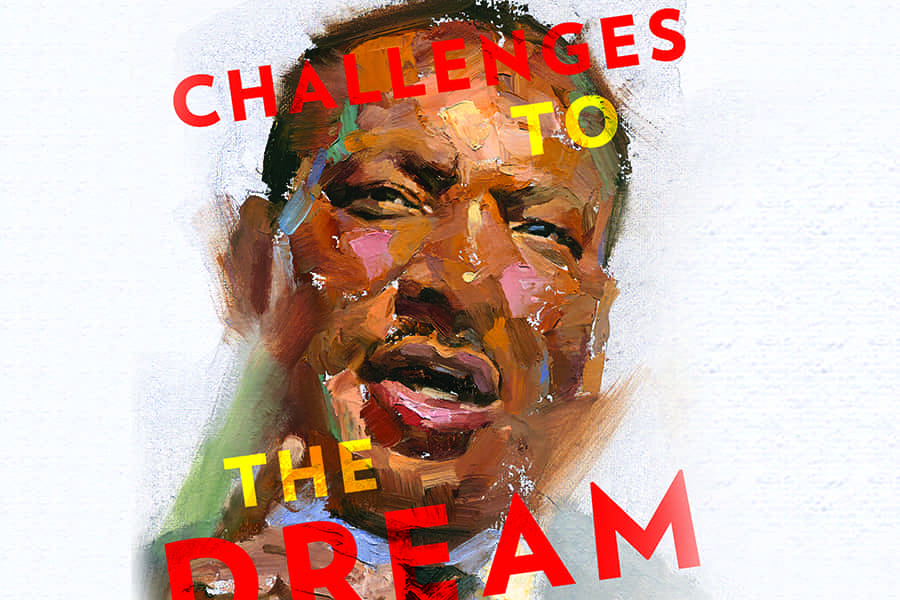 October 10, 2017
Anthology Details Youth Expressing Struggles With Diversity
By Shilo Rea shilo(through)cmu.edu
Media Inquiries
Shilo Rea
Dietrich College of Humanities and Social Sciences
What started as an annual writing contest encouraging students to express personal struggles with race and discrimination is now an anthology featuring 91 pieces by 83 writers on topics ranging from racial and cultural stereotypes and school bullying to homophobia and identity questions.

Published by Carnegie Mellon University Press, "Challenges to the Dream: The Best of the Martin Luther King, Jr. Writing Awards at Carnegie Mellon University" is a powerful selection of poetry and prose. Its purpose is to share especially moving pieces and to encourage and extend more conversations about racial, political, gender, cultural and other diversity issues.

"The mission of the MLK Day Writing Awards is to create a space for daring, eloquent and inventive work, in the belief that the process of writing itself can help young people explore and break down issues of difference in their lives," said Jim Daniels, the Thomas Stockham Baker University Professor of English and founding director of the awards program.

In 2014, Deborah Monti's "The Woman, the Paradigm" won first place for high school poetry. Now, Monti is studying history with a focus on human rights and legal studies at Yale University.

Skin starts crinkling
As my arms start peeling and my hips start widening
And my freckles being disintegrating as my face morphs
Into a soft-cheeked big-lipped paradigm
Of the Hispanic woman society has made me out to be.
Until my hair turns a jet-black shade
My eyes an almond brown and my skin a deep cocoa
I cannot speak Spanish
They see that I am pale and lanky and sheltered
And until I crack with Hispanic features
They will not believe my native tongue.
I too had a dream
But it was of sweet bonbons and the local radio station
The chain linked fences and cheap fireworks
Grandmother's sweet kisses.
With a tattooed back, a lip pierced, and a faint accent
I've signed my life to be a Latina teen from Queens
Well I might be
Because that's the only Hispanic woman portrayed on TV

"These are the voices we need to hear. Inside these words, through these emotions, observations and declarations, we get close to what we can call real news," said Alberto Ríos, author of "A Small Story about the Sky" and poet laureate of Arizona.

Of the 83 contributors, approximately 40 are graduates of the Pittsburgh Public Schools and about 30 are CMU alumni. Jonathan deVries received his bachelor's degree in Hispanic Studies in 2005 and tied for first place in college poetry that year for "My Father Tries to Bond with Me."

"It is flattering and surprising to see something I wrote 13 years ago resurface in this book. The surprise comes from seeing that, while my craft may have changed over the years, the underlying emotions driving the process haven't. More broadly, the awards program has shown me how subtle racism can be and how many people it has impacted. In this way, it is important to conduct yourself properly, not just hold opinions about racism," said deVries, who is an urban planner in New York City.

To help educators and others use the book as a conversation starter and resource, CMU's M. Shernell Smith and Kitty Shropshire are preparing a reading and study guide that will be unveiled at the 2018 awards ceremony.

Several events are being planned to celebrate the book's publication, including:

Center for Student Diversity and Inclusion Open House
Friday, Oct. 13 from 4-5:30 p.m.
Lower Level, Cohon University Center, CMU

Challenges to the Dream with City of Asylum
Wednesday, Nov. 1 from 7-9 p.m.
Alphabet City
40 W North Ave, Pittsburgh, PA 15212

Since its inception, CMU's Martin Luther King, Jr. Day Writing Awards have received more than 2000 entries. Students are invited to enter this year's contest by Friday, Nov. 24.

Learn more about "Challenges to the Dream" and purchase a copy.