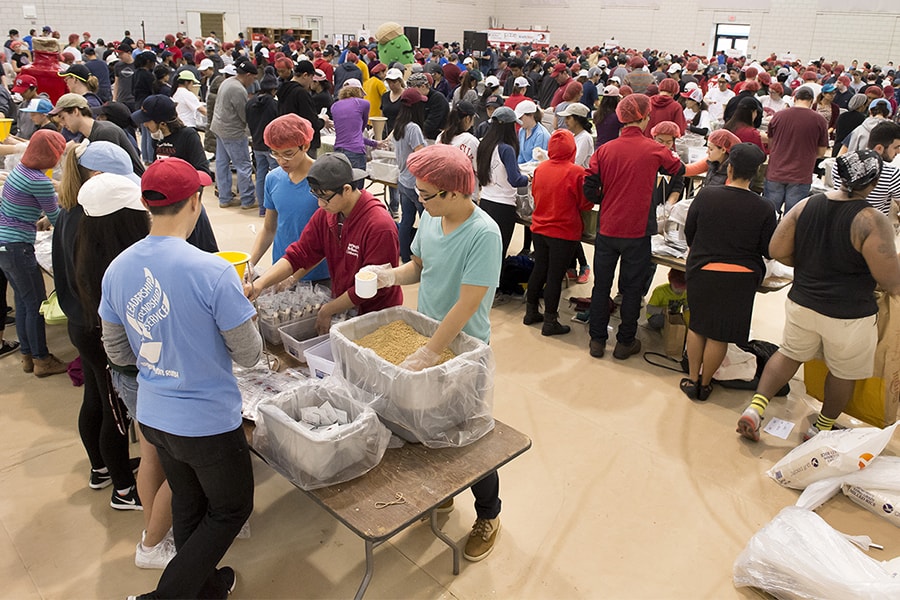 November 02, 2017
CMU Volunteers To Package 150,000 Meals for Madagascar
By Abby Simmons abbysimmons(through)cmu.edu
Media Inquiries
Abby Simmons
Marketing & Communications
Event: Nearly 900 Carnegie Mellon University volunteers will package 150,000 dehydrated meals scheduled for shipment to Madagascar, an African nation facing a deadly plague outbreak.
This is the third year the university has partnered with The Kraft Heinz Company Foundation and the global hunger-relief organization Rise Against Hunger to host the community service event.
CMU's Office of Student Leadership Involvement and Civic Engagement, Partners Allied in Civic Engagement and Alpha Phi Omega service fraternity recruited students, staff, faculty, alumni and their families, including children as young as four, to package the meals in assembly-line style.
The World Health Organization has reported more than 1,300 suspected cases of plague in Madagascar since August, including 93 deaths. Plague is endemic to parts of Madagascar; however, the current outbreak has reached the country's most populated cities, which are less prepared to handle cases. A majority of cases are pneumonic, spreading directly from person to person.
Rise Against Hunger responds to emergencies in the U.S. and abroad by delivering food assistance, nutrition, water filters and hygiene kits to those displaced by natural disasters and man-made crises. The organization's meals, comprised of rice, soy and vegetables, include a micronutrient packet developed by and donated through The Kraft Heinz Company Micronutrient Campaign. The powders in the packet contain 19 of the meal's total 23 essential vitamins and minerals, which help to prevent iron-deficiency anemia and other health issues.
When: 11 a.m. to 1 p.m., Saturday, Nov. 4.
Where: Wiegand Gymnasium, Jared L. Cohon University Center, 5000 Forbes Ave., Pittsburgh, PA 15213. Parking is available in the East Campus Garage, located next to the Cohon University Center and Gesling Stadium.