November 02, 2016
CMU Cooking Up Second Annual Hunger-Relief Event
By Julianne Mattera

Watch a video of the inaugural event last year.

Carnegie Mellon University is recruiting students, staff, faculty and their families to pack more than 100,000 dehydrated meals for people served by the global hunger-relief agency Stop Hunger Now.
The second annual Stop Hunger Now Meal Packaging Event will run from 11 a.m. to 1 p.m. on Saturday, Nov. 19, in the Cohon University Center's Wiegand Gym. The deadline to register is Friday, Nov. 11.
Last year's inaugural event drew more than 600 attendees who packaged more than 125,000 meals in two hours. The event was made possible through a donation from The Kraft Heinz Company, which paid for 120,000 of the meals packed. The company is making a similar donation this year.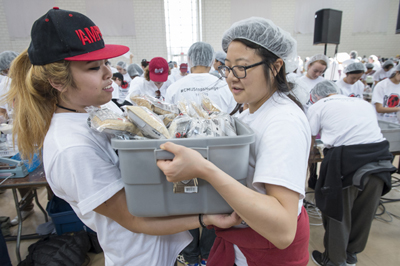 Roughly 795 million people in the world are chronically malnourished, according to Stop Hunger Now. Comprised of rice, soy, dehydrated vegetables, and a packet containing essential vitamins and minerals, the agency's meals are shipped to various places in the world to support programs in schools, orphanages and crisis relief.
"Stop Hunger Now's approach to addressing world hunger is both comprehensive and sustainable, and they've taken a lot of care to create a system that is trying to address all aspects of this complex and important issue," said Elizabeth Vaughan, director of CMU's Office of Student Leadership, Involvement, and Civic Engagement (SLICE). "The event is high energy, fun and allows people to take direct action in addressing something that is plaguing our world – an issue that we have a responsibility to address as privileged citizens."
Event co-sponsors Partners Allied in Civic Engagement and Alpha Phi Omega, a co-ed service fraternity at CMU, are hoping to register hundreds of volunteers for this event.
For questions, please contact SLICE Coordinator Kristine Kengor at kkengor@andrew.cmu.edu.